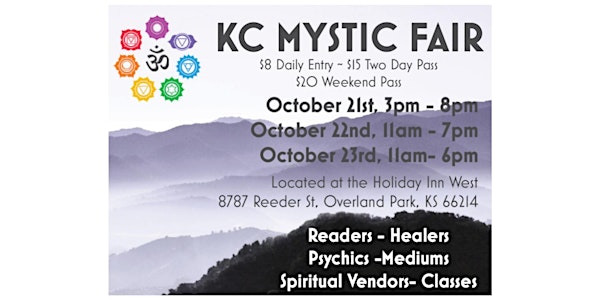 KC Mystic Fair ~ October 2022
This is a full THREE day event featuring any & everything spiritual and metaphysical!
When and where
Location
Holiday Inn West 8787 Reeder St Overland Park, KS 66214
Refund Policy
Contact the organizer to request a refund.
Eventbrite's fee is nonrefundable.
About this event
Welcome to the KC Mystic FAIR!
This is a full THREE day event featuring any & everything spiritual and metaphysical!
Friday, October 21st, 3pm - 8pm.
Saturday, October 22nd, 11am - 7pm.
Sunday, October 23rd, 11am - 6pm.
🔮 Tarot, Chakra, & Aura Camera & Readers!
🌌 Healers & Spiritual Guides!
⭐Numerologist, Massages, & Henna artist!
🌠 Crystals, Essential Oils, Jewelry & more!
💫 Door prizes given away every hour!
💎Classes and spirit galleries all three days included FREE with admission!
$8 Single Day Admission
$15 Two Day Pass
$20 Weekend Pass
Kids 12 and Under Free
🍷Vegan Treats & Goods by Sunni's Holistic Delights!
🌈 Aura & Charka Photography by Inner Self Aura
🧿 Henna by Becky Hicks
🙌 Massage and Reflexology
🎶 Sound healing by VJ Herbert of Celestial Sound Ministry.
🙌 Palm Readings by Sandy Jorgensen
Rune Readings & Soul Paintings by John Weiss of Zabba Art
🌀Energy Healing by George & by Michelle Martin
🌀 Angel, Spirit, & Quantum Touch Healing (& psychic readings) By Cheryl
🌀Reiki Healing by Alicia Salinas
🌀Transformational Healing by Bobby Jo
🌀MORE TO COME....
~Readers~
🔮Joseph Sheppard~ Tarot, Reiki, & Angel Messages (Sound & Energy Healing)
🔮Bettina ~ Akashic Records
🔮Catiara Marie ~ Tarot & Oracle
🔮Dennis Doc Cromwell~ Past Life Readings
🔮LaDaesia Harris ~ Tarot & Oracle
🔮Jamie Zunick~ Oracle & Angel Messages
🔮Hally Aarhuh~ Psychic Crystal Readings
🔮Karen Goodson~ Numerologist
🔮Rachel Pearson - Astrologist
🔮Noelle Noir ~ Medium & Intuitive Tarot
🔮Julie Passantino-Vest ~ Intuitive Psychic
🔮Valarie Wilson ~ Tarot & Oracle
🔮 Alex Soluna Metanoia ~ Tarot & Oracle
🔮 KJ & Tallas ~ Joint Intuitive Readings
🔮Eric Banks ~ Iridology & Spirit Messages
🔮 Rebecca Perdieu ~ Channeled Angel Messages & Aura Reading
AND MORE...
For anymore updates and workshop schedule please follow us onFacebook at Empowered Healing KC
\*All of our readers work with many different modalities. They do more than what is just listed next to them, those are just some of their specialties.
~Vendors ~
Rosie the Herbalist ~Wren's Nest~ Soapnotica~ Affricana Art~ Parisian Gypsy~ Gems, Crystals, Rocks, & Minerals by Wes ~ Healing Choice Herbs ~ Ology ~ Alch3micreations ~ Daughter of Delphi ~ Underground Gypsy ~ Life on Fire ~
😍 CLASSES ALL FREE WITH DAILY ADMISSION! (Schedule to come.)
Stay up to date with us on FB at www.facebook.com/empoweredhealingkc and Instagram at www.instagram.com/kcmysticfair
kcmysticfair@gmail.com for more information, vendor information, or to be added to our mailing list.