Description
This Year: Give the Gift of Marketing to Local Non-Profits

Local causes will benefit from your marketing experience
Thursday, Nov. 16, 5:30-7 p.m.

If you work in marketing, then crafting catchy messages and working across multiple mediums comes naturally to you. You're fast. You're good.
But the rest of the world lacks what you have. Especially our friends laboring for non-profit causes. On Thursday, Nov. 16, they need what you've got.
Who me? Yes you. Whether you're a marketing old timer, pro or newb, you've got something to offer these local causes.

The Gift of Communications program is a KC/IABC tradition that has served nearly two dozen local non-profits. We invite three organizations to interact on their marketing challenges and seek to provide solutions so they can continue and expand their mission. This year, we'll sit down with:
Rainbow Center for Communicative Disorders This Blue Springs-based organization serves children and adults with communicative disorders.

Falling Forward Many people who experience catastrophic medical events fail to receive adequate rehabilitation. The consequence: a life of disability. This Lawrence-based organization makes grants to rehab centers, allowing patients to continue therapy, recover their full potential and move forward in their lives.

River of Refuge Based in Raytown, River of Refuge helps Kansas City-metro families move from homelessness to self-sufficiency.
Directions
Park behind (north of) the Lockton building in the company parking lot. The entrance is in the rear of the building. Take the elevator to the fifth floor. If you are arriving late and cannot get access, text or call Roy Harryman, director of programming, at 816.838.3915.
• When Thursday, Nov. 16, 5:30-7 p.m.
• Where Lockton Companies, 444 W 47th Street, KCMO 64112, Country Club Plaza, fifth floor conference room
• Cost $10 for members and non-members; includes appetizers.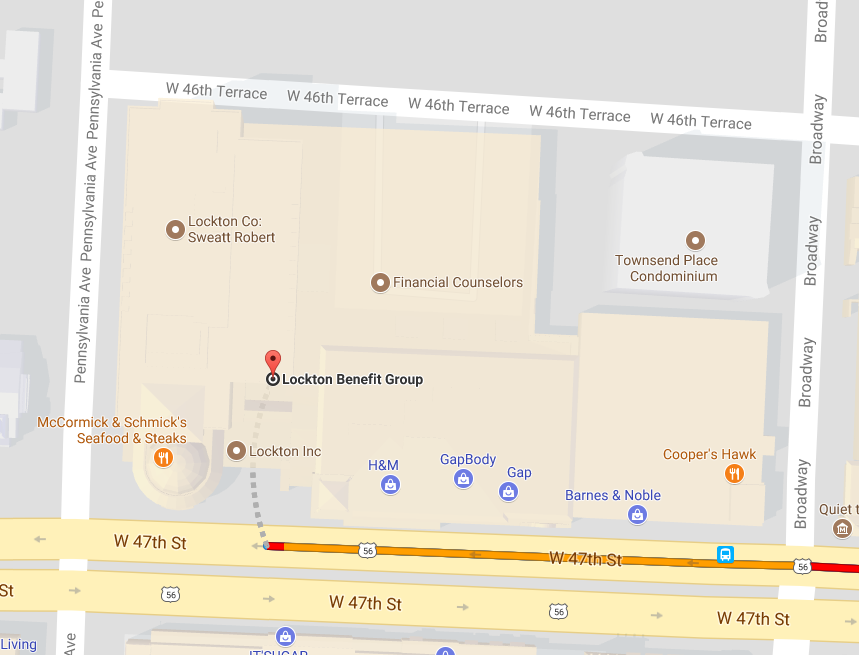 ---