Description
ELEVATE
The Business Communicators Summit is Kansas City's leading conference for marketing communications professionals. It's one day, affordable and packed with content that will ELEVATE your communication skills immediately. In addition to our keynote speaker Darcy Eikenberg, the day is filled with numerous breakout sessions covering topics such as social media, persuasive speaking, talent development and leadership, finances (yes, really) and much more. We'd be honored to have you as our guest. Register now!
---


Meet Our Keynote Speaker: Darcy Eikenberg
Like many of us in the working world today, Darcy Eikenberg wears a lot of hats. She's an executive coach to leaders at companies such as The Coca-Cola Company, Microsoft, State Farm, Deloitte Consulting, and more. She consults and speaks on career growth, employee engagement and leadership development all over the country. Plus, she's the author of "Bring Your Superpowers to Work: Your Guide to More Clarity, Confidence & Control," and blogs regularly on leadership and career issues at RedCapeRevolution.com.
Her ideas have been shared in the Harvard Business Review, Atlanta Journal-Constitution, and Forbes among others. She's a former principal and Communication Consulting business leader at Hewitt Associates, now part of Aon, and has been a proud IABC member for over 20 years. Darcy brings a sense of humor to serious matters in our work and careers, and offers simple, practical ways we can change our lives at work for the better, for good.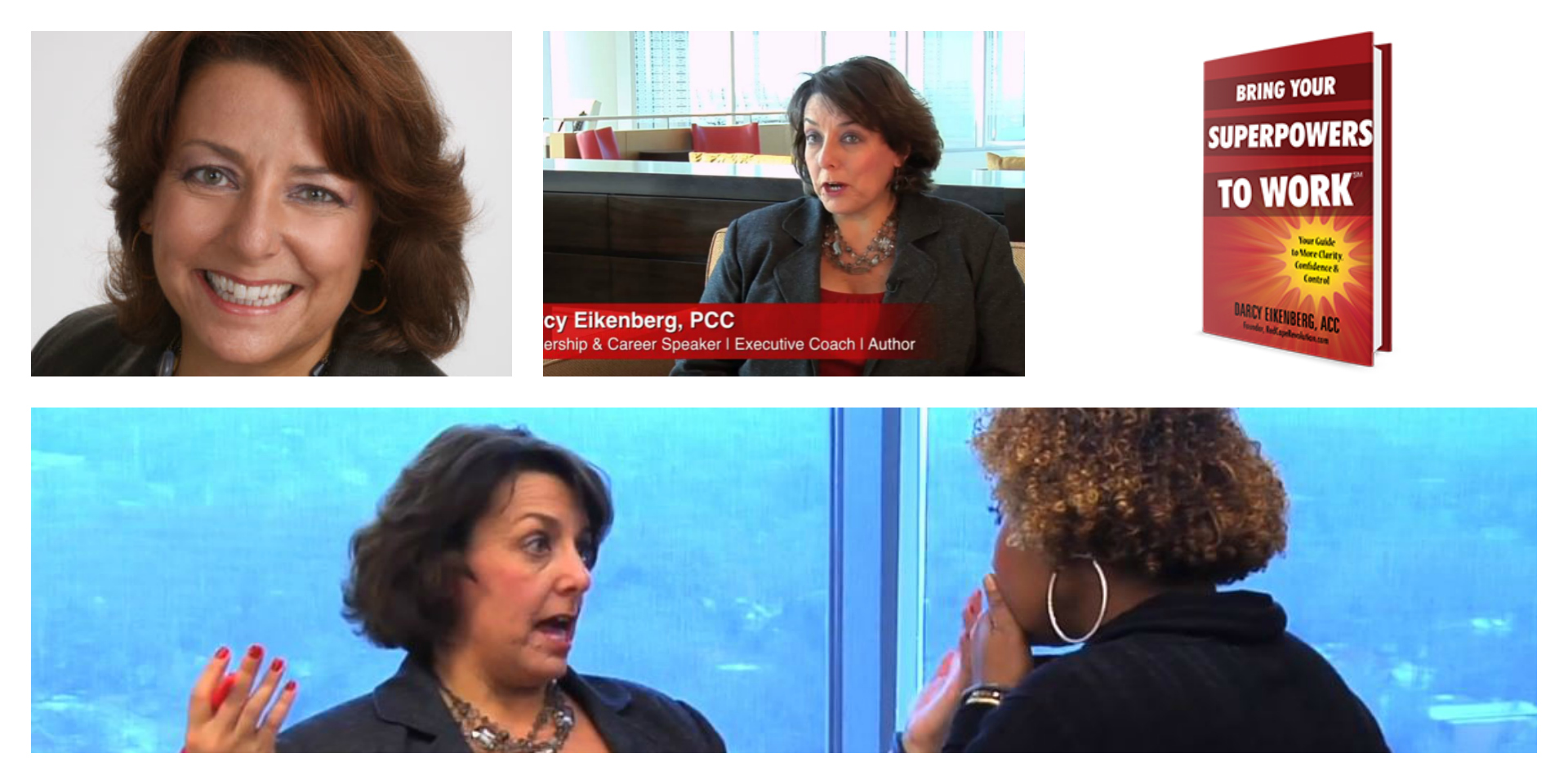 What Darcy Will Discuss at BCS:
Communicating Your Value (While You're Communicating Everything Else)
As communication professionals, you excel at making sure your colleagues and clients are given top priority. But when it comes to promoting your own skills and managing your own career, you can easily put yourself last.

Join us for a fun, interactive discussion, where you'll learn how to better understand and promote your own value at work – even amid increasing work pressures to serve your clients, colleagues, and everyone else. Walk away with practical, professional strategies you can use on the job immediately, and learn:

Why it's more important than ever to talk about your superpowers, strengths & talents — and not for the reasons you might think.

Simple way to identify — and share — your success stories without feeling like you're bragging.

How to use everyday situations to show the world your extraordinary value.

---


Meet the Speakers:
Matt Tidwell, Ph.D., APR (Program Director, University of Kansas);

Julie Bartels Smith, ABC (CEO, JBSmith Communications)
ABC, CMP, SCMP, APR, MS: A "How-to" Manual for Advancing Your Career Through Accreditation or a Master's Degree
Everyone understands the importance of distinguishing yourself and building your career. Good options include achieving your professional accreditation or even working to earn a master's degree in your field. In this session, Julie Bartels Smith, ABC and Matt Tidwell, Ph.D., APR will explain the plusses and minuses of these choices. How much time and expense is involved? What's does the curriculum include? How can you get reimbursement from your employer? You'll walk away understanding which options might work best for you and how earning a new credential can power you to the next phase of your career.

Eric Morgenstern (CEO, Morningstar Communications)
Mind the GAPP to be a Better Presenter
Before you step on or off a train platform, you will often hear and see, "Mind the Gap."It's a warning about the importance of focusing your attention. That same approach applies to develop and deliver persuasive presentations. Be mindful and intentional every step along the way. Eric Morgenstern, CEO of Morningstar Communications, has developed GAPP – Generally Accepted Presentation Principles – as a methodology to coach and train C-level executives, client-facing professionals, elected and not-for-profit leaders to become ever-better presenters. GAPP provides the same benefits to presenters that the Generally Accepted Accounting Principles provides to accountants. Similar constructs exist for construction, medicine and many other professionals. GAPP is a real-world system that improves both the efficiency and effectiveness of your presentations. During his presentation at the 2019 Business Communicators Summit, Eric will share his GAPP methodology and specific techniques to make you a better presenter. You will gain immediate take-home value from this educational and entertaining session.

Stephanie Parker (SVP, Brand Leadership, Barkley)
Leadership & Talent Development
The only way to scale your leadership is to grow the talent around you. In this session, we discuss approaches to recruiting, training and retaining talent in your organization that you can implement immediately.

Angela Crawford (Communications Consultant, Lockton Benefit Group); Matt Staub (Owner, Proxima, LLC)
Delete Your Account
Gone are the days for being on social media for the sake of being there. So is it time to "delete your account?" Maybe. Or at least some of them. This session explores where brands can still find success in the ever-changing world of social media. Angela will focus on matching the platform to the message and audience to optimize organic reach, and when it may be time to turn to your employees to get the message out for you. And for companies that have empowered their employees to be brand ambassadors, how can you mitigate the inherent risk that accompanies such a strategy? If you choose not to delete your account, Matt will challenge you to make the commitment necessary to be successful with it in this challenging landscape, including investing in top-notch content and diving into paid social to make sure you are heard.

Priya Nibert (Communications Consultant, Lockton Benefit Group)
Talking to Your Audience (Instead of Yourself)
Let's face it, we all know we should tailor our message to the audience but is it really that important? In this session Priya will address the importance of talking to your audience, rather than yourself, and discuss key instances that vital to the role of business communicators.
Tedrick Housh (Attorney, Lathrop Gage)
Privacy: A Primer on the Legal Landscape for the Communications World
The world is smaller than ever, and the EU's General Data Protection Regulation has set a new bar for data privacy. Coming soon – the EU's ePrivacy Regulation, which will create new rules for cookies, spam, the Internet of Things, SMS and other forms of direct marketing. Congress is drafting new federal privacy legislation. State attorneys general and class action plaintiffs are on the lookout for data privacy violations. What effect do these regulations have on your ability to market and communicate? Find out in this session.

Danielle Ripley-Burgess (

Storyteller, Danielle Ripley-Burgess)
10 Ways to Become a Writing Hero
Content is king (or queen!), but good writers are the true heroes. During this session, we'll go over 10 easy tips for improving your writing skills. You'll walk out armed and ready to save the day... or at least your website, blog, social posts, emails, brochures, and more!

Jennifer J.E. Wampler, MBA, CFRE (Chief Development Officer, Kansas City Ballet)
I Want To Be On A Board...Just Don't Ask Me To FUNDRAISE
This session is for anyone who currently serves on a non-profit board or wants to serve on a board. Fundraising is a big part of a board member's responsibilities. But what does that really mean? This session tells you how to be a part of the process without ever actually making an ask.

Meghan Schulte (Brand Director, Barkley)
Generational Panel Moderator
Katy Zimmerman (Content Manager, Barkley); Matt Tidwell Ph.D. (Program Director, University of Kansas), APR; Tara Saylor (Sr. Communications Partner, Cerner)
Generational Panel Members
---
Agenda
7:30 - 8:30 a.m. Breakfast and Registration
8:30 8:40 a.m. Welcome and Opening Remarks | Tara Saylor
8:40 - 8:50 a.m. Keynote Introduction | Kathryn Lorenzen
8:50 - 10 a.m. Keynote Presentation & Q&A | Darcy Eikenberg, PCC
10 - 10:15 a.m. Break and Networking
10:15 - 11 a.m. Breakout Sessions
Mind the GAPP to be a Better Presenter | Eric Morgenstern | Best 130

I Want ot be on a Board...Just Don't Ask Me to Fundraise | Jennifer J.E. Wampler | Best 225

A "How-To" Manual for Advancing Your Career " | Matt Tidwell & Julie Baretls Smith | Best 230
11 - 11:15 a.m. Break and Networking
11:15 - noon Breakout Sessions
Privacy: A Primer on the Legal Landscap for the Communications World | Tedrick Housh | Best 130

Delete Your Account | Angela Crawford & Matt Staub | Best 225

Leadership & Talent Development | Stephanie Parker | Best 230
noon - 1 p.m. Lunch
1 - 1:45 p.m. Breakout Sessions
10 ways to Become a Writing Here | Daniele Ripley-Burgess | Best 130

Talking to Your Audience (Instead of Yourself) | Priya Nibert | Best 225

What is a Brand and Why It's Important | Julie Prewitt | Best 230
1:45 - 2:15 p.m. Break and Networking
2:15 - 3:30 p.m. Generational Panel
Moderator: Meghan Schulte

Panel: Matt Tidwell, Tara Saylor, Katy Zimmerman
3:30 - 4:30 p.m. Closing Remarks and Networking | Amanda Fisher-Penner