Description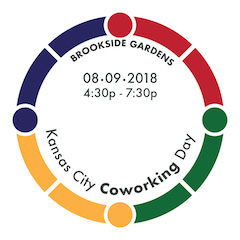 The Kansas City Coworking Alliance wants to celebrate Kansas City Coworking Day with you!
The KCCA was formed in 2015 in the spirit of "coopetition" to raise awareness about coworking in Kansas City. In 2017, we set the world record for the largest single gathering of coworkers and in 2018 we won an international Coworky award for the "Best Collective or Alliance." Our member spaces represent a diverse and unique cross-section of the many coworking options available across Kansas City and we're continually growing to meet the needs of the entrepreneurs and startups that call our spaces their home away from home.
During this PechaKucha-style presentation event, leaders ranging from tech entrepreneurs to artists to freelancers and everything in between will tell us about themselves, their companies and how coworking has helped them achieve new heights in their businesses.
Join us as we recognize the diversity of thought, collaboration and collision opportunities that coworking has brought to our lives and our businesses as we eat, drink, network and learn about the entrepreneurs and startups that make coworking so great!
Speakers: More info coming soon!
Parking Info:
Parking is available in the lot across 63rd street from Brookside Gardens.