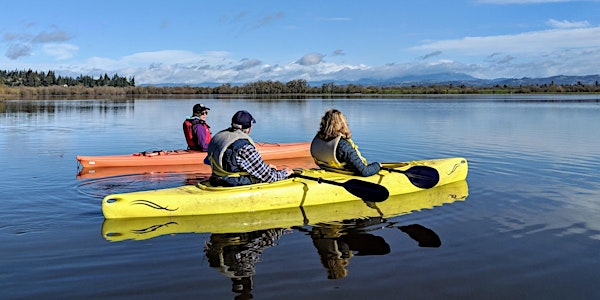 Kayaking the Laguna Webinar with Allison Titus, Community Education Manager
Location
Laguna de Santa Rosa Foundation
900 Sanford Road
Santa Rosa, CA 95401
Learn the Laguna de Santa Rosa's role in slowing floodwaters, along with resources, tips, and tricks for exploring the Laguna by boat.
About this event
There's no better way to appreciate the unique role of the Laguna de Santa Rosa than to embark on a kayak adventure! However, due to the Laguna's dynamic nature, it can be hard to plan a successful kayaking trip. When does the Laguna fill with enough water? What are the best conditions and how can you track them? What routes do we recommend? During this webinar, Community Education Manager Allison Titus will discuss the Laguna's critical role in slowing floodwaters to the lower Russian River as well as share resources, tips, and tricks for exploring the Laguna by boat.
This is a free event. There is no charge for this event, which is made possible by the voters of Sonoma County who fund the work of Ag + Open Space with a quarter-cent sales tax.
Allison Titus bridges conservation and education as the Community Education Manager at the Laguna de Santa Rosa Foundation. She plans, manages, and leads outings for a robust public education program that serves over 1,300 people across the Laguna de Santa Rosa watershed every year. Additionally, she is an experienced sea kayak instructor. After completing a two-week sea kayaking outdoor leadership course in Alaska in 2014 and receiving her Wilderness First Responder certification, she worked as a kayak guide for the UCSC Recreation Department leading groups in Monterey Bay. She also worked for five years leading week-long expedition sea kayak tours in Tomales Bay for incoming freshmen for the UCSC Wilderness Orientation program.