Join us for a kayak fishing adventure in search of the seasonal halibut at one of the most productive areas in the Bay; all gear provided.
About this event
Ever wanted to fish from a kayak? Join us for an unique fishing experience where we will combine the 2 activities in search of halibut. We will use sit-on-top paddle kayaks with fishing gear and troll along the Alameda Rock Wall for the seasonal halibut; all kayak, fishing gear, & bait + tackle provided. We will start the day with a quick overview of skills for kayaking and fishing, fishing line setups, and bait. Then paddle out and ride the currents as we troll for halibut. Participants should have prior kayak and fishing experience.
These tours are approximately 4 hours on the water using very safe and stable sit-on-top paddle kayaks; dry bags, PFDs, paddle, fishing equipment included. Participants should have prior paddling and fishing experience. These tours are planned for optimal/safe conditions.
After your tour, consider stopping by one of the many special features at Alameda Point.  Have a drink and a bite to eat along Spirits Alley featuring: Rockwall Winery and Scolari's at the Point, Faction Brewery, Building 43 Winery, St. George Spirits or take a walk along the Bay Trail stopping at  the USS Hornet National Museum and/or the Encinal Beach, or the Mecum Theatre.  This is a great way to finish out your day and see what all the fuss is about at Alameda Point. Space is limited, and participants must be 13 years or older (all minors must be accompanied by an adult).  Please contact Stacked Adventures for more information.
 Tel. (415) 294-1972, stackedadventures@gmail.com, or www.stackedadventures.com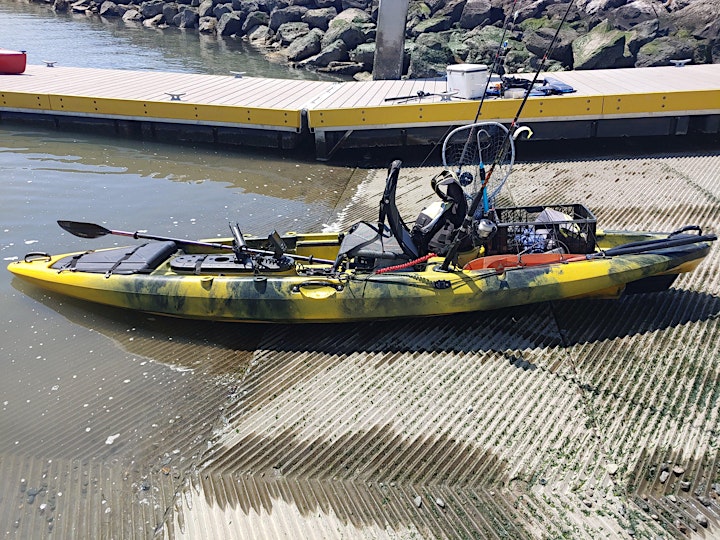 Organizer of Kayak Fishing Adventure
Our service is a hybrid of guide, gear, and concierge service. Our top priority is SAFETY!!! We provide top quality gear, professional guides, and very experienced outdoor professionals to ensure you have fun and safe wilderness experience.
All trips include the necessary gear, provide a sea kayaking guide(s), and are suitable for all levels of experience; see each event for specific details. Trips vary in theme from Sunset tours, Kayak & Dine excursions, Family Tours, Wildlife tours, and more; check out the calendar for more information.

We try to keep the group sizes relatively small so that we can enjoy the outdoors peacefully and manage the groups' safety more efficiently. We generally use double closed cockpit sea kayaks; single seat kayaks are available upon request. You must RSVP and pay the event fee at least 24 hours in advance, no exceptions.