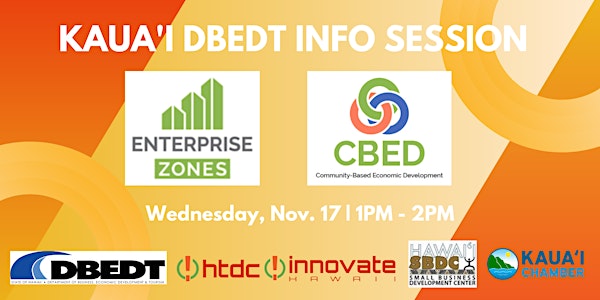 Kauai DBEDT Info Session
DBEDT Kaua'i Info Session
About this event
Please join HTDC Innovate Hawaii & The Department of Business, Economic Development & Tourism's Business Development & Support Division (BDSD) for an information session for Kaua'i. Join us to learn about two BDSD programs: Community-Based Economic Development (CBED) and Enterprise Zones! Mahalo to Hawaiʻi SBDC - Kauaʻi and the Kauaʻi Chamber of Commerce for partnering with us on this presentation.
Community-Based Economic Development (CBED)
The CBED Program provides training and capacity building opportunities to promote, support, and invest in community-based development projects that result in measurable economic impact. CBED offers loans to eligible small businesses to develop viable, sustainable business ventures that serve local needs and are compatible with the vision, character and cultural values of their communities. The CBED loan program can support a broad range of small businesses with their loans usually in the range of $50,000 to $125,000. https://invest.hawaii.gov/business/cbed/
Enterprise Zones (EZ)
The Enterprise Zones Partnership Program gives State & County benefits to companies in an effort to stimulate business activity, job preservation, and job creation in areas where they are most appropriate or most needed. If your business meets the eligibility requirements and you enroll in the program you can reduce your State taxes and receive other county benefits for up to seven years! https://invest.hawaii.gov/business/ez/
ABOUT
INNOVATE Hawaii
INNOVATE Hawaii is the state's NIST Manufacturing Extension Partnership (MEP) National Network Center, which supports small and medium-sized manufacturers to enhance their productivity, growth, and technical performance through programs and services across the islands. www.htdc.org/programs/#innovate-hawaii
DBEDT Business Development & Support Division (BDSD)
The Business Development & Support Division (BDSD) promotes industry development and diversification in Hawaii by supporting existing and emerging industries; attracting new investment and businesses that can create more high-skilled, quality jobs in the State; increasing exports of Hawaii products and services; expanding Hawaii's participation in global trade and commerce; by supporting small business and community-based organizations; and building resiliency to downturn in defense industry spending. www.invest.hawaii.gov
Department of Business, Economic Development & Tourism
DBEDT is Hawaii's resource center for economic and statistical data, business development opportunities, energy and conservation information, and foreign trade advantages. www.dbedt.hawaii.gov
Kauai Chamber
Since 1913, the Kaua'i Chamber has served Kauai island's diverse business community. We envision a vibrant and resilient network of businesses that focus their collective power and unique strengths to make Kaua'i a better place to live and work. Our mission is to "champion economic prosperity by being the voice of business, promoting collaboration, and helping our members thrive." https://kauaichamber.org/
Hawai'i Small Business Development Center - Kaua'i Center
The Hawai'i Small Business Development Center established in 1990, provides professional business advice, research and training to business owners and new entrepreneurs in order to promote growth, innovation, productivity and management improvement. To accomplish these objectives, we link federal, state and local resources, the educational community and the private sector to meet the needs of Hawai'i's businesses. https://www.hisbdc.org/Locations/Kauai.aspx
If you need an auxiliary aid/service or other accommodation due to a disability, contact Nicole at nicole@htdc.org or (808) 539-3794 as soon as possible. Requests made as early as possible will allow adequate time to fulfill your request. Upon request, this notice is available in alternate formats such as large print, Braille, or electronic copy.