From August 4th through September 3rd, BoxHeart presents Katie Stone: GRRL on exhibit in the main gallery.
About this event
We live in a time of social change and responsibility. Inspired by these conversations, Katie Stone's ceramic sculptures are filled with playful, tongue-in-cheek comments on the human condition. As a child brought up around the livestock industry, Stone often uses animals as the main characters to replace, represent, and critique their human counterparts. These animals sit amongst a naive two-dimensional narrative world of childlike doodles. Each sculpture becomes a process of repackaging the weight we carry, by viewing our human strife through rose-colored glasses.
​Each figure is sculpted out of a solid block of clay. Stone forms her sculptures from the top-down, roughing out the backs, heads, and bellies of her animals and people. She uses a slow drying process to help give her forms their structure. As the clay hardens, Stone can begin carving out their legs or lower structure. She leaves her figures very simply made, as her sculpting technique highlights the building blocks of bone, ligament, and muscle. Stone believes it captures the energy and movement of each animal or human. Once sculpted, her works are sliced in half and the inside hollowed so that it leaves simply an outer shell behind. She combines these figures with slab-built pedestals and doodled scenery. They become her way of telling their story, allowing her animals a context in their little universe.
For her upcoming exhibition GRRL, Stone's sculpture intends to tell a coming of age story. Chewing on the overarching idea of intersectional feminism, Stone deconstructs the age-old, monolithic path through womanhood. She depicts figures who express across a spectrum of femininity, each unashamedly observing their viewer. They present with an outward layer of placid beauty but hold poignant questions for the crowd. Stone employs backgrounds reminiscent of children's drawings. The vibrant worlds they sit amongst are steeped within layers of subtext. In this series, Stone is connecting the formative experiences of gender in our society with its devolution of childhood. Using the universally familiar imagery of her naive doodles across her artwork, the sculptures invite participants to revisit the vulnerability in expression. In doing so, she hopes to instigate conversation about predisposed gender binaries and the roles that come with them.
Born in Ellington Connecticut in 1992, Stone spent her early years on farms. These deep experiences of animal husbandry have offered endless conversations for her artwork. She went on to receive her BFA in Ceramics from the Maryland Institute College of Art. NCECA's Fellowship supported her as a resident artist at Medalta in Medicine Hat, Alberta. In the six years that followed, Stone directed a clay studio outside of Pittsburgh, PA. It was there that she found her love for community engagement and mentorship. This passion has informed her long term goals of fostering a space and program in support of artists from marginalized communities. Stone's notable exhibitions include showing in Archie Bray's "Beyond the Brickyard," the Clay Center of New Orlean's "Sculpture National," the Clay Studio of Missoula's "Nature: Surface, Form, Content," and Baltimore Claywork's "Menagerie."
Join us for the IN REAL LIFE reception with artists Katie Stone and Jessica Alpern Brown on Saturday, August 7th, from 5-8 pm. It is free and open to the public!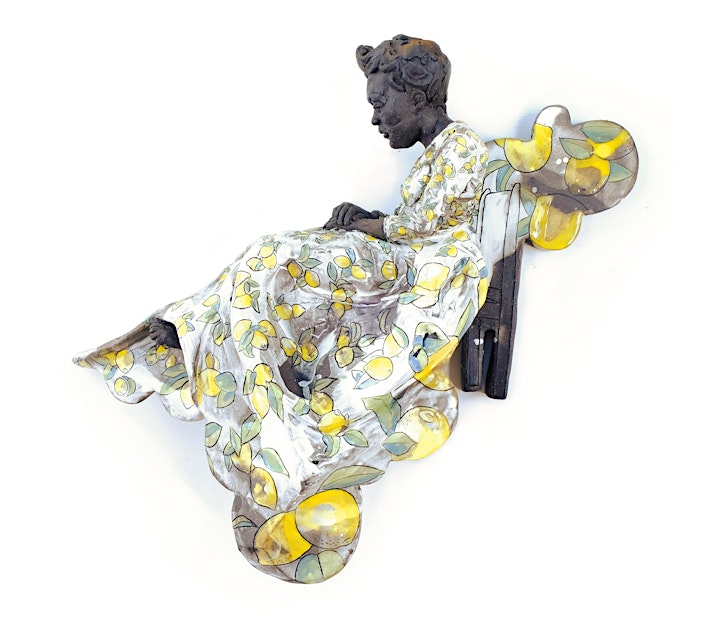 Katie Stone, Lemonade, Black Stoneware, Glaze, Underglaze, 17" X 7" X 15", 2020
Organizer of Katie Stone: GRRL
BoxHeart Gallery exhibits emerging and mid-career artists whose artwork exemplifies the diversity and originality of contemporary art and fine craft. We exhibit painting, works on paper, mixed media, sculpture, textile, and jewelry that illustrates personal creative explorations and artistic commitment. BoxHeart's exhibition schedule supports both our regional, national, and international represented gallery artists as well as our mission to discover new talent that exists around the world.

Located in Bloomfield, Pittsburgh's "Little Italy," BoxHeart Gallery also offers custom framing, art consulting, and art installation services.