Kathy Chester Seminar "Critical Thinking in Dysphagia Management"
Description
In memory of
Kathy Chester
This is the twentieth annual seminar sponsored through the Kathy Chester Memorial Endowment Fund. As a Riverside Speech Pathologist, Kathy was a strong advocate for continuing education and these seminars are a tribute to Kathy and her contribution to our field.
Speech-language pathologists (SLPs) are the primary providers of dysphagia and report spending the majority of their practice managing swallowing disorders in their healthcare settings. However, formal and informal training on normal and impaired swallowing for SLPs is lacking and inconsistent across academic and clinical training domains. Critical thinking in dysphagia management is needed to significantly shift SLP practice patterns. The overall goals of this course are for attendees to leave with the ability to apply objective physiologic metrics and to empower attendees with critical talking points to advocate for resources for patients with dysphagia.
Learner Objectives
Participants will be able to:
1) Identify inconsistencies in clinical decision making for traditional and emerging treatment techniques.
2) Be able to apply objective metric based measures to establish a diagnostic baseline and treatment gains in dysphagia management.
3) Determine when compensatory swallowing strategies have rehabilitation potential
4) Determine ways to educate other professionals about the needs of individuals with dysphagia and the needs of SLPs who manage dysphagia.
Seminar Schedule
11:00am-12:00pm Registration and Lunch Provided
12:00pm-1:30pm Intro & Elucidating Inconsistencies in Dysphagia Mgmt
1:30pm-1:45pm Break
1:45pm-3:15pm Supporting your Clinical Decisions with Physiologically Guided Metrics
3:15pm-4:15pm Applying Principles of Motor Learning to Dysphagia Rehabilitation: Electrical Stimulation and Visual Biofeedback
4:15pm-4:30pm Break
4:30pm-5:30pm Stay in Your Lane: Do Compensatory Strategies have Rehabilitation Potential?
5:30pm-6:30pm What a Swallowologist Needs: Educating Physicians, Nurses, and other Medical Professionals
This course is being offered for 0.6 CEU's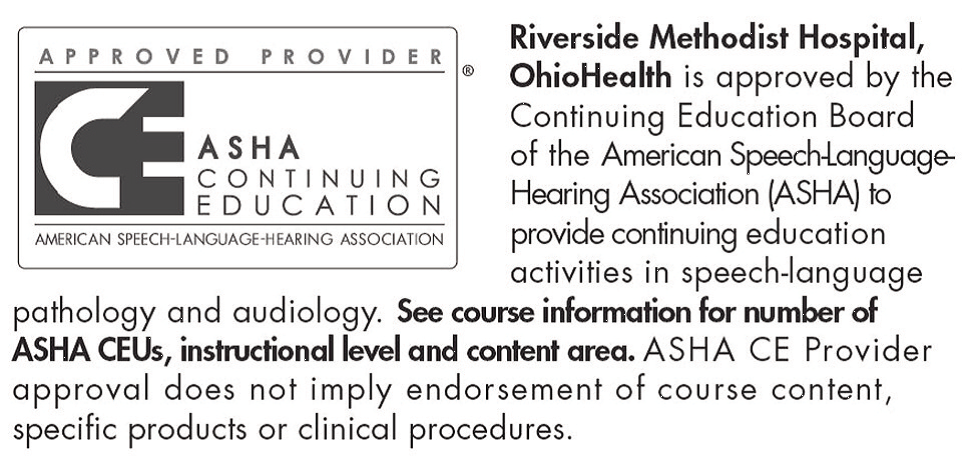 FAQs
How can I contact the organizer with any questions?
Contact Lynn Groves at (614) 566-5739 or lynn.groves@ohiohealth.com