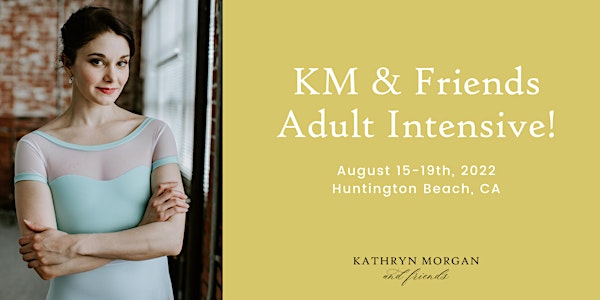 Kathryn Morgan & Friends AUGUST Adult Summer Intensive
Spend a week dancing with us in sunny Southern California!
When and where
Location
Orange County Dance Center 16161 Springdale Street Huntington Beach, CA 92649
About this event
Sunday, July 31st is your last day to purchase tickets!
We're so excited to offer the first Kathryn Morgan & Friends Adult Summer Intensive! Please note that this intensive is for dancers age 18+ only.
Attendees will select one of two tickets:
Beginner: Perfect for if you've had under one year of ballet training, or if you want a slower, more methodical week
Intermediate/Advanced: Perfect for those of you who are used to dancing a full class, and are looking to push yourself and your technique
All tickets will include:
4 classes per day
Q&A time with Kathryn
A dinner out with the whole group
A fun evening on the beach
A Kathryn Morgan & Friends welcome bag
Schedule:
You'll be starting at 9am each day, and finishing at 2:30 with a 45-minute lunch break. You'll have time to yourself in the evenings with the exception of a group dinner on Thursday night, and a beach trip on Tuesday or Wednesday (TBC). The full schedule will be sent to attendees prior to the event.
FAQs:
Are accommodations provided? You are responsible for providing your own accommodations for the week. We are working on securing a group rate at the Hampton Inn & Suites Seal Beach, 15 minutes from the studios, or you are welcome to find your own accommodations elsewhere (AirBnB/VRBO/with a friend/etc.). Attendees will be emailed with a link to book once the group rate is confirmed.
What should I do about lunch each day? You have options! If you add on a Lunch ticket, we will provide you with lunch each day. We will do our best to make these lunches gluten and dairy free, with vegetarian options available. You're also welcome to bring your own food, or head out to pick something up during the 45 minute break.
What airport should I fly into? The closest (and easiest) airports are the John Wayne Airport in Santa Ana, or the Long Beach Airport. You can also fly into LAX, but it's further away, and with SoCal's infamous traffic could be a much longer drive to Huntington Beach.
What about transportation? We may be providing transportation from the host hotel to the studios (and back) each day if there is enough interest. If we do, transportation will be covered with the cost of your ticket; there will be no additional fee. If there's not enough interest in group transit, you will be responsible for getting yourself to and from the studios each day. We will be in touch with attendees to let them know our decision as soon as we have enough information to make one!
Is there a digital option? No, this intensive will be in-person only.
Will all our classes be with Kathryn? No, as there are two levels to the intensive! Our guest teacher(s) is TBC, we'll announce them as soon as it's confirmed. Each level will have class with Kathryn every day, and each level will have the same number of classes with Kathryn.
What level should I choose? It's up to you! If you're a complete beginner, or haven't been dancing for a full year yet (or aren't used to completing a full class) we recommend taking the Beginner level. The Beginner level is also great for dancers who may want a slower, more methodical approach to the week. If you've been dancing for more than a year, are comfortable taking a full class, and want to push yourself and your technique, we recommend taking the Intermediate/Advanced level. Please don't stress too much about levels, we can always move you up or down as needed!
Do I have to be on pointe to attend? Nope! We will be providing pointe classes for the Advanced level and pre-pointe classes for the Beginner level, but if you're taking the Intermediate/Advanced level and not on pointe, you can always take class in your flat shoes — it will be equally beneficial!
What precautions are you taking regarding COVID? So much is changing right now, so we are waiting to make any firm decisions here. Please rest assured that we will be following whatever guidelines remain in place in California in July, as well as best practices recommended by the CDC at that time.