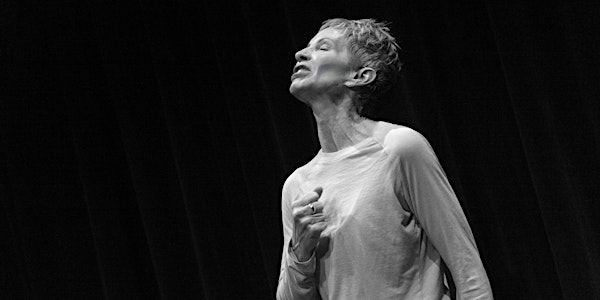 Kathryn Keats' The Hummingbird, Special Benefit Performance
A one woman theatrical experience of an artist who put her life on the backburner for 20 years, due to a partner who threatened to kill her.
By Center for Domestic Peace
Date and time
Sunday, June 11 · 4 - 6pm PDT
Location
142 Throckmorton Theatre 142 Throckmorton Avenue Mill Valley, CA 94941
Refund Policy
Contact the organizer to request a refund.
Eventbrite's fee is nonrefundable.
About this event
"One of the best Solo Shows of the year." --The San Francisco Standard Review
Join us for this exclusive Marin County benefit for Center for Domestic Peace of Kathryn Keats' The Hummingbird and a talk back after the performance with Kathryn.
Proceeds will benefit Center for Domestic Peace's efforts to end domestic violence in Marin County and beyond.
Performance Artist, singer and songwriter Kathryn Keats put her professional life on the back burner for 20 years, changing her name and going into hiding in Marin from her former partner who held her captive and threatened to kill her.
Now, Keats has turned a harrowing experience into a positive message of hope with her solo musical experience, "The Hummingbird". "The Hummingbird" is a high-wire musical ride; a true story of love, loss, music, madness, forgiveness and redemption. It's for any adult who has struggled with the seemingly insurmountable climb back to life after losing everything they thought they were and ever wanted. She invites us to witness her inspiring story of resilience, forgiveness, and self-realization through her captivating musical experience.
60 minutes with following talk back with Kathryn | Ages 18+ | WARNING: Suggested Violence
Please do not bring infants to the show.
*Above photo credit: Dianne Woods
Written and Performed by Kathryn Keats
Directed by David Ford
Words & Music by Kathryn Keats
Music & Sound by Kevin Gerzevitz
ABOUT THE HUMMINGBIRD
In the early '80s Kathryn Keats was a promising young musician and performer who had performed Off-Broadway and on television. But for nearly two decades she hid under an assumed identity because her boyfriend's schizophrenia transformed him from a beloved music collaborator into a homicidal stranger. When he died, Keats began writing and performing music again. The Hummingbird follows her desperate attempts to save the man she loved and then her courageous efforts to save herself - the show is a high wire musical ride - taking us into in a world where genius crosses the line to insanity and love becomes the enemy. Understanding, humor, inspiration and resilience are woven into the 15 characters of the show. The music and lyrics give voice to those asking; how do we handle our most difficult experiences and remain familiar to our-selves, changed though we are, how do we stay truly alive?
ABOUT KATHRYN KEATS
Kathryn Keats is a performance artist, playwright and songwriter who reemerged in show business after 20 years of anonymity with the help of the Victim Witness Assistance Program after her former partner and music collaborator, plagued by schizophrenia, began threatening her life, holding her in their apartment for 54 days. This experience culminated in a precedent-setting jury trial in Oakland, California, in which her partner was remanded into the custody of the State Dept. of Mental Health for treatment for 6 months. At the urging of law enforcement officials, she changed her name to Kathryn Keats and put her promising show business career on hold until 2005, when she learned that her partner had died.
She is a frequent keynote speaker and guest artist at community outreach events, podcasts and panels including Center for Domestic Peace, Reimagine,YWCA, NPR, Partners Ending Domestic Abuse, Center for Domestic Peace, Clothesline Project, Chefs Without Borders, Solo Arts Heal, Grief Dialogues, Missing Pieces, that raise awareness about mental illness and domestic violence.
Keats has been involved in music and theatre since the age of five. She initially studied at the University of Cincinnati College-Conservatory of Music (CCM). Early in her career, she toured the country with a successful off-Broadway show. Her work has included national commercials, television, soundtracks and recordings.
Keats has played such well-known venues as the Knitting Factory in Los Angeles, the Bitter End and Symphony Space in NYC. Her first recorded full-length CD, After the Silence, introduced her music and her amazing story to the public followed by works with Grammy award winning producer Narada Michael Walden and Pete Sears. Kathryn Keats shares her experience in order to create space for healing and to inspire strength others.
ABOUT DAVID FORD
David Ford has been collaborating on new and unusual theatre for three decades, and has been associated with The Marsh for most of that time. The San Francisco press has variously called him "the solo performer maven," "the monologue maestro," "the dean of solo performance," and "the solo performer's best friend." A week rarely goes by when residents of the Bay Area cannot enjoy one of his productions. Collaborators include Geoff Hoyle, Brian Copeland, Charlie Varon, Echo Brown, Marilyn Pittman, Rebecca Fisher, Wayne Harris, Jill Vice, and Marga Gomez. Ford's work has been seen regionally at the Public Theatre, Second Stage Theater, Theatre at St. Clement's, Dixon Place, Theatre for the New City (New York), Highways Performance Space (Los Angeles), and Woolly Mammoth Theatre Co. (Washington, D.C.). His work has also been featured in most of the fringe festivals in North America, as well as at theaters around the Bay Area including Berkeley Repertory Theatre, the Magic Theatre, and Marin Theatre Company. Ford's directing has garnered several "Best of Fringe" Awards and a Goldie Award.
ABOUT KEVIN GERZEVITZ
Based in the San Francisco Bay Area, Kevin Gerzevitz is a professional musician, composer and teacher. He frequently performs as jazz organist with the B3B4 Organ Jazz Quartet, and as a pianist and bandleader with The KG Trio. In his hometown of Ann Arbor, Michigan, Gerzevitz attended the University of Michigan School of Music, focusing on piano performance, jazz studies, improvisation, and composition while majoring in Music Theory and German. Upon earning his BMA in 1990, he relocated to the Bay Area where he worked as a freelance pianist, composer, and teacher. Gerzevitz attended Mills College from 2003 to 2005 to innovate his approach to teaching music, earning certifications in Levels I, II, and III as an Orff Schulwerk instructor. Since 2008, he has worked as the Music & Movement Specialist at Pacific Primary Orange Sun School in San Francisco. Gerzevitz has scored several independent films and has produced music for advertising, web, multimedia and theater. Kevin Gerzevitz Shares
ABOUT TINA D'ELIA
Tina D'Elia is a mixed-race Latina lesbian/queer identified feminist artist and professional Actor (SAG-AFTRA). In 2015, she received the Executive Producer and Trail Blazer Awards from the Equality International Film Festival for the diverse and authentic content in her work, the prominent roles of women of color/queer/trans characters in her stories, and her diverse casting work with communities of color and LGBTQ communities. Her award-winning solo show The Rita Hayworth of this Generation garnered Best of Fringe and Best of Sold Out Shows at the 2015 San Francisco Fringe Festival. Lucha, a short film that she co-wrote with award-winning film director Maria Breaux won The Audience Award at Frameline33 (2009) and nominated for the prestigious Iris Prize (UK). D'Elia's film/television/Webseries credits include: The Pursuit of Happyness, Knife Fight, Guitar Man, Trauma (NBC), Sense8 (Netflix), Dyke Central (Amazon Video), Transfinite (Vimeo On-Demand) and Assigned Female at Birth (YouTube).
About the organizer
Center for Domestic Peace (C4DP) leads a comprehensive community effort to end the #1 violent crime in Marin County: domestic violence. We provide transformational services and programs that protect and enhance victim safety, and ultimately engage our community in permanent change.
C4DP holds the vision of a world in which domestic violence, abuse, and intimidation is replaced with domestic peace.  We believe that all women, youth, children, and men who are abused and at risk of abuse have a right to immediate and long-term safety.  We strive to create greater safety, justice, and equality for all by building awareness and action toward changing the social norms that promote or enforce violence against women.  We seek to make domestic violence a major community concern among all residents and social institutions (schools, hospitals, police departments, etc.).  We believe that change results from the action-oriented participation of large numbers of people, organizations, and institutions, inclusive of survivors.  We see intergenerational leadership as essential in our multigenerational task of ending domestic violence and violence against women and girls.