Kathmandu Kora Cycling Challenge 2013

Saturday, 20 July 2013 from 07:00 to 17:00 (Nepal Time Nepal Time)
Event Details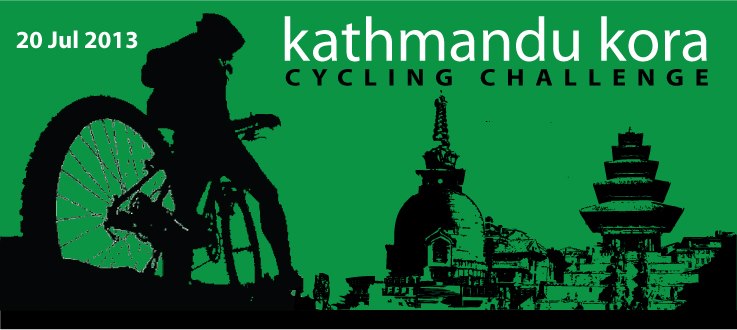 NO CHILD BORN TO DIE!

Every year, on the third Saturday in July, riders from Nepal and all over the world (ok, that sounds glamorous, but riders from different nationalities do participate) gather in Kathmandu (last year we were close to 300 riders) to ride a personal challenge rider of 50 kilometers around Kathmandu Valley. This is now popular as the KATHMANDU KORA, this year on its third edition.
Started in 2011, a modest 35 riders challenged themselves and got pledged of around half a million Nepali Rupees for a school and an orphanage in Kathmandu. In its second edition, almost 300 riders turned up and raised close to a million Rs. for upgrading birthing facilities in RUKUM.


THE CAUSE

THIS YEAR, its going to be BIG. As part of the EVERYONE CAMPAIGN, we plan to build a birthing facility in Sharmali VDC, Baitadi. This will be a Eco-Designed building, providing the best facilities to the women and children in this remote VDC. The principle is simple - no more minimum standards for our women and children. They deserve the best standards. They deserve a birthing facility that is beautiful, secure, earthquake proof, welcoming, warm and everything that we expect facilities to be like in the city. And this is what we aim to do.
The GOAL is - ONE MILLION for BAITADI.


How do we achieve this?
Easy. We register. We share. We talk to people about what we are doing, and get pledges from them for each kilometer we are riding.


REGISTRATION

The registration form for the Kathmandu Kora Cycling Challenge 2013 is here. Please fill in all fields and read the small print before you press submit. We shall contact you via email (so please make sure that the email is accurate) to confirm your registration.

THERE IS NO FEE FOR PARTICIPATION! You just need to register thats it! IDEALLY, we will ask you to please raise Rs. 100 for each km you ride by asking friends, family, companies to pledge the amount for the BIRTHING FACILITIES we are raising this money for. This is voluntary, and you are not bound to raise this money.
We respect your privacy and do not tolerate spam and will never sell, rent, lease or give away your information (name, address, email, etc.) to any third party, nor will we send you unsolicited email.
Frequently Asked Questions

Q. What is a Kora?

A Kora is a circumbulation devotees make around religious sites, usually clockwise.

Q. What is a Kathmandu KORA then?

This is a Kora of Kathmandu, of the three main religious sites of Soyambhunath, Boudha and Pashupatinath. It has that religious significance, but it is also meant to be a circumbulation of the power centre of Nepal - Kathmandu.

Q. When and how did this start?

In 2011, Maxim Jones and Shashank Lama, both 16, took this challenge, in the first ever Kora organised by socialtours and Chain Bikes, and raised awareness amongst the 35 riders and raised close to half a million Rupees in funds that were given to a school and an orphanage in Kathmandu.

In 2012, the second edition of the Challenge brought together around 300 riders who raised awareness on the situation regarding birthing facilities in rural areas. With the targeted fund-raising at half a million rupees, over 0.9 million was raised for upgrading facilities in Rukum. The process is still underway as we go for the third edition of the Kora.

In 2013, we aim to raise over 1 million rupees to BUILD a new birthing centre in Sharmali, Baitadi.

Q. How do I participate?

One can register as a rider and take on the challenge, one can register as a sponsor or pledger and pledge an amount for each rider or just for the cause. Pledges can be made at Rs. 100 per kilometre or just an amount.

Q. What do I get out of this?

The pleasure to have participated in something really big, and meaningful, as this will save lives with a very minimal investment and in a fun event.

Q. Do I need my own bike?

Ideally, but you can also hire cycles from different cycle shops in the city. We will put out a list of cycle shops and how many cycles they can spare for the Kora soon.

Q. What is the route?

Starting from Patan Durbar Square, the route goes to Kirtipur, into Naikap, Behind Soyambhunath, the White Stupa, then to Balaju water gardens, and then Manamaiju, Dhapasi, over the road into Budanilkantha towards Boudha. A lunch stop at Boudha and then its a return towards Patan Durbar Square from behind the airport and Pepsi Cola.

And no, this is not on the ring road, but just outside of it, through sub-urban Kathmandu.

We will end at Patan Durbar Square and then move to the gardens at Moskh Live in Jhamsikhel for some live music and relaxation.

Q. How did Baitadi and Sharmali get selected?

The idea is that we prove that crowd sourced development is possible in Nepal, and the more important thing is to go as far as possible, and provide a demonstration effect of what is possible when people truly believe in doing something.

Sharmali was suggested by the district headquarters at Baitadi to be a VDC with very determined people ready to work hard to develop themselves. A research trip was conducted in January and it was clear that they were motivated and driven, and that they also lacked a birthing facility. The local motivation is such that close to a Lakh Rs is already being raised right at the local level in Sharmali.

Q. I am not a professional cyclist, can I still participate?

Absolutely. This is a personal challenge we have developed on a very easy route, good for novices and also for experts. There will be support staff who will guide you along the way.

Q. Do I need to cycle the whole route or can I shorten it or stop in the middle?

You do not have to ride the entire circuit in case you cannot. The KORA is designed for for the possibility of truncating whenever required. At any point you will be no further than an hour from home, if you live in Kathmandu that is. That is the big advantage of doing a circuit in Kathmandu.
Attendee List
Sort by:

Date

|

First Name

|

Surname
When & Where

Around Kathmandu

Kathmandu, Central Region 44600
Nepal

Saturday, 20 July 2013 from 07:00 to 17:00 (Nepal Time Nepal Time)
Add to my calendar