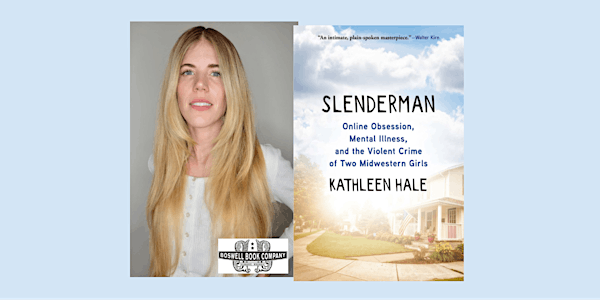 Kathleen Hale, author of SLENDERMAN - an in-person Boswell event
Kathleen Hale, author of SLENDERMAN - an in-person Boswell event
When and where
Location
Boswell Book Company 2559 North Downer Avenue Milwaukee, WI 53211
About this event
Boswell Book Company presents an evening with Kathleen Hale, author of Slender Man: Online Obsession, Mental Illness, and the Violent Crime of Two Midwestern Girls.
On May 31, 2014, in the Milwaukee suburb of Waukesha, Wisconsin, two twelve-year-old girls attempted to stab their classmate to death. Morgan Geyser and Anissa Weier's violence was extreme, but what seemed even more frightening was that they committed their crime under the influence of a figure born by the internet: the so-called "Slenderman." Yet the even more urgent aspect of the story, that the children involved suffered from undiagnosed mental illnesses, often went overlooked in coverage of the case. Slenderman tells that full story for the first time in deeply researched detail, using court transcripts, police reports, individual reporting, and exclusive interviews.
From the Publishers Weekly starred review: "Searing . . . As the first researcher into the case to draw extensively from transcripts of vital records, Hale has produced what stands as the most accurate account to date of this horrifying episode. This is a must for true crime fans."
Kathleen Hale is the author of two young adult novels and one essay collection. She has written for the Guardian, Hazlitt, and Vice, among others, and is a writer and producer for Outer Banks on Netflix. She was born in Wisconsin and lives in Los Angeles.
Click here to order your copy of Slenderman. Signed copies and personalization available on pre-orders. Please note that signed copies will not be shipped until after the event.