Experience a new form of wellness event held safely at various venues around Seattle. Clear stress, refresh your mind, spark your creativity
About this event
7/21 Kate Dinsmore, Ollella (Ellie Barber)
---------------------------------------------------
Safe, distanced, small music experiences
See COVID Safety Info at the bottom of this page under Abbey Arts Presents
Thanks for helping keep our community safe!
---------------------------------------------------
"Kate Dinsmore has an agenda. With a voice that's graced cruise ships and rock albums alike. Her eternal prerogative is to get down to the heart of matters as a writer, and performer. This PNW native has spent her career building bands all over the United States before stepping out as a solo artist.
In 2020 Dinsmore is working on a series of new releases, ranging from stripped down solo performances to singles. Her most contemporary work is full of longing and hope in a modern world. Kate blands classic guitar tones, vocals, and songwriting with the weight of moving through city life in a changing world.
With academic music chops from the University of Oklahoma, where she focused on Jazz and Songwriting, but Kate never lets the minutia of academia get in the way of finding joy in music. Largely influenced by Jazz vocalists like Sarah Vaughn, and Nancy Wilson, as well as Grace Potter, Bonnie Raitt, and Sam Cooke -- Kate's music is altogether modern and classic." -Artist Bio
"OLLELLA is the singer-songwriter, cellist, vocalist, and occasional mandolinist Ellie Barber.
Ellie's career as a musician started young, when she sang before she could talk. Trained as a classical cellist, she blends her technical background with authoritative vocals, live-looping, and improvisation.
Her playing has been featured on radio stations, in films screened at film festivals (Sundance, Aspen, CEFF), and on recordings with other artists, including Grammy-winning artist Peter Kater. She's drawn to music because it unlocks a particularly organic flavor of humanity – one that fits the type of world she believes in." -Artist Bio
@ Ballard Homestead, 6541 Jones Ave NW, Seattle
8p show, 7:45p doors
All ages, quiet picnics welcome
Venue Preview: https://www.instagram.com/seattlewellnessevents/
All attendees will be asked to offer Focus Group feedback after the show or via email.
--------------------------------------------------------------------------
EVENT & VENUE INFO:
Please refrain from talking during the show.
Please enter quietly if the show has already begun.
Please leave quietly, it's a very quiet neighborhood.
You probably get the idea, this isn't a loud party venue. :-)
For ADA information at Ballard Homestead, please see www.ballardhomestead.org/rent or email arts(at)fremontabbey.org
Quiet Picnics Welcome. Light snacks & non-alcoholic beverages may be available for purchase at the venues, but no other food or bar service at these shows.
Audience size will be limited and reduced per current Public Health Guidelines. Concerts are held in large spaces rated for 180-260 people normally. Various creative activities will be included in the lobby. Some shows may be hosted outdoors when noted and weather permitting.
--------------------------------------------------------------------------
ABOUT ABBEY ARTS, SEATTLE:
NONPROFIT 501C3, NON-RELIGIOUS, EST. 2005
Presenting welcoming music, arts & cultural experiences for people of all ages & incomes.
Home Venue: Fremont Abbey, 4272 Fremont Ave North, Seattle, WA 98103 / 206-414-8325 Ballard Homestead: 6541 Jones Ave NW, Seattle | + UHeights Auditorium, St Mark's Cathedral, & more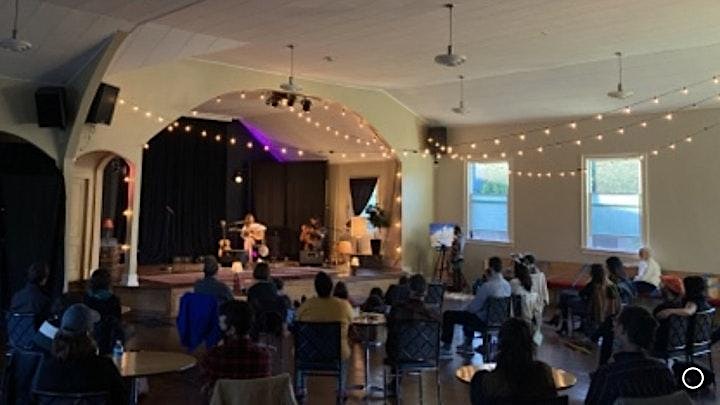 Organizer of Kate Dinsmore, Ollella (IN-PERSON)
COVID Safety Info:
As of July 30, 2021
As we reopen the doors to our venues, rest assured that we will be welcoming our patrons back in to an environment that prioritizes wellness and health. We are working with local officials to ensure current health and safety protocols are in place at Abbey Arts events, while being mindful that flexibility will be required as those guidelines will likely continue to evolve.
JULY Onwards
All current state and local health guidelines must be followed, https://coronavirus.wa.gov/
Windows will be open and lots of fresh air flowing wherever possible.
Events are at limited capacity until noted.
Vaccination Requirements:
GUESTS AGE 16+ must provide proof of full vaccination at time of entry
Full vaccination is defined as having received a final vaccination dose at least two weeks prior to the event date.
Acceptable forms of proof of vaccination include: an official CDC COVID-19 Vaccination Record Card or a picture of your vaccination card; a digital or printed WA State Certificate of COVID-19 Vaccination; a WA State Immunization Information System printout; or a verified medical record printout from a medical provider.

GUESTS AGE 2-15 must provide proof of negative COVID-19 test within 72 hours of admission
GUESTS UNDER 2 no requirements
Individual events may have additional safety measures in place, see Ticketing pages for details.
-----------------------
ABBEY ARTS, SEATTLE:
NONPROFIT 501C3, NON-RELIGIOUS, EST. 2005
Fremont Abbey | Ballard Homestead | South Park Hall | St Mark's Capitol Hill | The Auditorium @ UHeights |  & more
Independent nonprofit, non-religious, all ages/incomes. 
Low Fee Tickets! No hidden high fees like Ticktmstr. :-)
  (Note: Comedy shows may have different ticketing fees)
[ Click here to subscribe to our optional text messages. ]
[The views and opinions expressed at events are those of the artists and performers and do not necessarily reflect Abbey Arts. About Page | Respect Policy.]
Refunds may be available per event settings.
No refunds due to support act changes.
Tickets for rental events may be via their website.