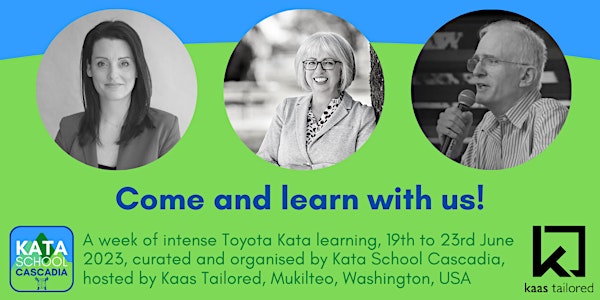 Kata School Cascadia's Kata Together June 19 -23 2023 at Kaas Tailored
Grow your Improvement and Coaching Kata skills! 35+ hours hands-on in person with our coaches and community members. Come Kata Together!
Date and time
Mon, Jun 19, 2023 12:00 PM - Fri, Jun 23, 2023 1:00 PM PDT
Location
Kaas Tailored 12978 Beverly Park Road Mukilteo, WA 98275
Refund Policy
Contact the organizer to request a refund.
Eventbrite's fee is nonrefundable.
About this event
4 days 1 hour

Mobile eTicket
Are you ready to Kata Together? Join us!
At Kata School Cascadia, we are ALL learners! Our Kata Together week isn't a conference. It's a comprehensive immersive workshop experience, 35+ hours, where we expect you to be actively learning and building your kata references and skills. Learn by doing, alongside some great coaches.
Our mission is to rock people's worlds by supporting their learning and sharing in the Starter Kata and beyond. If you have joined our community zooms or any of our online training, or if you were at Kata Together last year, you know we are all about
supporting learning that sticks
deliberately practicing the Improvement and Coaching Kata
finding obstacles and narrowing gaps in our practice and understanding
building scientific thinking
having fun in community.
This June, you will tackle all that in person with Kata School Cascadia!
What to expect June 19-23, 2023.
Brand new workshops from Kata School Cascadia coaches, Gemma Jones, Mark Rosenthal, Tracy Defoe and special guest Tilo Schwarz.
Individual and team Improvement Kata opportunities
Dozens of cycles and reps to build your skills
Starter Kata and beyond
Small coaching workshops to build references and practice micro skills for selected participants.
Unique events!
Two new workshops! We are building on our experiences and experimenting.
The North American book launch of Tilo Schwarz and Jeff Liker's new book, Giving Wings to Her Team — a novel about learning to coach the Toyota Kata way
A new tour of Kaas Tailored, our host company that Pam White called "the "Disneyland of Lean."
Stories from real life, kata experience presentations from participants
Most meals together
Optional evening activities because we learned that we all just want to hang out and have fun.
Registration is limited.
Scroll down to read the details.
Need a pdf? Request one from info@kata-school-cascadia.org
Questions? Contact info@kata-school-cascadia.org
Improvement Kata Boot Camp LIVE with coach Gemma Jones
Improvement Kata Boot Camp on Zoom is a proven way to learn and relearn the Improvement Kata Starter Kata. We are launching Improvement Kata Boot Camp LIVE, an immersive, intensive, rigorous (and FUN) training workshop, designed to give you a deep individual experience of the Improvement Kata. By practicing the steps and routines of the Improvement Kata, and running multiple experiments, you build skills and capabilities in thinking and acting scientifically. Establish or renew your kata foundations!
Immersive Team Kata Challenge with coach Mark Rosenthal
This Immersive Team Challenge workshop is about practicing and internalizing the Improvement Kata in a group. You and your team will run a live process to hit a daunting challenge in 15 hours over 3 days. This immersive and engaging workshop takes a deep dive into all the routines and steps of the Improvement Kata as in Mike Rother's The Toyota Kata Practice Guide. You will lead your team to a target condition and experiment against obstacles. This workshop has live coaching cycles. Take your practice to the next level!
Starter Kata and Coaching Skills with Tracy Defoe and Tilo Schwarz
Improvement Kata Boot Camp LIVE and the Immersive Team Kata Challenge both need coaches. A selected group of enrolled participants with the appropriate experience will be invited to join the coaching workshops that run parallel to the Improvement Kata Boot Camp LIVE and the Immersive Team Kata Challenge workshops. Have you been to IK Boot Camp with Kata Girl Geeks or Kata School Cascadia? Are you a Kata Coaching Dojo Facilitator or graduate of the Kata Coaching Dojo Masterclass? We will stretch your skills!
Why join us at Kata School Cascadia's Kata Together?
We are a community! Some of us have been on the kata learning path a little longer, sure. Everyone has something to offer and contribute, and we have planned workshops and activities with challenges to strive for, for all of us.
Is it different from last year's Kata Together? Yes and no!
We are still in the Treehouse at Kaas Tailored. You will spend a week with Kata School Cascadia's Mark Rosenthal, Gemma Jones and Tracy Defoe. This year, the Kata Coaching Dojo's Tilo Schwarz, the coach that first brought Cascadia coaches together, joins us to launch his new book and work with Tracy on the coaching workshops. Sylvain Landry is back too, and taking the lead on organizing our common times and some evening activities. Mark, Gemma, Tracy, Tilo and Sylvain. That's a starting line up you won't find anywhere else in 2023. The participants will be people you want to learn with and get to know in person!
This year's Improvement Kata Boot Camp LIVE builds on last year's Starter Kata workshop. Our Immersive Improvement Kata Workshop with Mark Rosenthal takes last year's workshop to the next level, with a live process and striving through target conditions and experimenting against obstacles. Both workshops need coaches and some participants will be selected for the coaches' workshops. Something for everyone!
About Tickets
This year's registration fees are more expensive than last year's. This year there are more hours together, more meals and more costs for us. At $1295 for the week, or $795 for one workshop, Kata Together is still the lowest cost, highest value option for the kata community to learn together in one place.
We aim to be inclusive. We want to be accessible. A limited number of discounted tickets are available for those with financial hardship, individuals paying their own way and for our volunteers. Email Tracy at info@kata-school-cascadia.org to ask about discounted tickets.
Frequently asked questions
I am new to Toyota Kata. Should I attend?
Why is there a limit on the number of tickets?
I am a really experienced coach, should I attend?
How can I apply for the Starter Kata coaches' workshop?
How can I apply for the Immersive Team Challenge coaches' workshop?
I can't stay for the whole week! Can I register for part of the week?
It looks like Improvement Kata Boot Camp is more than 14 hours, right?
About the organizer
Kata School Cascadia exists to rock people's worlds by supporting their learning and sharing in the Starter Kata and beyond. We grow scientific thinkers who make the world a better place. We are based in the Pacific Northwest (Cascadia) and welcome learners from anywhere in the world.