Description
Misfit Cabaret Presents Adventure Show!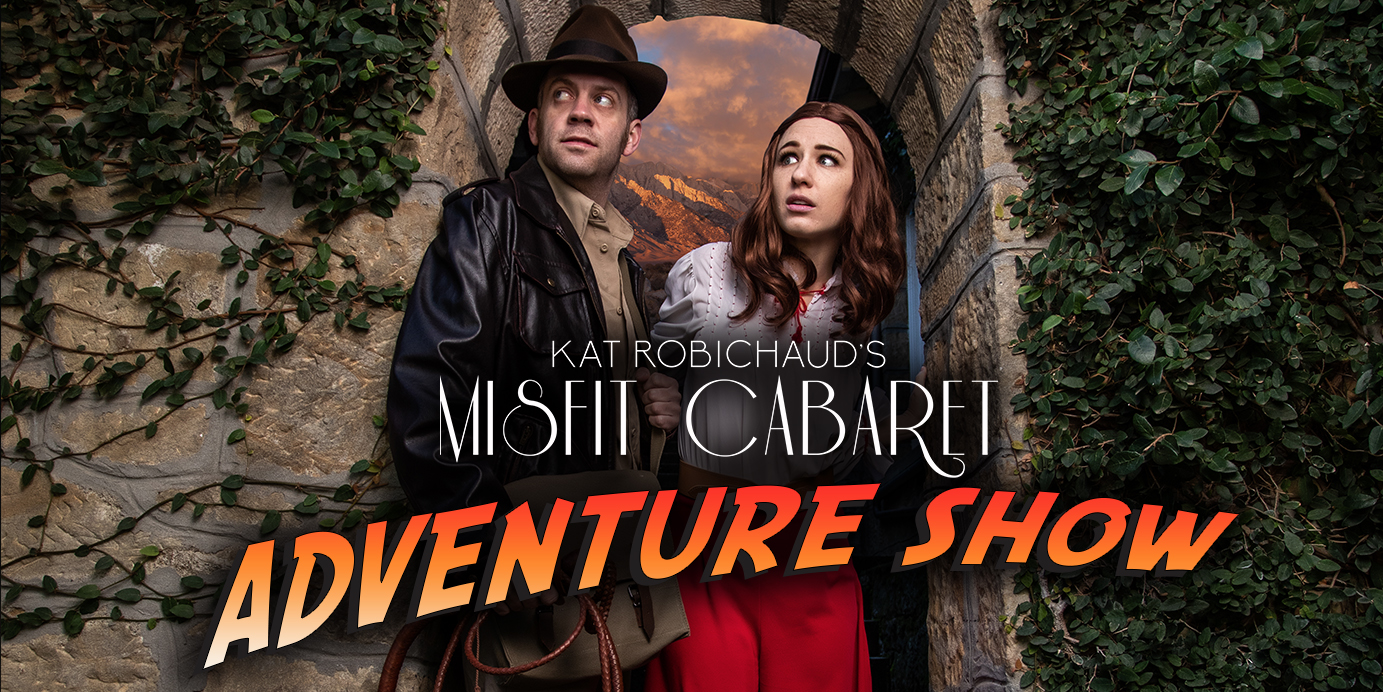 Click For Assigned Seats
​A Thrilling treasure hunt across the globe as the Darling Misfits go on their biggest adventure yet! Join Kat Robichaud and the Darling Misfits as they take on your favorite "fortune and glory" movies and tropes. Laura Croft will swing in and save our intrepid treasure hunters as they search for a way to save their homes. With the help of Indiana Jones, you will travel across the continent from speakeasies to caves. With A villainous character looming over your treasure, tread carefully. You never know what lies ahead at Misfit Cabaret! An intimate Musical Variety Show for that will have you at the edge of your seat.

As always, Aerials, Drag, Variety, a loose storyline to keep the plot moving and lots of music. Join the Darling Misfits for their final performance at Zspace.
Kat brings her band of Darling Misfits to Z Space for this exciting blend of musical theater, rock 'n' roll and vaudeville. Robichaud and her band create a night of decadence, bawdiness and damsels (not) in distress, complete with everything from burlesque to drag to circus to magic. For each new show, Robichaud writes two original songs keeping with the theme of the evening (this month: Lost in Z Space, as well as a special medley to kick off the evening. Imagine a place where your darkest dreams bloom into thrilling life -- that's what Misfit Cabaret is all about.
VIP TABLE FOR 4
For a truly unique experience. Your entire table will be lavished with a Bottle Of Bubbly, a private serenade from Kat Robichaud after the show, a goody bag with Chocolates, a signed flyer
PREMIUM + Package
Front Row Seats, a Glass of Bubbly, a private serenade from Kat Robichaud after the show, a goody bag with Chocolates, and a signed flyer
What Fans Say
"Less than 7 minutes in, I leaned over to my girlfriend and whispered "This is already worth the price of admission" .. and it's a two-hour show!"
"What a whirlwind of theatrical delights is Kat Robichaud's Misfit Cabaret. From Kat's own magnificent voice and engaging naughty pixie stage persona to the dazzling talents of her eclectic cast, the show unfolds as an adventure in music, dance, comedy, and gravity-defying feats of grace. The show lives up to its inspiration: In here, life is beautiful. The girls are beautiful. Even the orchestra (well, the band) is beautiful!"
To read more reviews and see more video and pictures, visit us at https://www.facebook.com/misfitcabaret/
COME AND JOIN THE FUN!