Kasem Cares 2nd Annual Conference on Elder and Dependent Abuse with CDAA
Description
Join us for the Kasem Cares 2nd Annual Conference together with California District Attorney Association!
Why attend? This conference is designed for individuals interested in learning more about the challenges that exist within today's elder community. Whether you are an advocate or victim, you can benefit from the issues faced in elder abuse and dependent abuse. You will get answers, resources and support if you or your loved one are facing issues in elder or dependent abuse.
WHAT YOU WILL LEARN and who you will meet at our two day conference:
Survivors Panel: Kerri Kasem, Kelly Rooney, Travis Campbell, Trudy Campbell, Julie Belshe, Kathy Brawn, Phyllis Kalbach, Ione Daniels, Laurie Martinez
It Can Happen To Anyone: Lessons Learned From Cases of Celebrity Isolation & Elder AbuseTroy Martin - Attorney at Law; Lurie, Zepeda, Schmalz, Hogan & Martin
Fraudulent Guardianships: Everything Law Enforcement Needs To Know - Rick Black, Dr. Sam Sugar
Look Deeper: Unraveling Deceitful Guardianships - Diane Dimond
Preying on the Disabled: One Family's Journey and Advice - Mayor Dr. Lee McGunnigle & Leigh McGunnigle
Sponsorship opportunities available. Click on "Tickets" to see sponsorship levels and thank you for your support. Email event organizer today!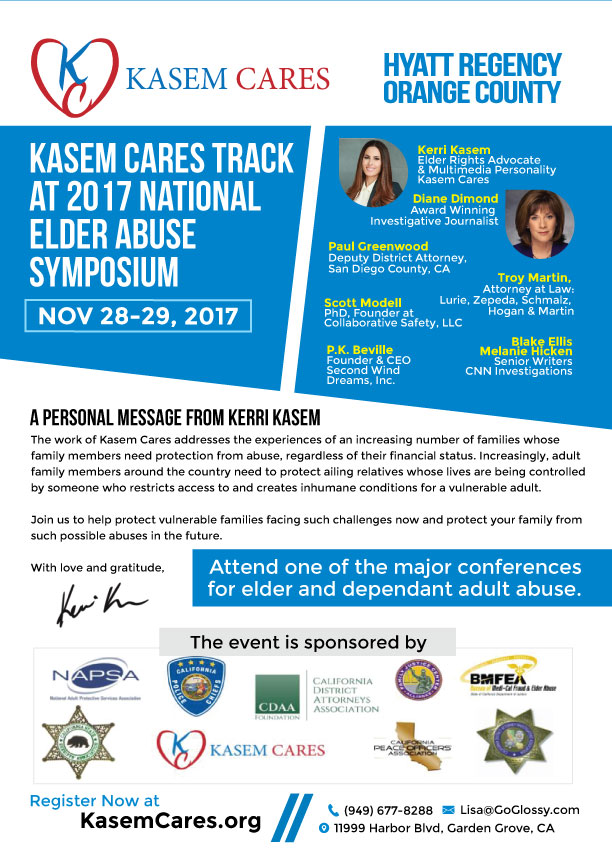 Date and Time
Location
Refund Policy