Event Information
Performers
Ghost-Note, Lespecial, Mark Lettieri, Dogs In A Pile
Yam Yam, Wax Future, The John Ferrara / Seth Moutal Duo , Paris Monster, Root Shock, Jonathan Scales Fourchestra, Muscle Tough, Chestnut Grove, Sungazer, Still Hand String Band, Solar Circuit, Joe Keyes and the Late Bloomer Band, the phryg, Natalie Brooke Band , Escaper, Baked Shrimp, Mojo Bozo's Electric Circus, The Stanley's, SWAAMP, Hobo Style, KARNIVAL ALL STARS SUPERJAM
Kollective Ground's proudly presents the return of Karnival of the Arts 2021!
About this event
KOLLECTIVE GROUNDS PRESENTS
Karnival of the Arts 2021
www.KarnivalOfTheArts.com
Sep 2nd - Sep 6th 2021
Ukrainian Homestead
Lehighton, PA
~ W e l c o m e t o t h e K a r n i v a l ~
This Labor Day Weekend, Kollective Grounds brings to you one of Pennsylvania's only ARTS - FIRST Music Festivals: the KARNIVAL OF THE ARTS. The Founders of the event are a diverse group of individuals, music festival contributors, and true fans of music who are dedicated to enhancing the community and human condition through the inclusion and appreciation of all types of art.
~ Live Art and Flow Performances by Nationally Touring Artists ~ Indoor and Outdoor Triple Decked Stages ~ National Headliners ~ Grammy Award Winning Musicians ~ 40 + Musical Acts ~ Variety Fun House with DJ , Hip-Hop & Punk themed nights ~ Joke for a Smoke Comedy ~ Pool Parties ~ Projection Mapping ~ Art Installations ~ Art, Craft & Food Vendors ~ Exclusive VIP Packages With Private Chef ~ Karnival Games & Snacks ~ Fireworks by Elevated Explosions ~ Camping ~ Karnival Kid Zone ~ Workshops ~
Come join us for a truly unique and artistic weekend at the Ukranian Homestead in Lehighton, PA.
Where were you the last time Karnival of the Arts came into town?
** Buy your tickets today at www.karnivalofthearts.com
**Or directly from Eventbrite https://karnivalofthearts.eventbrite.com
**VIP Tickets & Camping Available - details below
Have any Questions?
Interested in being a Sponsor, Vendor, Artist, or Leading a Workshop?
Contact us at info@karnivalofthearts.com
Musical Line up
FEATURING
Ghost-Note
Lespecial
Mark Lettieri Group
Dogs In A Pile (VIP NIGHT)
Yam Yam
Wax Future
Paris_Monster
Root Shock
Jonathan Scales Fourchestra (VIP NIGHT)
Muscle Tough
Chestnut Grove
Sungazer
Still Hand String Band
Cousin Earth
Solar Circuit
Joe Keyes and The Late Bloomer Band (VIP NIGHT)
The Phryg
Natalie Brooke Band
Escaper (VIP NIGHT)
Baked Shrimp
Mojo Bozo's Electric Circus
The Stanley's
SWAAMP
Hobo Style
KARNIVAL ALL STARS SUPERJAM
Fun House Variety Stage Presented by: Throwdown Productions
~ Friday: DJ Fun House ~
~ Saturday: Hip-Hop House ~
~ Sunday: Punk Haús ~
Super Jams Hosted by The Karnival All-Stars!
FIREWORKS SHOW by Elevated Explosions
PROJECTION MAPPING by Altered Light
STAGECRAFT by Assorted Studios
EVENT PHOTOGRAPHY by Karl McWherter Photography
Additional Contributions from Lucidfoot Productions LLC, Paws and Rewind, Jason Wein Construction & Carpentry, Grounded Roots Event Safety
**Various opportunities are available for volunteering, exhibiting, demoing, vending, and promoting art. If you're interested in being featured during this event, contact us at info@karnivalofthearts.com
ART
We are creating a fully-inclusive environment designed for artists and art enthusiasts of all types to come, appreciate, and participate, and are dedicated to supporting and promoting artists and art of all types.
"I'm enough of an artist to draw freely on my imagination. Imagination is more important than knowledge. Knowledge is limited; imagination encircles the world."
Albert Einstein
October 26, 1929.
MUSIC
Regional favorites and national headliners grace our stages through Labor Day Weekend. Immerse yourself in an eclectic mix of live bands and regional DJs and introduce yourself to new sounds and live acts.
KARNIVAL
Classic and custom Karnival games and prizes will be available, as well as carnival treats alongside diverse food vendors. There will be Karnival Kids Zone and Family-Friendly areas.
CAMPING
Car-side camping will only be guaranteed to early ticket holders. Please remember: no glass, all pets must be leashed, and minors must be accompanied by an adult.
** RV Sites are Limited, RSVP REQUIRED - contact info@karnivalofthearts.com
**VIP**
Enjoy the Festival's Enhanced VIP Perks:
-Thursday entry and access to the exclusive VIP party presented by Lucidfoot Productions
-A VIP only dining experience throughout the weekend with private chef
-Exclusive VIP Lounge and Performances
-Designated VIP camping area with showers and restrooms
-Karnival Swag and Karnival Games Tickets
General Inquiries
info@karnivalofthearts.com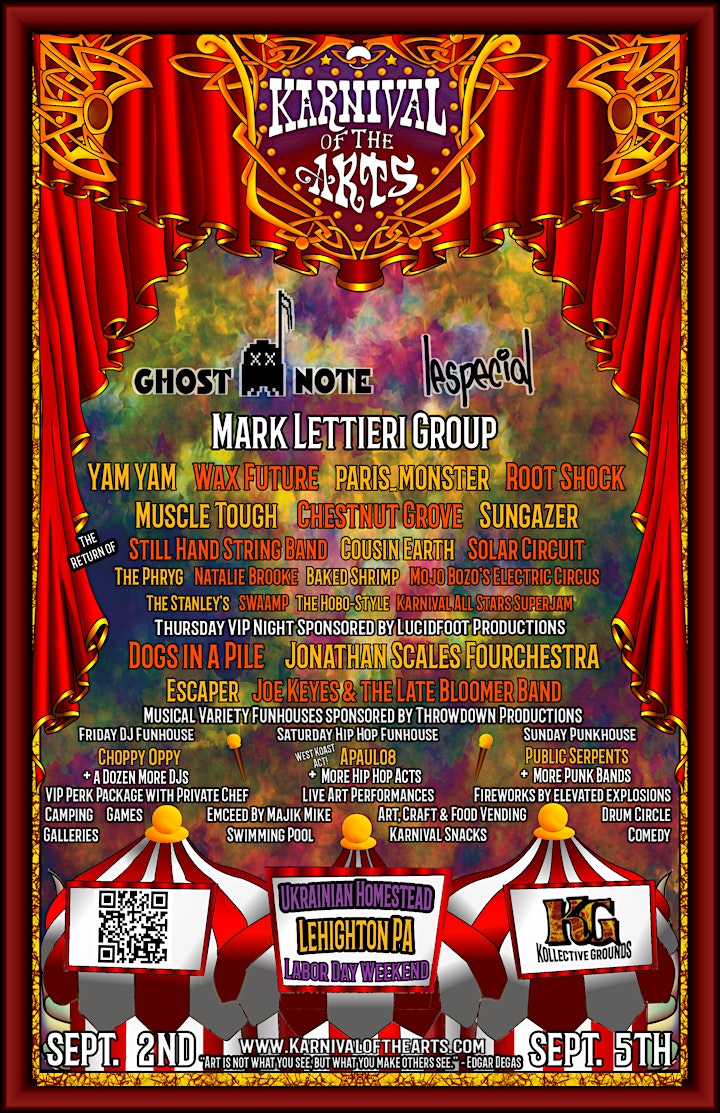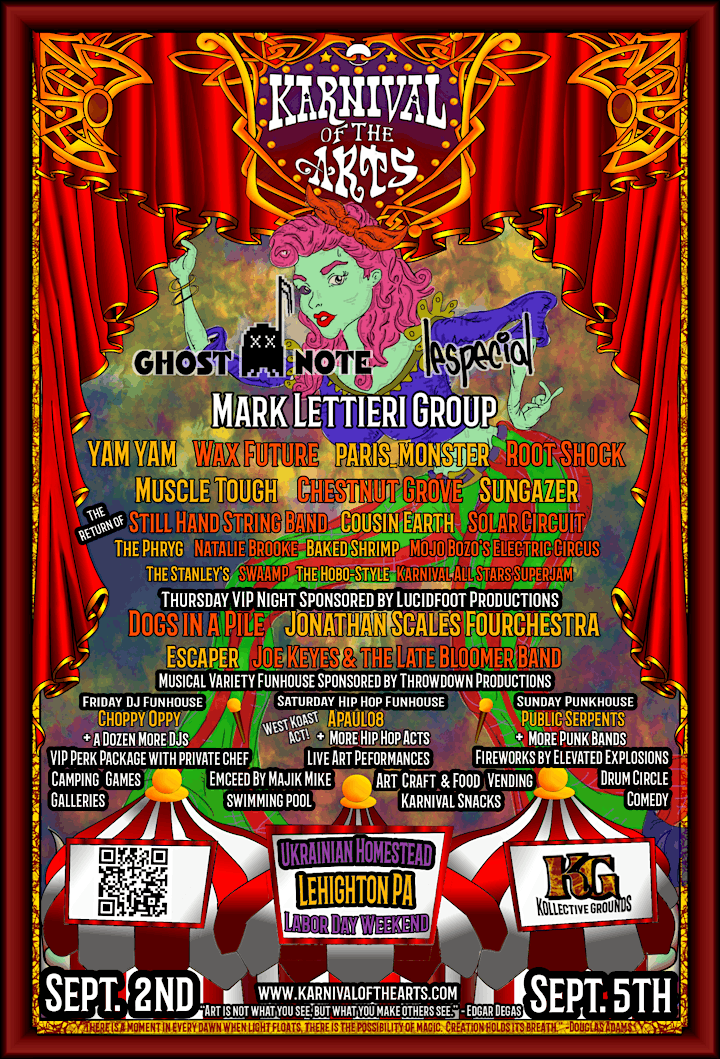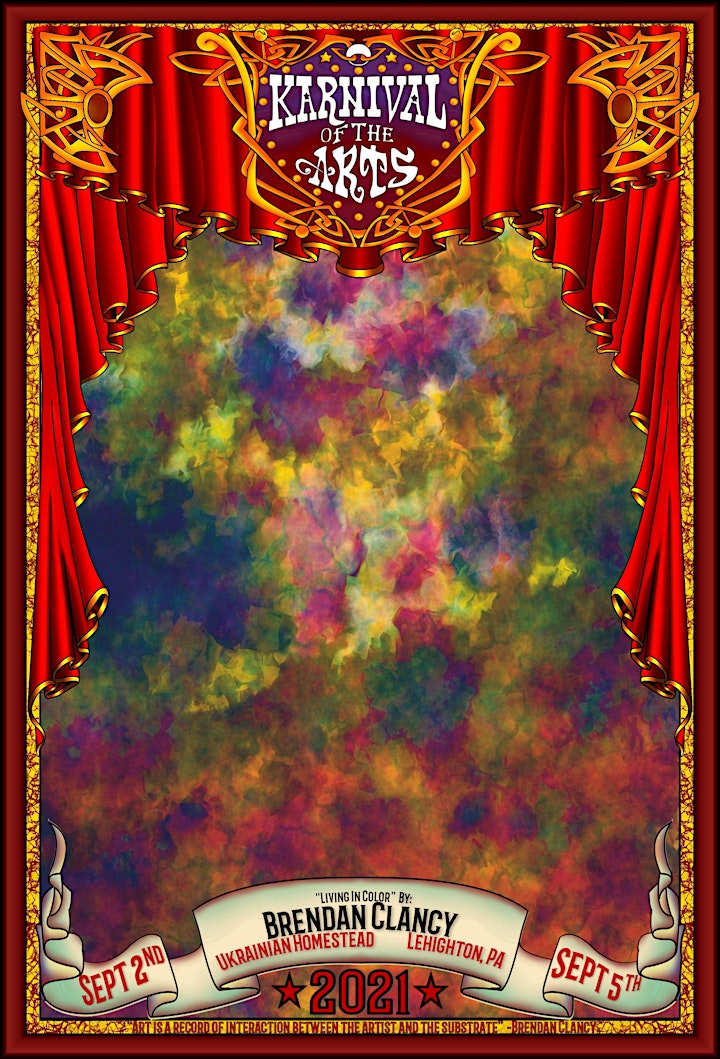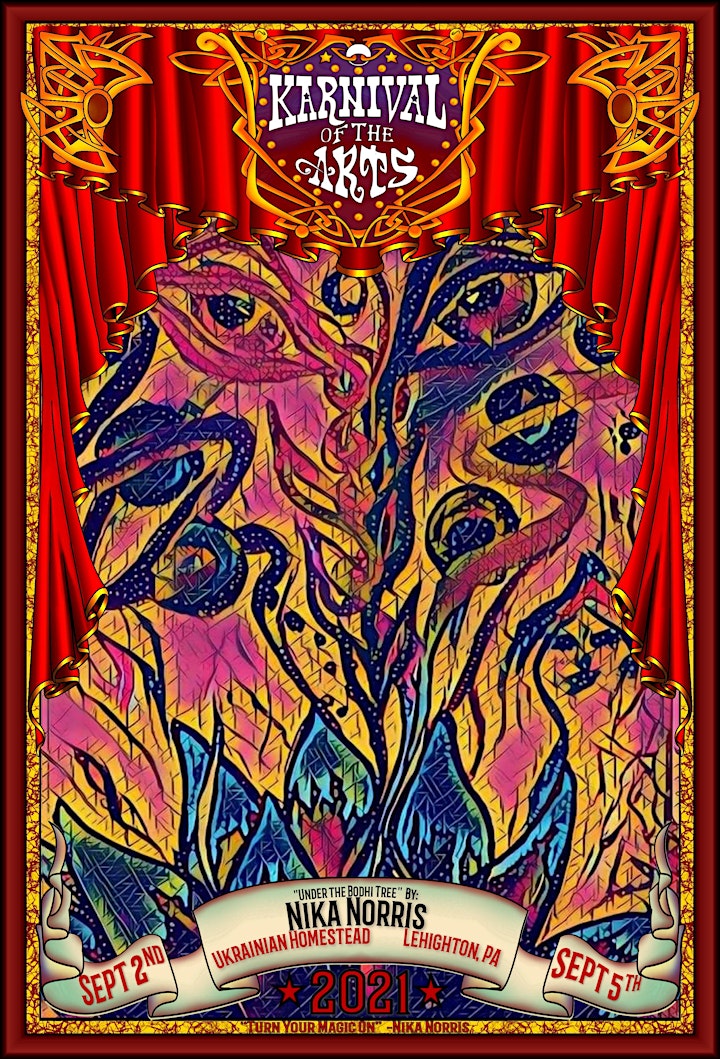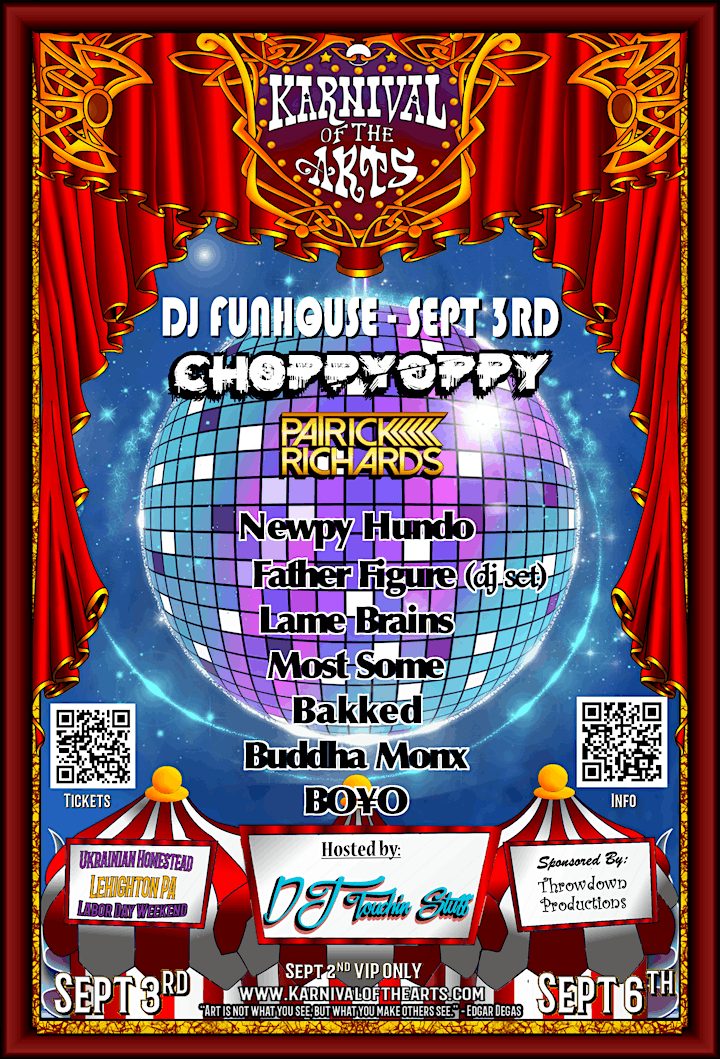 Performers
Ghost-Note, Lespecial, Mark Lettieri, Dogs In A Pile
Yam Yam, Wax Future, The John Ferrara / Seth Moutal Duo , Paris Monster, Root Shock, Jonathan Scales Fourchestra, Muscle Tough, Chestnut Grove, Sungazer, Still Hand String Band, Solar Circuit, Joe Keyes and the Late Bloomer Band, the phryg, Natalie Brooke Band , Escaper, Baked Shrimp, Mojo Bozo's Electric Circus, The Stanley's, SWAAMP, Hobo Style, KARNIVAL ALL STARS SUPERJAM
Date and time
Location
Refund policy