Karma Rescue Redesign: A GOOD Hackathon to Help Shelters Shine Online
Location
GOOD HQ -- 15th floor
6380 Wilshire Blvd
*There will be ample parking on nearby streets
Los Angeles, CA 90048
Description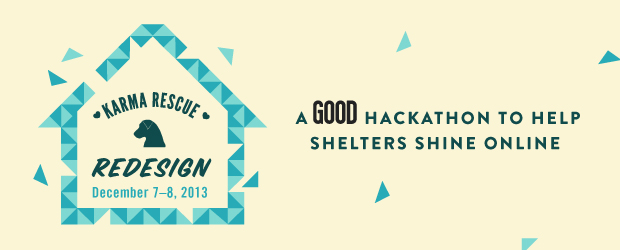 The pet lovers at GOOD and Purina ONE® are hosting "Karma Rescue Redesign," a socially conscious hackathon on December 7th and 8th, 2013.
Over two days, event participants will work together to brainstorm, prototype, and redesign a new website for Karma Rescue - a Los Angeles-based animal rescue group - to improve the organization's ability to find homes for pets, reach new supporters, and engage with their community.
Date & Time:
9:00am on Saturday, Dec. 7th to 6pm on Sunday, Dec. 8th
Location:
GOOD HQ | 6380 Wilshire Blvd., 15th Floor, Los Angeles, CA 90048
Donation:
Participants will be asked to donate $10 to Karma Rescue as an admission entry
Participants:
The goal of the hackathon is to tap into the passion and skills of the Los Angeles tech and design community to help Karma Rescue. Participants will work in teams of up to four membrs, where they will ideate, create, and pitch their website redesign ideas to a panel of judges.
Participants will have the opportunity to form teams on Saturday morning, but teams that are already formed are more than welcome to participate. Teams should consist of no more than four members. Meals will be provided throughout the hackathon.
Judging Panel & Criteria:
The judging panel will consist of a tech expert from GOOD, shelter experts from Karma Rescue, and a design expert from Zeus Jones. Judging will be based on the following criteria: creativity and originality; design; implementation and feasibility; and management and sustainability.
Prizes:
The winning team will receive the following prizes:
(1) $1,000 for the team
(2) a feature on good.is
(3) a year subscription of GOOD Magazine for each team member
(4) coupons for a year's supply of Purina ONE pet food for each team member
If you have a financial hardship paying for this event, please contact Mindy Nguyen (mindy@goodinc.com).
To check rules and regulations for the Karma Rescue Redesign, please click here.