About this Event
The full moon is considered the "end" and climax of the lunar cycle. This is a powerful time for inner work and "dealing with our stuff" by releasing the lower energies of negative patterns or thoughts we may be holding on to. It is an opportune time by doing a moon ritual focused on forgiveness & gratitude. By forgiving others and/or ourselves, we can move forward with our heartfelt intentions with a more positive and higher vibration.
✨
If you are on a spiritual path, connecting with the Moon will be pure magic! We will work together with the lunar energies and the specific influence of the zodiac sign during the ceremony. The process will be amplified with the support of crystal singing bowls and Fleur's soft and nurturing voice along with Yvonne's Reiki healing energy for each participant.
✨
Connecting with the Moon reconnects us to the Divine - with our Divine selves and the cosmos. The Moon itself is a reminder that there is more to life than the goings-on of our daily lives. It helps us to remember that we are a part of something bigger and that we are the makers of magic on a journey towards enlightenment. When we gather together in a circle, we are expressing the potent moon energy and using the circle as a catalyst.
✨
On this day of the Full Moon, we will celebrate the universal principles of forgiveness and gratitude connecting with the astrological influence of the zodiac sign in the lunar cycle.
Please take the time before hand to tune into what you need to release during the ceremony.
🌔🌕🌖
Many thanks to Helena Arturaliza for her beautiful art work
https://www.facebook.com/aroundtheworldin80paintings/
For your information:
* Cellular devices are requested to be turned off.
* Parking is available on the street. Public Transit is recommended (details of the road below)
* Wear comfortable clothes and bring warm layers.
* Bring a water bottle.
* Feel free to bring your favorite crystal or object for charging on the altar & your notebook and pen to record your experiences.
* Yoga mats & blankets will be provided but please bring extra blankets and a pillow to ensure you are cozy.
* No experience is required.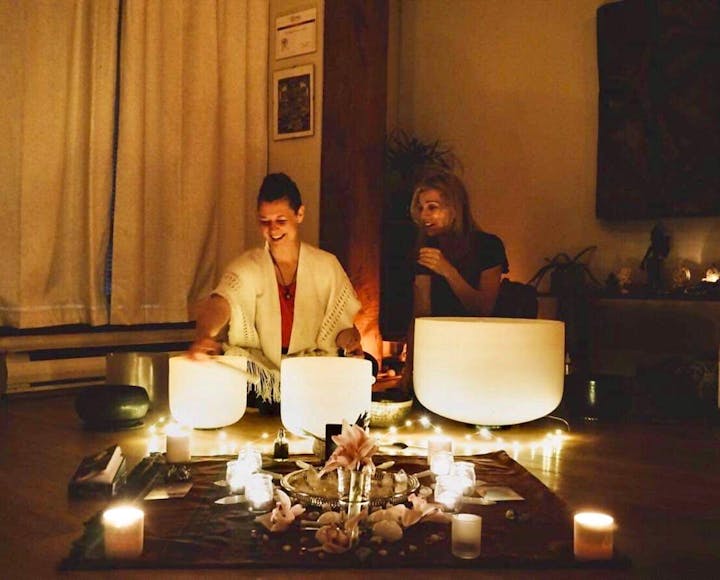 Event Schedule:
6:30 PM - Doors open
6:45 PM - Doors close to begin opening the ceremony and tuning into the specific cosmic energy of the night.
7:30-8:30 PM - Raising our vibrational frequency and expanding our consciousness with the support of Fleur's crystal singing bowls and healing Reiki with Yvonne.
8:30-9:30 PM - We will ground back our experience with tea and chocolate while we connect and share our experiences.
Your investment for a heartfelt evening is $44.00
Space is limited so please reserve early. Spots are not guaranteed on the day of the event and will be $50.00 CASH if available at the door. Your space is only refundable if you give more than 24 hours notice or another person takes your spot. No refunds for same day cancellations.
Hope this touched you – if you know a friend who this would resonate with, please feel free to send it on to them, only make sure it's okay first as we don't want them to think it's spam. Let's take a stand and encourage ourselves and each other because we feel stronger when we know we are standing beside others.
We look forward to seeing you ❤️
With light & love.
Fleur & Yvonne
🌔🌕🌖
DETAIL OF THE ROAD:
By Bus: Take the number 15 South on Cambie St. Get off at the 22nd Ave. stop. Go East blocks, turn left then either come right down the alley or right down 23rd. The door is at the back
#25 from either east or west. Get off at any stop close to Heather or Ash and head north 2 blocks to 23rd. 651 is halfway between Ash and Heather on the north side of the street. Come down the path to the side of the building.
Other routes are the # 33 on Cambie from either South Van or UBC.
The Canada Line also lets off at the corner of King Ed and Cambie. follow the instructions above.
By Car*: 651 23rd ave is north of King Edward and West of Cambie Street.
You can park on Ash and come down the Alleyway or park on 23rd. Parts of the street say resident only. Residents aren't too fussed about this.