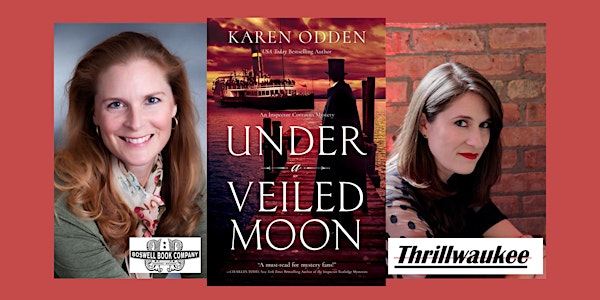 Karen Odden, author of UNDER A VEILED MOON - an in-person Boswell event
Karen Odden, author of UNDER A VEILED MOON - an in-person Boswell event
When and where
Location
Boswell Book Company 2559 North Downer Avenue Milwaukee, WI 53211
About this event
Boswell Book Company hosts an afternoon with Karen Odden, author of Under a Veiled Moon. In conversation with Erica Ruth Neubauer.
September 1878. A fatal disaster on the Thames results in the worst maritime disaster London has ever seen, and early clues point to sabotage by the Irish Republican Brotherhood, who believe violence is the path to restoring Irish Home Rule. For Scotland Yard Inspector Michael Corravan, born in Ireland and adopted by the Irish Doyle family, the case presents a challenge. Accused by the Home Office of willfully disregarding the obvious conclusion, Corravan doggedly pursues the truth, knowing that if the Princess Alice disaster is pinned on the IRB, hopes for Home Rule could be dashed forever. As the newspapers link the IRB to further accidents, London threatens to devolve into terror and chaos. With the help of his young colleague, the loyal Mr. Stiles, and his friend Belinda Gale, Corravan uncovers the harrowing truth - one that will shake his faith in his countrymen, the law, and himself.
Karen Odden earned her Ph.D. in English from New York University and subsequently taught literature at the University of Wisconsin-Milwaukee. A member of Mystery Writers of America and Sisters in Crime and the recipient of a grant from the Arizona Commission on the Arts, she has contributed essays to numerous books and journals and edited for the journal Victorian Literature and Culture. Her previous novels, also set in 1870s London, have won awards for historical fiction and mystery.
Click here to order your copy of Under a Veiled Moon. Signed copies and personalization available on pre-orders. Please note that signed copies will not be shipped until after the event.
*