Description
The Long Now Foundation welcomes
Karen Marcelo (dorkbot SF, Survival Research Labs)
discussing artists & hackers doing strange things with electricity for decades
Karen will tell us what has gone down and what may come next

@ The Interval at Long Now: check-in begins at 6:30; talk will start at 7:30
Join us afterwards for drinks and conversation with our speaker

Karen Marcelo shown with one of Survival Research Labs' 'little friends'...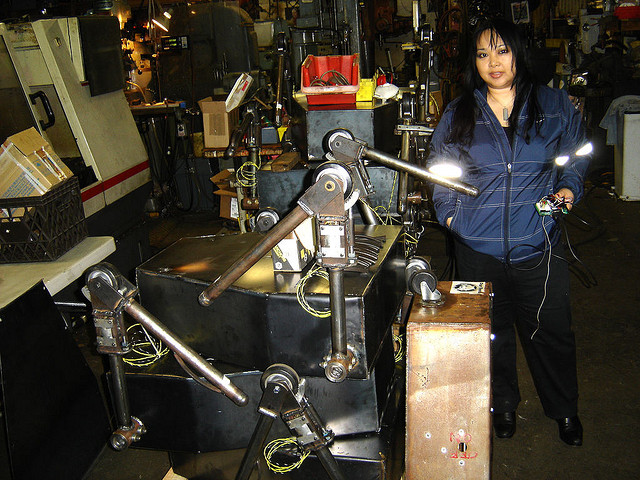 Come hear about the history of loud, fiery machines and hacker artists in San Francisco and surrounding areas from someone at the center of the noise for years
The Bay Area has been home to generations of "high tech" companies like HP, Atari, Apple, Adobe, Cisco, Google, Twitter, Salesforce, and the list goes on. Geeky billionaires, bussed to the peninsula, waiting for their next IPO, flocking to Mosconi conferences, interviewed on the pages of Crunchtech and Insider Business beside ads for the next most pintresting app on the planet.
But something is stirring in the dark at the back of the startup garage: shadowy, oily corners of heavy metal and punk rock--more JG Ballard than VC Capital. Un-monetized, non-productized, often subversive and sometimes in fact quite dangerous. Men and women whose goal is to make machines do strange things. They reanimate mechanical detritus from junk yards for the sake of art and robot combat. Or take common household objects like vacuum cleaners and power drills and use them for decidedly non-utilitarian purposes.
Karen will talk about many underground tech-art projects
including her work with Survival Research Labs & organizing dorkbot SF for a decade+

Survival Research Labs (SRL) has epitomized this rusty cutting edge of 'renegade tech' since its beginnings in the late 01970s. More recently 'dorkbot' has become a nexus for all sorts of drone hackers, API manipulators, Arduino greasemonkeys, and civil libertarians who gather for sporadically scheduled assemblies in Bernal, Bayview, Hunters Point, Oakland, to share their work and not take themselves too seriously.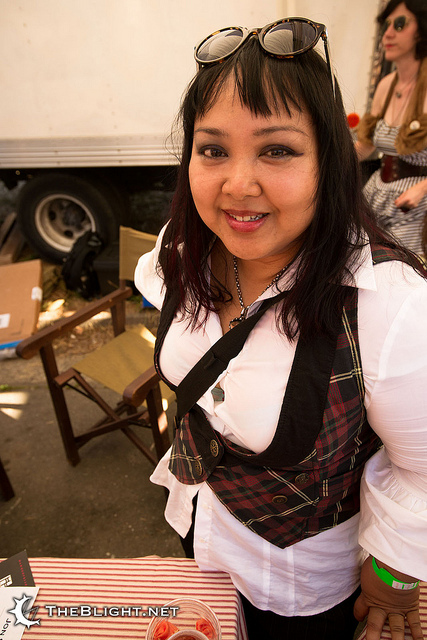 Dorkbot isn't only about electricity but also community. It has been likened to an informal peer review. The peers in question come from a multi-decade scene of code and hardware hackers that predates MAKE and TechShop.
There is no better tour guide to what has gone down and what may come next than Karen Marcelo. In her work with SRL and as dorkbot founder and curator, she knows just about everyone and has plenty of stories to tell. Like many, but not all, of these tech experimentalists she makes a living in the mainstream tech world while also coding in its shadows.
Your desire to do what you want to do has to be greater than the world's desire to stop you.

—Mark Pauline, Survival Research Labs
Mark Pauline launched SRL in 01979 as a solo show. Since then SRL has comprised a constantly shifting group of scores of artists, mechanics, and engineers who work with Pauline to build machines and put on SRL shows around the world.
A long-serving member of the SRL team, Karen operates machines in shows and writes code that enable remote operation--including over the web--of their destructive mechanical creations. She'll talk about her work with SRL and about other machine art and robotics projects made by past and present members of the group.
SRL likes to stage performances without official permits, without notification
of the city's fire department, without insurance, and without advance publicity. They let the audience sit way too close.

—Kevin Kelly, from Out of Control
Karen Marcelo has worked for Frogdesign, Intel Research, and Xerox PARC, amongst others. She is Survival Research Labs' Tele-Obliteration Engineer and founded dorkbot San Francisco for "people doing strange things with electricity" to share their projects with each other. Karen has also collaborated with notorious Australia-based performance artist STELARC including working on his Prosthetic Head. Over the years she has worked on ubiquitous computing environments, 3D visualizations, and the first civilian-developed telerebotics control systems for lethal machines.
Interval donors hear about our events first: become a donor today.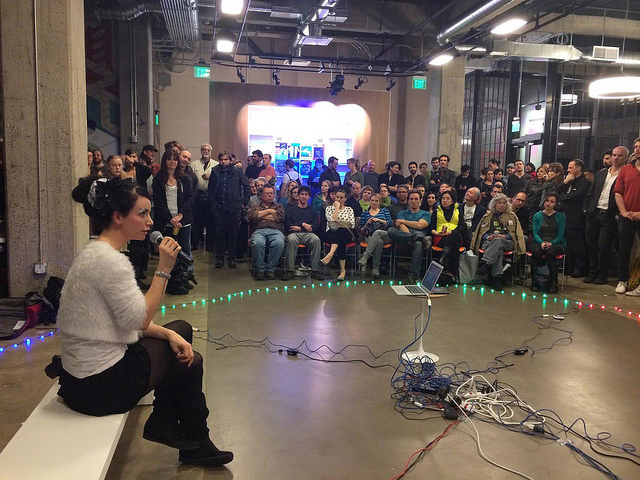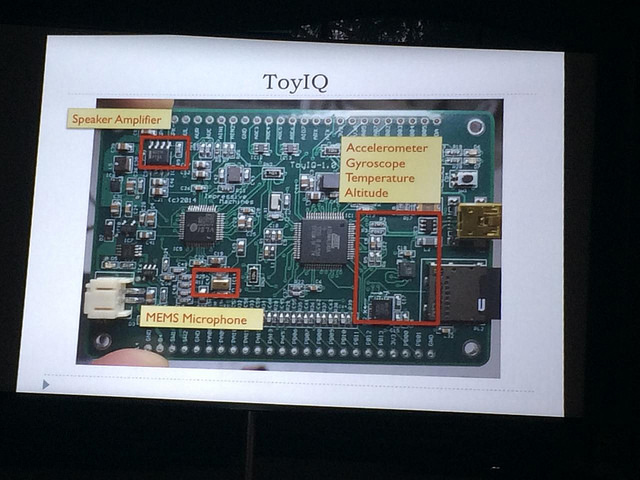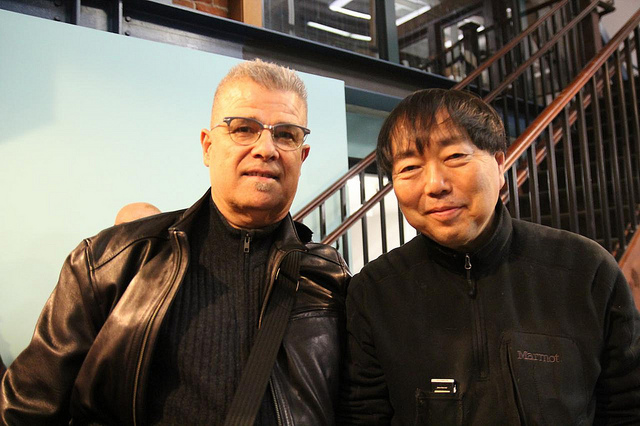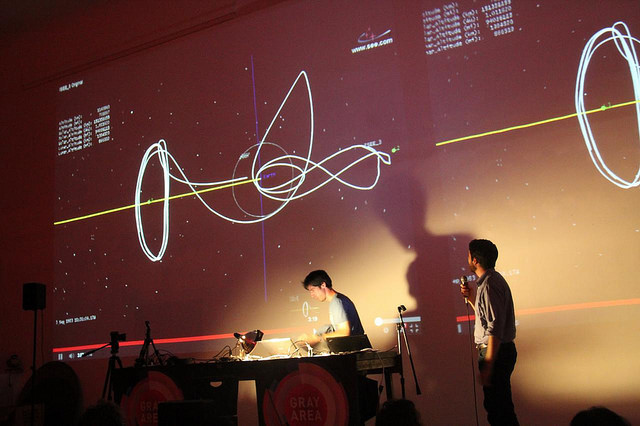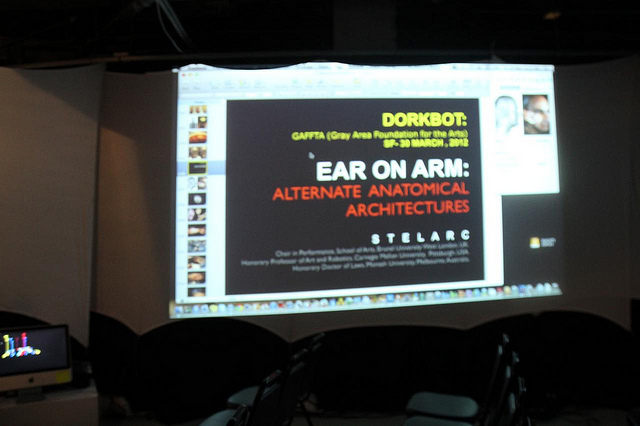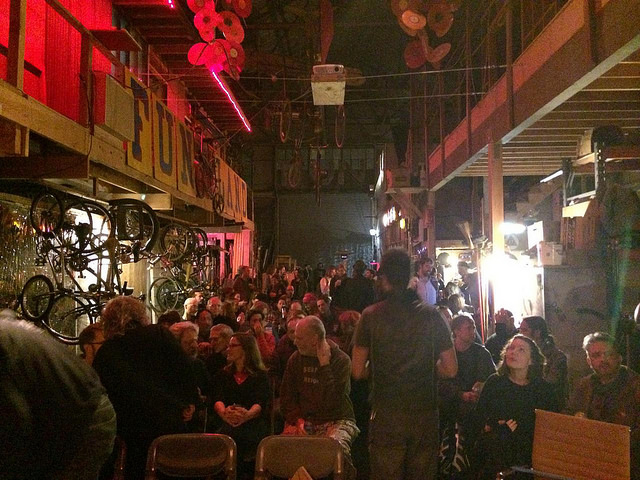 photos by Karen Marcelo
Organizer of Karen Marcelo at The Interval: renegade technology in the Bay Area
The Interval at Long Now is a bar, cafe and venue for talks and other gatherings located in historic Fort Mason Center on San Francisco's north shore within site of the Golden Gate Bridge and Alcatraz. The Interval serves delicious beverages in a room full of mechanical wonders and thousands of books.
We are open daily from 10AM to midnight. Events are typically on Tuesday nights a few times a month. Tickets usually go on sale 2 weeks prior to the event. Our talks tend to sell out quickly due to our limited capacity.
Long Now members can purchase tickets before the general public.
The Interval is home to The Long Now Foundation which is dedicated to long-term thinking through projects including building a 10,000-year Clock, the monthly Seminars About Long-term Thinking (SALT), The Rosetta Project, PanLex, and Revive & Restore.