About this Event
Man's best friend comes in many shapes and forms. And while the greyhound tends to get all the love when it comes to racing, we feel that there is another competitor whose lack of speed is more than compensated by tenacity and spirit, the wiener dog!
If you have a four-legged companion of the wiener dog variety, why not show off their prowess by entering them into the Karbachtoberfest Wiener Dog race? Sign up online and give your pooch a chance at the podium where they can relish in the cheers of adoring fans!
Race Entry: FREE upon selection of preferred race day(s) when registering.
Prizes:
First Place- Bad Ass Trophy & Karbachtoberfest Gift Basket.
Second Place: Karbachtoberfest Gift Basket
Race Dates/Times:
Weekend 1:
Thursday, Sept. 19th @ 6:30pm
Friday, Sept. 20th @ 6:30pm
Saturday, Sept. 21st @ 4pm
Sunday, Sept. 22nd @ 4pm
Weekend 2:
Thursday, Sept. 26th @ 6:30pm
Friday, Sept. 27th @ 6:30pm
Saturday, Sept. 28th@ 4pm
Sunday, Sept. 29th @ 4pm
Weekend 3:
Thursday, Oct. 3rd @ 6:30pm
Friday, Oct. 4th @ 6:30pm
Saturday, Oct. 5th @ 4pm
Sunday, Oct. 6th @ 4pm Championship Race!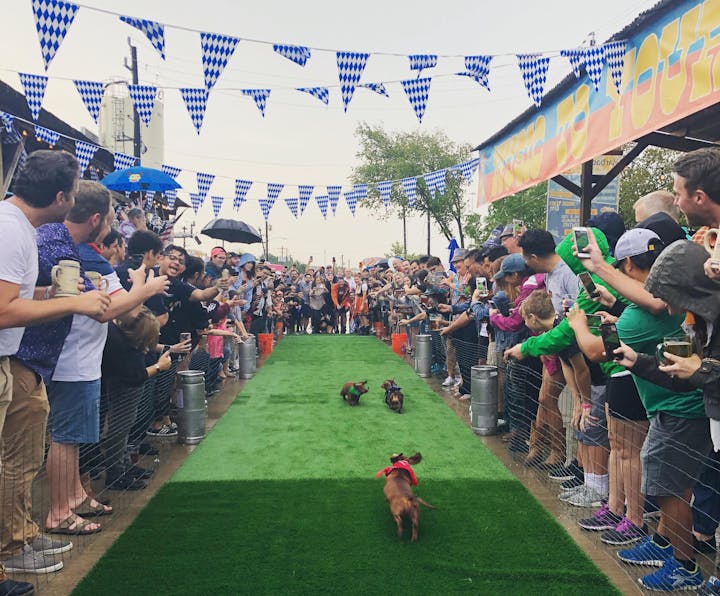 RULES AND REGULATIONS
• All decisions regarding the call and placement/advancement of racers made by Karbach's racing staff/Karbach staff are final and not subject to review by Owners.
• All dogs must have current shots and Owners must provide current shot records upon check in. Please be sure your dog is current on DHPP, Rabies and Bordatella vaccines. (Parvo and Kennel Cough are highly contagious.)
• Racers must be under 16 pounds and under 16 inches high to register for the races.
• Races are assigned by order of receipt of a complete registration form. Once you have checked in and we have received your pup's shot records, your dog's name is entered into the draw. The draw is conducted with each dog's name drawn at random based on size for Heat and Race Post position to determine preliminary race heats. Finalists advancing from their heat into the Finals will have their names resubmitted for the draw for the Finals. Post position will be announced on-site prior to the Finals and your dog will be provided with new racing colors to mark their post position. All decisions of the draw are final.
• All breeds of Wiener Dogs are welcome to participate in this event, but they must be at least 4 months of age or older, weigh 16 pounds or under, and have had their current boosters.
• Limit one (1) dog per two (2) humans. Two (2) owners/handlers per dog allowed in the racetrack area. One owner will place the dog in the starting gate and the other will be behind the designated line at the finish line. Any family checking in that does not have two (2) humans per dog will not be allowed to participate.
• No waving blankets or other large items at the start of the race. You may bring your dog's favorite toy to use during the race to encourage your racers. Toys may not be bigger than 8 inches.
• No food (human or dog food) or other pets are allowed on racetrack area.
• All dogs MUST be on a leash when on property. Leashes will be removed from pets once they are loaded in the starting gates. Upon completion of your heat, please put your dog back on a leash.
• Owners are required to clean up their dog's accidents. (i.e. plastic waste bags); a potty station and water will be provided in a designated area in the biergarten for the evening.
• Dogs should be on their best behavior (i.e. no fighting, biting or aggressiveness); if your dog attacks another racer or human, you will be disqualified and asked to leave Karbach Brewing Co. immediately.
Make sure you have the following on race day at Check In:
- Registration form filled out clearly and legibly. (provided at check in)
- Copy of shot records
For Questions:
Email us at info@karbachbrewing.com OR Give us a call at (713) 680. 2739