Description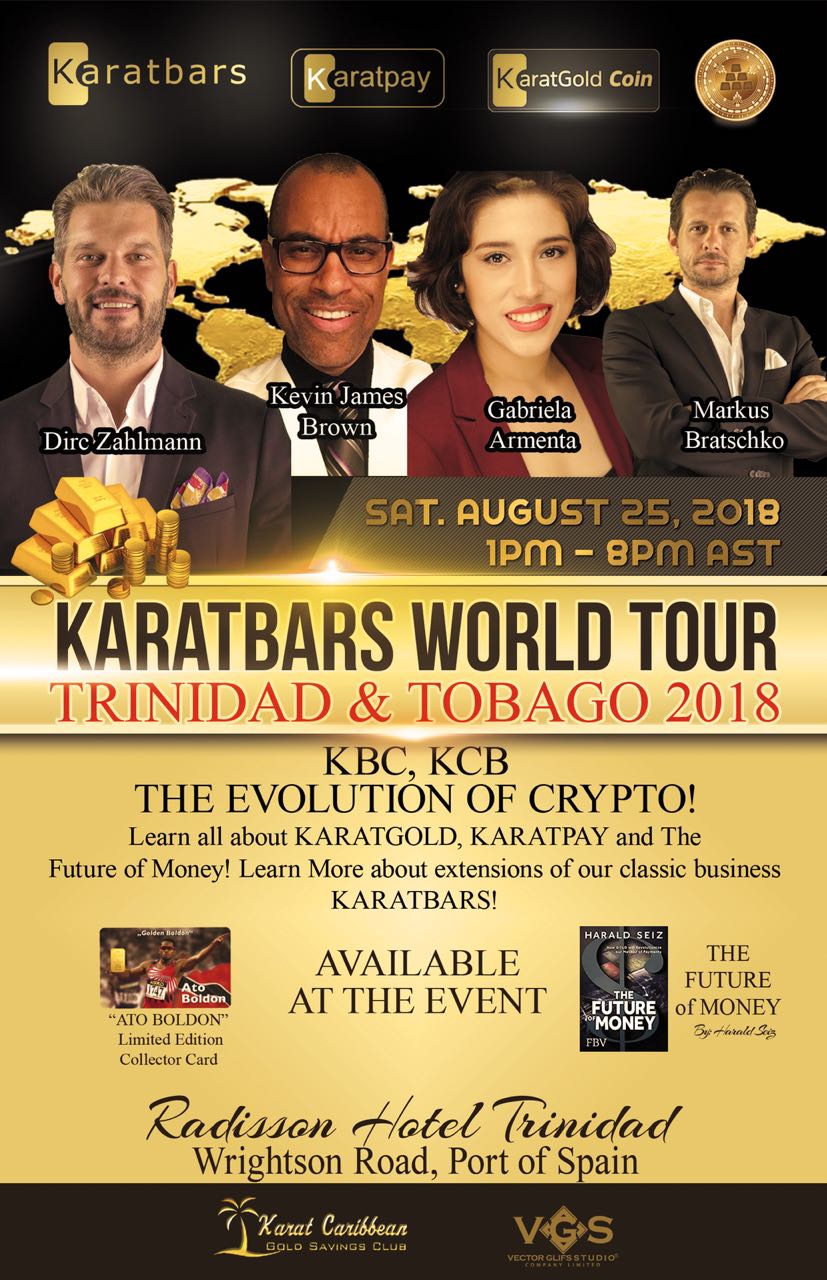 The first ever visit by Karatbars International Gmbh to the shores of Trinidad and Tobago and to the Eastern Caribbean in general! This will be the 5th of a fifteen (15) city World Tour and the first of 2 Caribbean stops - the other being at Nassau Bahamas on Oct 6th. It is also the closest event geographically for all of South America!!
Find out all about KBC, KCB and the evolution of crypto!
Learn all about KaratGold, KaratPay and the future of money! Learn more about extensions of our classic business: Karatbars!
This event is being coordinated in collaboration with the Karat Caribbean Gold Savers Club team, a group of volunteers formed to provide support and updates to affiliates of Karatbars International, Karatgold Corporation based in the Caribbean area as well as their teams.

---
GUEST SPEAKERS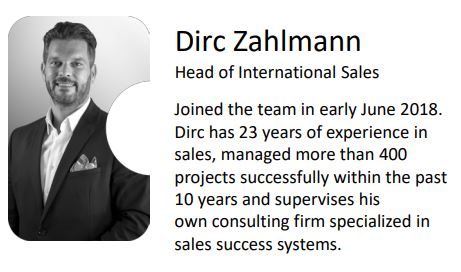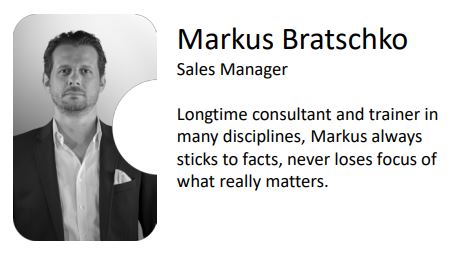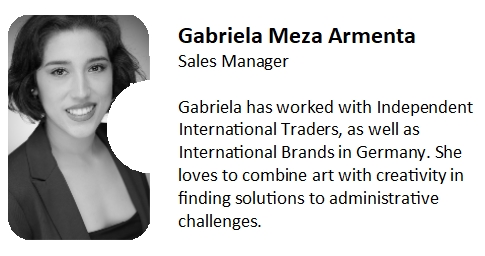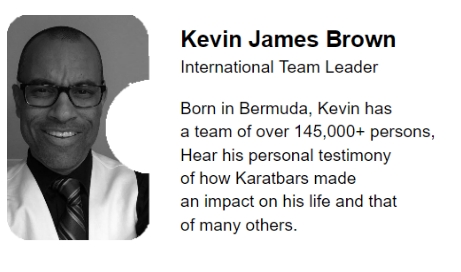 ---


AGENDA HIGHLIGHTS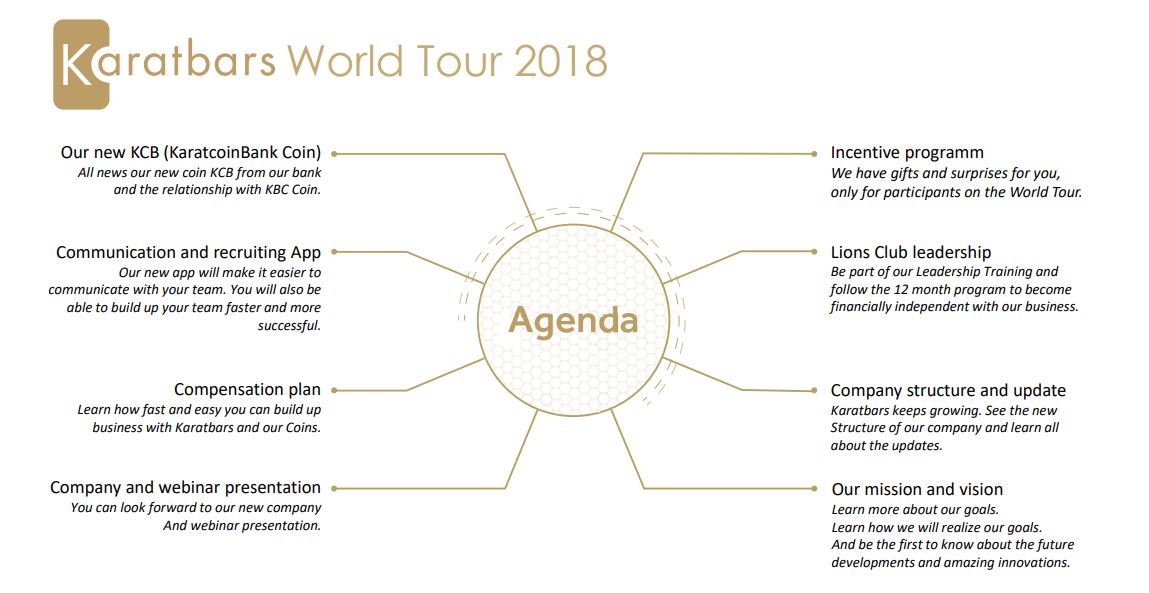 Our Mission and Vision

Learn more about our goals. Learn how we will realize our goals. Be the first to know about the future
developments and amazing innovations.
Company Structure and Update

Karatbars keeps growing. See the new structure of our company and learn all about the updates.
Company and Webinar presentation

You can look forward to our new company and webinar presentation.
Compensation plan

Learn how fast and easy you can build up business with Karatbars and our Coins.
Incentive programme

We have gifts and surprises for you, only for participants on the World Tour
Communication and Recruiting App

Our new app will make it easier to communicate with your team. You will also be able to build up your team faster and more successful.
Lions Club leadership

Be part of our Leadership Training and follow the 12 month program to become financially independent with our business.
---
AVAILABLE AT THE EVENT

The Commemorative Ato Boldon 'Golden Boldon' Limited Edition Collector Card.
The Karatbars product catalog features various limited edition collector cards featuring individual and organisations in the fields of entertainment, sports, religious organisations, etc. The Ato Boldon Collector card is the ONLY collector card thus far featuring a sprinter - and he proudly represented the host country at the time - Trinidad and Tobago.
---
Now is the time for real values!
Money rules the world. But only gold will save it. A financial system that comes one step closer to total crash every day. Because it is based only on debt, fiat and paper money. Money has become a mere means of payment, which in itself has no value and is now created by banks at will - from nothing. It is high time for real values. For a new world currency that can perfectly combine virtues such as crisis resistance and yield strength thanks to its genuine gold cover.
It's time for the KaratGold Coin. We at KaratGold will do everything we can to turn this coin into a true global currency through perfect infrastructure.
Read more about the vision of the KaratCoin Bank and the ecosystem, the ecosystem and at the whitepaper here. More details will be provided at the event.
The Karatgold Coin (KBC)

The KBC is a block-chain based cryptocurrency specifically designed to be used as a generally accepted electronic payment means for all who consider gold as a traditiona;, secure and value-based medium.
The Coin perfectly meets worldwide needs because it is based on gold. Each coin represents a certain weight of gold and can at all times be exchanged into physical gold in the form of CashGold.
Furthermore, it can be exchanged for all fiat currencies and cryptocurrencies worldwide.
Read more in the whitepaper published here. More details will be provided at the event.
Karatbars International Company Profile
Karatbars International was founded in 2011. The company specializes in the sale of small gold bars and gift items in gold bullion.

The headquarters and the logistics center of Karatbars International is located in Stuttgart, Germany. It is responsible for the support, marketing, customer and partner communication, execution and delivery of orders. Headquarters also co-ordinates the opening of new countries throughout Europe.
Deliveries in smaller quantities are packaged under video surveillance at the headquarters of Karatbars International, and shipped daily via FedEx and DHL.
---
FAQs
How do I pay via Karatpay?
In order to pay via Karatpay, one first needs to be a registered Karatbars affiliate, have KYC approved and have the Karatpay wallet setup. If one wants to register and does not know anyone else involved in Karatbars, register for a free account here.
To learn how to use cashgold to send Univals (UNV) to other accounts, click here.
For each ticket needed, send 3UNV for each ticket neededto Wallet#80000330139080. For transaction description, put *username, full name, contact no, email address, country, need accom, #WTTT* (for World Tour Trinidad and Tobago). Once the UNV is received an email will be sent confirming payment and advising of the ticket number reserved.
What are my transportation/parking options for getting to and from the event?
Reserved Parking will be available at the multistory car park at the left of the Radisson after entry to compound
If transportation t/from the event is required, please send an email to computerguy.tt@gmail.com and advise need of same, providing name, contact information and where transport is needed from.
How can I contact the organizer with any questions?
Send an email to computerguy.tt@gmail.com
Do I have to bring my printed ticket to the event?
The ticket will be used as a voucher to obtain special pricing on food and drinks at the event.
If one makes a reservation via Eventbrite, a printed ticket will be held and provided at the door.
Will meals be available?
The Radisson Restaurant and Bar will provide special pricing on snacks and beverages to event attendees, once the ticket is provided.
Will accomodations be provided for those coming from overseas/long distance?
Special pricing is being arranged for guests at nearby hotels. To reserve please send an email to computerguy.tt@gmail.com indicating preferred days to stay no later than one (1) week prior to the event