Event Information
Location
İzmir Fransız Kültür Merkezi
152 Cumhuriyet Blv
Izmir, Izmir 35220
Turkey
Description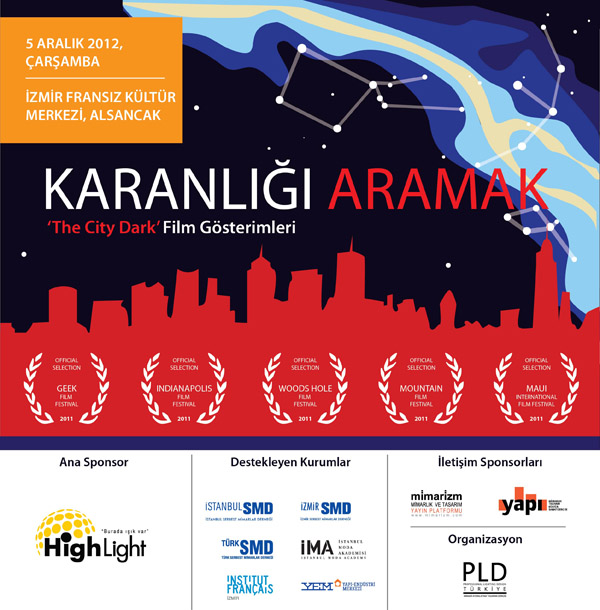 Karanlığı Aramak…
Işıkların sönmediği bir dünyada karanlığın peşine düşmek
The City Dark; karanlığa bir ağıt, ışık kirliliğine bir hiciv. Şehir ışıkları arasında yabancılaştığımız karanlık ve ışıldamalarını unuttuğumuz yıldızlar için bir 'uyanış' filmi. Film, bilinçsiz aydınlatmanın kültürel, fiziksel ve hatta psikolojik etkileri üzerine gerçekleştirilmiş araştırmalar ve çözümlemeler ile dünyanın gömüldüğü ışık kirliliğini ve sonuçlarını ortaya koyuyor.
Daha önce çeşitli ülkelerde gösterilen ve birçok ödüle layık görülen The City Dark; PLD Türkiye girişimiyle Türkiye yapı sektörü profesyonelleri ile buluşuyor.
İzmir Fransız Kültür Merkezi'nde 5 Aralık Çarşamba akşamı gerçekleşecek etkinlik aydınlatma tasarımının ve ışığın hayat kalitemiz üzerindeki önemini bir kez daha anlatma amacı taşıyor.
HighLight'in ana sponsorluğunda gerçekleşecek olan etkinliğe; Türk Serbest Mimarlar Derneği, İstanbul Serbest Mimarlar Derneği, İzmir Serbest Mimarlar Derneği, Yapı-Endüstri Merkezi (YEM), İstanbul Moda Akademisi ve İzmir Fransız Kültür Merkezi de destek veriyor. Etkinliğin iletişim sponsorluğunu ise mimarizm.com ve 'Yapı' dergisi üstleniyor.
Program:
19:30–20:00 Kayıt
20:00–20-05 Açılış Konuşmaları
20:05–20:30 "Karanlığı aramak" - Emre Güneş / PLD Türkiye Dergisi Editörü
20:30–21:30 The City Dark Film Gösterimi
21:30–22:30 İkram
* Film orijinal dili İngilizce olarak gösterilecek ancak Türkçe altyazı olacaktır.
Date and Time
Location
İzmir Fransız Kültür Merkezi
152 Cumhuriyet Blv
Izmir, Izmir 35220
Turkey