About this Event
The Karangahape Road Business Connect Series is back!
Meet up with fellow Karangahape Business owners and community members and share new business ideas over a few drinks and snacks. Learn from some of our local experts in this exciting and valuable business improvement series.
In this Post-Covid world, owning a business is full of new challenges. Give yourself every chance of thriving and learn some new skills through attending this KBA Business Support workshop series.
Join us for as many Business Connect events as you can fit into your schedule. Each session will cover two major areas of running a business. Each talk from our speaker is around 20 minutes with a 10 minute Q&A to follow.
These free to attend events are an incredible opportunity to gain quality advice on how to attract and keep new business here on Karangahape Road.
These events are for all sectors and levels of establishment.
**PLEASE RSVP THROUGH EVENTBRITE**
Doors open at 5:30pm for drinks, nibbles and networking.
Speakers start at 6pm
15th July
Laura from RUN - ADVERTISING
Lisa from This Needs Doing - WEBSITES
29th July
Donna from Dow Goodfolk - BRAND IDENTITY
Jef from Easy Social Media - SOCIAL MEDIA
12th August
Robert from Naked Accounting - CASH FLOW
Victoria from Corporate Restructuring Ltd. - WHAT TO DO WHEN FACING A BUSINESS CRISIS
26th August
Chris from Oxygen Advisors - RAISING CAPITAL
Bridget Vercoe from Auckland Emergency Management - BUSINESS RESILIENCE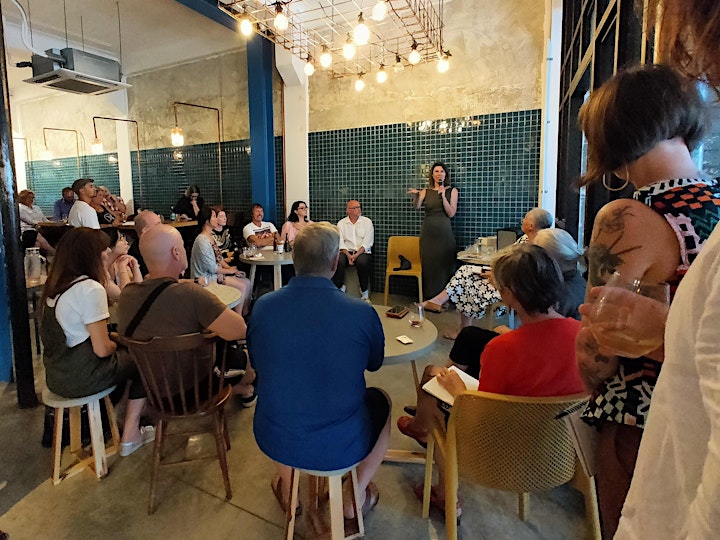 Image: Christy Tennent from Eighthirty Coffee speaking at the last Business Connect in Feb 2020