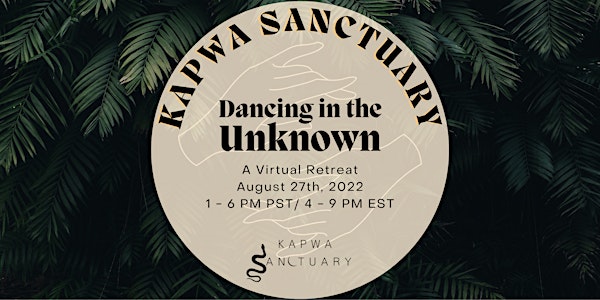 KAPWA SANCTUARY VIRTUAL RETREAT: Dancing In The Unknown
A virtual retreat of yoga, meditation and a celebration of Filipinx spirituality
About this event
WHAT IS KAPWA SANCTUARY?
Kapwa Sanctuary is a thriving online community Filipino/a/x/ folx with the intention of community care, co-creation and healing in Sacred Space.
September 2020, we've gathered together and found kapatids (Tagalog: friends) from across the US, UK, and Canada. For the first time ever, we will be hosting a half-day virtual retreat to fully immerse ourselves in sacred practices and community care.
WHAT TO EXPECT?
👁Astro Insights for the New Moon in Virgo: How the cosmos are impacting us and how to work with this energy
👁Trauma-informed yoga: All-levels welcomed.
👁Community connection: Guided discussion and knowledge sharing amongst Kapwa centering on themes of spirituality and decolonization.
👁Meditation & sound bath: Ground your energy with practices to connect mind, body and breath.
👁Open mic: Share your co-created offerings, creative gifts, music, poetry & stories! + more!!
This retreat is lovingly curated by Tasha Jade, Holistic Healer and Educator and Stefanie Rico, Psychotherapist and Yoga Teacher. Their unique backgrounds allows them to weave insights around mental health, advocacy, creative expression, and sexuality. Read more about them below.
FOR WHO?
For all Filipino/a/x folx who seek a deeper connection to themselves and ancestral roots.
We are a community.
Everyone belongs in Kapwa regardless of your % of Filipino Heritage
Filipino identity is not a biological thing but a part of Spirit.
Regardless of your knowledge of your heritage, you ARE Filipino.
WHEN & WHERE:
Saturday, August 27th, 1-6pm PST / 4-9 EST via Zoom.
Email will be sent out prior to the event start time.
EXCHANGE:
$65 "bring a friend" (Sign up with a friend and get $10 off)
$75 general admission
"Kapwa is a recognition of a shared identity, an inner self, shared with others [...] implied in such inclusiveness is the moral obligation to treat one another as equal fellow human beings." — Professor Virgilio Enriquez, founder of Sikolohiyang Pilipino.
_______________________________________________________________________________________
ABOUT THE CURATORS:
T.J. Banate (they/them) is a Filipinx artist, educator and healing practitioner, based in the Greater Toronto Area. Their work is centred around decolonization, holistic healing, Trans rights, sexuality and Spirituality. By day, they create and curate resources on DailyMagic.ca (@dailymagicshop) with the vision of making wellness and Spiritual study more accessible to marginalized folx. By night, they perform under their alias, The Noise Witch (@thenoisewitch)
Stefanie Rico (she/her) is a Filipinx registered social worker, psychotherapist, yoga instructor and facilitator based in the Greater Toronto Area. She believes at the heart of her work is holding space and creating a vessel for others to meet themselves and each other with acceptance and compassion. She is passionate about an integrated approach to healthy individuals & communities. Read more about her here: www.stefanieannerico.com
FOLLOW US ON INSTGRAM: https://www.instagram.com/kapwasanctuary/
BIG LOVE! STEF & TJ