The Las Vegas Alumni Chapter of Kappa Alpha Psi/Diamond Foundation invites you to KAPPA DERBY DAY! Wear your Sunday's best and join us!
About this event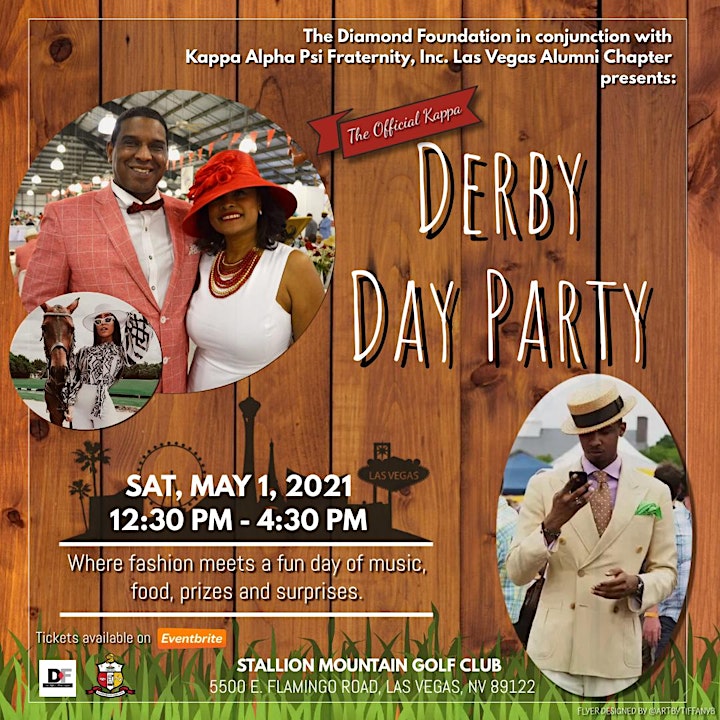 KAPPA DERBY DAY is a designated day that Kappa Brothers of Las Vegas Alumni Chapter, Silhouettes, and friends stretch the exhilarating 2-minute Kentucky Derby into a UNIQUE FESTIVAL OF FASHION, FUN, FOOD, DRINKS, DANCING, AND EXCITING EVENTS. Of Course, Mint Julips and other special drinks will be readily available.
There will be special prizes for 1) best-dressed female attendees and 2) best-dressed male attendees (Hats, Apparel, and Footwear). There will also be a "Seattle Slew" of other prizes. And, the afternoon of fun would not be complete without a personal photo of a derby horse in full regalia.
Remember the following date & location: May 1, 2021, Stallion Mountain Golf Club (12:30 pm - 4:30 pm). We strongly encourage you to be a part of this great fundraiser event which is hosted by The Diamond Foundation, Inc and the Las Vegas Alumni Chapter of Kappa Alpha Psi Fraternity, Inc. Tickets are available above by clicking the "purchase tickets" link above.
***Please note that we will be following both the state-mandated and Stallion Mountain Golf Club social distancing regulations. ***
The Diamond Foundation (501c3 non-profit) is the philanthropic arm of the Las Vegas Chapter of Kappa Alpha Psi Fraternity, Inc. The Las Vegas Alumni Chapter was founded in 1964. The foundation was first formed in 1993 under the Las Vegas Alumni Chapter. The name was changed to "The Diamond Foundation" in 2011. The foundation's Mission is "Uplift Youth through Scholarships, Community Involvement, and Health Awareness." However, The Diamond Foundation is also responsible for contributions that have enhanced the lives of entire families, senior citizens, homeless individuals and others who are less fortunate in the Greater Las Vegas community. This includes but is not limited to the following charitable efforts: Shop with a Kappa; Thanksgiving Baskets; College Scholarships, Personal Care/Underwear Items for Homeless individuals and charitable collaborations with other non-profit organizations such as St. Jude and American Heart Association.