About this Event
Join us in our 20th Annual Shamrock 5K to aide us in our attempt to help end child abuse! 80% of the proceeds that we raise will stay in our community, benefiting the local National Children's Advocacy Center, while the other 20% will be given to our national philanthropy Prevent Child Abuse America.
Runner's tickets are $25 and include the cost to run, a runner's t-shirt, and a pasta dinner at our "Carb Feast" the night before the run from 6:00-8:00 PM at the Kappa Delta house. Packet pickup will at Fleet Feet March 6, 10am-4pm. The run will start at 8:00 AM the following day, but get there starting at 7:00 AM for late packet pick up! The start and finish lines are on Greek Row.
Fleet Feet: 2722 Carl T Jones Dr SE Unit B2, Huntsville, AL 35802
**Please note that tickets can be bought the day of the race but there will be a $10 up charge.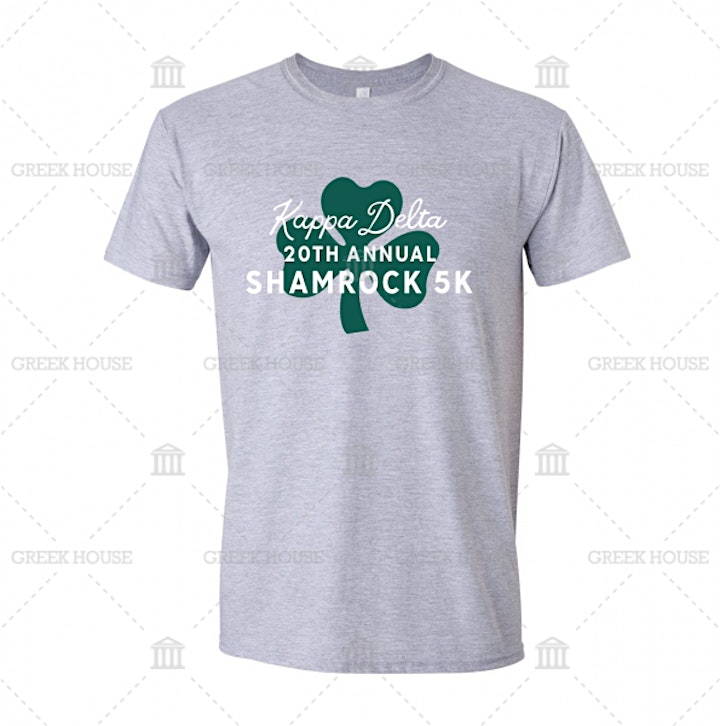 This is what the runner shirt will look like and the company logos from our sponsors will be on the back! The last day to order a shirt with a ticket is February 17th to make sure you are guaranteed your shirt size!
Participant Waiver/Release
Kappa Delta Epsilon Lambda Chapter
I, _________________("Participant") acknowledge that I have voluntarily applied to participate in the Kappa Delta's 20th Annual Shamrock 5k taking place on March 7th, 2020 at 518 Fraternity and Sorority Row, Huntsville, AL 35805. I certify that I have not been advised to not participate in this or any other similar activity by a qualified medical professional. I further acknowledge and agree to, on my own behalf, and on behalf of my personal representatives, heirs, assigns, executors, administrators and next of kin, as follows.
I AM AWARE THAT THESE ACTIVITIES ARE HAZARDOUS ACTIVITIES AND THAT I COULD BE SERIOUSLY INJURED OR EVEN KILLED. I AM VOLUNTARILY PARTICIPATING IN THESE ACTIVITIES WITH KNOWLEDGE OF THE DANGER INVOLVED, AND AGREE TO ASSUME ANY AND ALL RISKS OF BODILY INJURY, DEATH OR PROPERTY DAMAGE, WHETHER THOSE RISKS ARE KNOWN OR UNKNOWN. Risks include, but are not limited to[i] those caused by terrain, facilities, temperature, weather, equipment, vehicular traffic, lack of hydration and actions of other people, including but not limited to participants, volunteers, monitors and/or producers of the activity.
Upon entering the premises and facilities of Kappa Delta's 20th Annual Shamrock 5k , I will inspect the same and my observation and use of said premises and facilities shall constitute an acknowledgement that I find and accept them to be safe and reasonably suited for their intended purpose.
I hereby release Kappa Delta National Sorority and the Epsilon Lambda Chapter of Kappa Delta and its officers, members, advisors, volunteers, employees and Governing Board The University of Alabama in Huntsville from and against any and all liability for any loss, damage, injury, expense, demand or cause of action that I may suffer whether with respect to personal injury, death, damage to or destruction of personal property, theft or otherwise, which may arise as a result of my presence in, upon or about the premises and as a consequence of my participation in this event or use of the facilities and equipment.
I acknowledge that Kappa Delta Sorority is NOT responsible for the errors, omissions, acts or failures to act of any party or entity conducting a specific activity on their behalf.
I understand that while participating in the activity, I may be photographed. I agree to allow my photo, video or film likeness to be used for any legitimate purpose by the activity holders, producers, sponsors and assigns.
I CERTIFY THAT I HAVE READ THIS DOCUMENT AND I FULLY UNDERSTAND ITS CONTENT. I AM AWARE THAT THIS IS A RELEASE OF LIABILITY AND A CONTRACT AND I SIGN IT OF MY OWN FREE WILL[ii].
___________________________ _______ ___________________________ _____
Participant's Signature Date Participant's Name Age
[i] Insert other foreseeable risk, if applicable
[ii] Make sure you take out all of the endnotes before finalizing the printing /releasing the waivers to your participants!