Kappa Conclave Health Fair & Community Service Eve
Conclave kicks off with Health & Wellness Fair and a Community Service Event
About this Event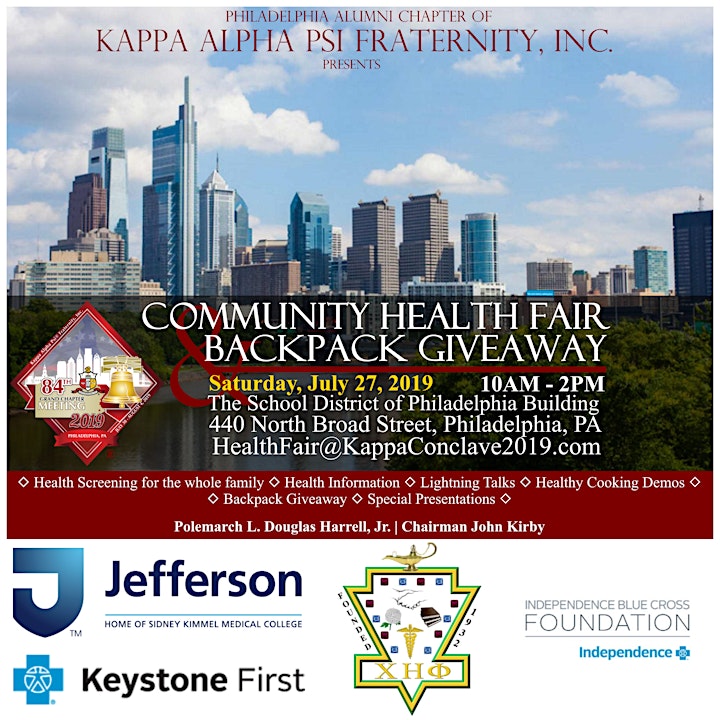 Health Fair begins at 10 AM
Youth Screenings and activities
Adult Screenings including:
Blood Pressure
Glucose & Cholesterol
Behavioral Health
Talk Schedule
10:30 Taking Charge of Your Health: Real Talk for Young Adults, Jamilah Brown, BSN, RN Chi Eta Phi Sorority Inc., Theta Chapter
11:15 Dreams & Nightmares: Black Male Health in Philadelphia, Dwayne Wharton, Mayor's Commission on African-American Males, Member Kappa Alpha Psi Fraternity Inc.
12:00 Infant Safe Sleep Training, Dr. Stacey Scott, CIS & Geraldine Battles, First Lady Kappa Alpha Psi
1:00 Suffering in Silence: A Focus on Mental Health, Priscilla Murphy, LPCMH, MS, Med, BSN, RN, Chi Eta Phi Sorority Inc., National President
Special thanks to our Planning and support partners:
Theta Chapter of Chi Eta Phi Sorority, Inc.
Jefferson Health
Keystone First
IBC Foundation
Community Service Begins at 2 PM
School Backpack Giveaway
Philanthropy Presentations
More Giveaways
This Event is FREE FOR EVERYONE.
Come one come all! A free screening here may change your life.