Kappa Alpha Psi Founders' Day (J5) - Day Party Celebration
Description
The DMV Nupes will remark Kappa Alpha Psi Fraternity, Inc's. 108 years of honorable achievement in every field of human endeavor by hosting a phenomenal day party celebration at SoBe Restaurant & Lounge in Lanham, MD. We invite you to join us at this action-packed event that will surely be one to enjoy and one to remember!
Venue Features:
Cash bar w/ signature drinks

Passed

Hors d'oeuvres

Heated cigar patio
Delicious pre-fixe menu available

Booth/Table Reservations available
Entertainment:
Music provided by Gold Boot Entertainment, featuring DJ Trini from WKYS - 93.9FM and DJ Honcho

Live concert performance by "Got My Own Sound" band, who are a live instrument, fusion band consisting of a mix of soul, jazz, hip-hop & R&B. They recently released an album, titled "Welcome To Our World", which topped the iTunes Jazz charts consecutive weeks in a row. They feature the musician talent of drummer extraordinaire, Wes Watkins (Lissen Band, Walker Redz Project, What! Band, Vybe Band, etc.), and the phenom musician, Jon Williams (Frank Sirius Co., Vybe Band, Kinda Bleu, Suttle, etc.). Check out the sounds of 'Got My Own Sound'! https://www.youtube.com/watch?v=WODP_NG4djM.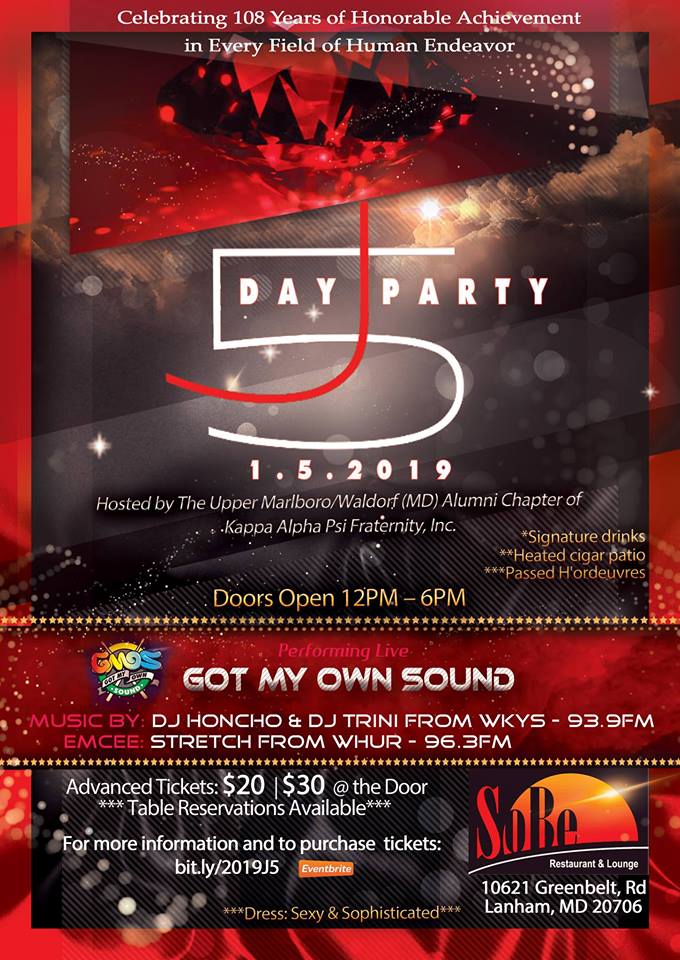 Business/Corporate sponsorship package is available.

Points of Contact for Q&A, Sponsorship Information, & Reserved Booth Reservations:
Rob Monroe (301) 980-3892
Ken Phillips (301) 535-3584
Jerome Parker (301) 633-2419