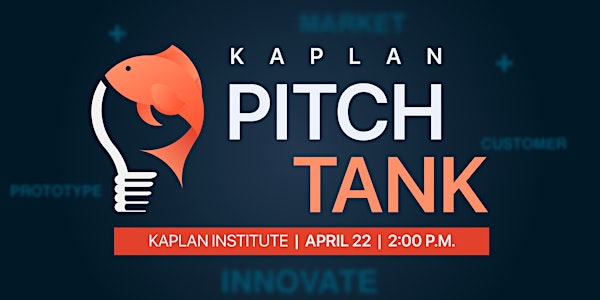 Kaplan Pitch Tank
Join us on April 22nd, from 2-5 p.m., for the Kaplan Institute's annual startup pitch competition!
When and where
Location
Ed Kaplan Family Institute for Innovation and Tech Entrepreneurship—Tellabs Innovation Alley 3137 South Federal Street Chicago, IL 60616
About this event
We are very excited to announce that the Kaplan Pitch Tank event will take place on April 22nd at 2 p.m. CDT at the Kaplan Institute!
Kaplan Pitch Tank is the Startup Studio's year-end event in which the top student-led startups at Illinois Tech will be competing for a prize pool of $62,000!
Here is the run of show for the event:
Audience Choice Competition | 2:00 - 2:30
When you arrive at Kaplan Pitch Tank, you will receive three voting tokens which you can give to your favorite startups. You will have 30 minutes to explore the startup exhibition room to meet the founders and learn about their startups before deciding who to vote for.
Audience Choice Prizes:
1st place - $6,000
2nd place - $4,000
3rd place - $2,000
Opening Remarks | 2:30 - 2:40
Maryam Saleh and Nik Rokop will speak about their experience teaching the Startup Accelerator program and how Illinois Tech is paving the path for tech hubs and startups in Chicago.
Finalist Pitches | 2:40 - 3:35
The following five teams have advanced through stage 1 of the competition and will be competing as finalists at Kaplan Pitch Tank:
Discreedly is a digital platform that gives doctors access to clinical data and scientific experts, to learn about new medications and improve their patients outcomes.
Kwiki Karts provides last-mile delivery solutions for merchants and individuals leveraging WhatsApp chatbot.
Kinetic Footwear develops energy harvesting technology that can sustainably power your devices simply by walking.
LockEat transforms the food delivery ecosystem with equitable access to community-based food through lockers.
Pill Skills is committed to helping people get the medicine and vitamins they need by solving problems that interfere with medication adherence such as pill swallowing difficulties.
Each of the finalists will deliver a 5-minute pitch, followed by 5 minutes of Q&A with the judges panel.
Keynote Speech | 3:35 - 4:00
Mark Achler, Managing Director at MATH Venture Partners and co-author of Exit Right, will be delivering the keynote presentation.
Award Ceremony | 4:00 - 4:20
We will announce the three audience choice winners and the three grand prize winners of Kaplan Pitch Tank.
Kaplan Pitch Tank Grand Prizes:
1st place - $30,000
2nd place - $15,000
3rd place - $5,000
Networking Event | 4:20 - 5:30
We will have an optional networking event following the Award Ceremony with non-alcoholic beverages provided by a startup - Isn't Drinks. This will be an opportunity to chat with the founders, judges, and fellow audience members.
Special thank you to our partners:
We hope to see you there!
Sincerely,
Sunny Shah
Engagement Manager, Kaplan Institute
sshah135@kaplan.iit.edu