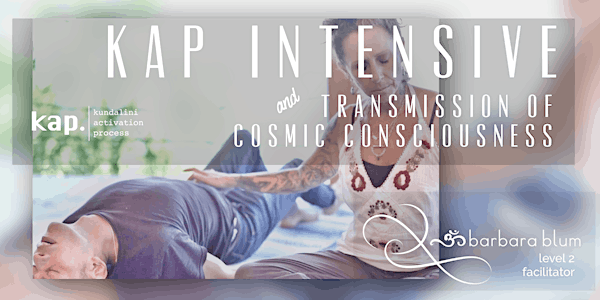 KAP Intensive and Transmission of Cosmic Consciousness
KAP Intensive and Transmission of Cosmic Consciousness
About this event
These Intensives are a way for you to take the exploration of kundalini and the expansion of consciousness to a deeper level.
About KAP:
KAP - Kundalini Activation Process, is a direct energy transmission that opens and awakens the stagnant energy pathways within the human mechanism, resulting in a clearing of old blockages that have accumulated over lifetimes and manifested in various types of mental, emotional and physical restrictions.
This propulsion of life-force energy often brings an abundance of mental clarity, creativity, emotional healing and spiritual awakening as it allows us to uncover deeper layers of self and connect to our authentic truths through higher states of consciousness.
About the Intensive:
The main catalyst of the workshop are the two back to back KAP sessions accentuated by a special transmission of cosmic states of consciousness.
This prolonged exposure to the KAP energy is an accelerant to the kundalini process, and it's this extended transmission time paired with an intentional exploration of consciousness that can induce more pronounced transformation. Most people report profound shifts after these workshops.
Please join me for this powerful intensive, where we will create a space to allow for a deeper surrender to the KAP process and open ourselves up further to this inner-exploration.
The event will include:
-2 KAP Sessions
-Transmission of Higher States of Consciousness
-Questions, Answers, Discussion
Cost: Sliding Scale $155-$188
The event will be approximately 4.5hrs, but could go longer depending upon the number of participants. Please allow for enough time to participate in the entire session. No discounts or refunds for partial attendance.
Please reach out with questions or concerns and I look forward to journeying deeper with you.
Please note: The event time is listed in Pacific (Los Angeles) Time Zone