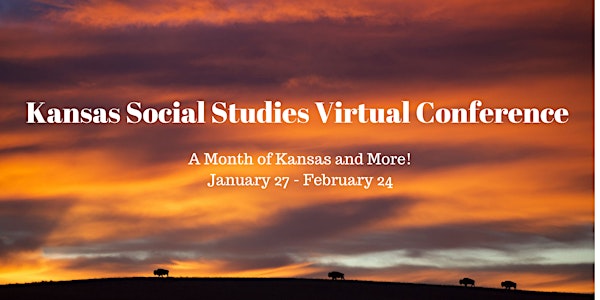 Kansas Social Studies Virtual Conference - A month of Kansas and more!
Kansas Social Studies Teachers - join us for a month of virtual events all designed to provide you with great resources for your classrooms.
Date and time
January 27, 2022 · 4pm - February 24, 2022 · 7pm PST
About this event
January 27th at 6:00 PM- Kick-off with awards and keynote speaker, Kansas Artist, Stan Herd
January 31st at 6:00 PM- We're Still Here-Indigenous Identity and the Making of Kansas; Dr. Brandon Haddock
February 1st at 6:00 PM- Zombie Geography in Kansas- Connecting to our Community Using GIS and many different types of maps
February 3rd at 6:00 PM- Beyond Dorothy- The Women of Kansas
February 9th at 7:00 PM- Dr. Dennis Rasmussen, Syracuse University
February 16th at 7:00 PM- Kansas Council for the Social Studies Breakout Sessions with a variety of topics!
February 21 at 7:00 PM - The Economics of Inflation
February 24 at 7:00 PM - Fiscal Policy in the Era of Covid