Kansas Golf Hall of Fame Induction of Bryan Norton - Class of 2020
About this event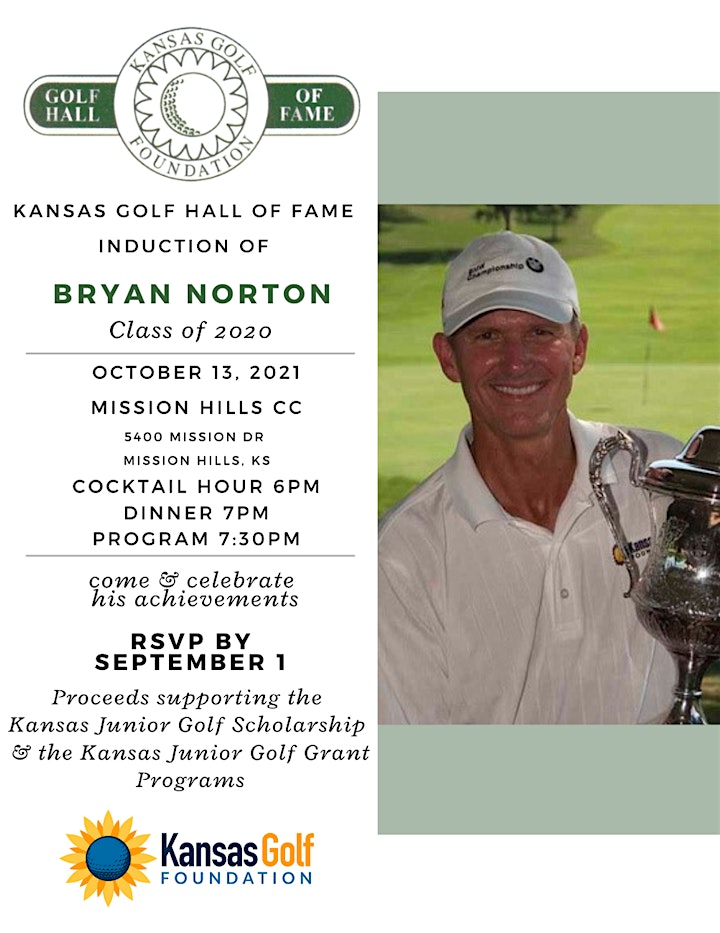 The Kansas Golf Foundation will be inducting Bryan Norton into the Kansas Golf Hall of Fame on October 13, 2021 at Mission Hills Country Club.
Welcoming his family, friends, and supporters, the event will honor his achievements in golf and dedication to growing the game.
The Kansas Golf Hall of Fame was founded in 1991 to honor men and women who have made outstanding contributions to golf in Kansas. Past inductees include KS golf greats like Tom Watson, Wally Beets, Frank Kirk, Ross Randall, Marge Page, and Jim Colbert. Categories of Hall of Fame members are: Amateur Player, Professional Player, Club Professional, Golf Course Superintendent, Coach, and Contributor to the Game.
While qualifying for multiple categories, Mr. Norton will be honored under the Amateur Player category. His achievements as an All-American, Kansas Amateur Champion, British Mid-Amateur medalist, and multiple year Kansas Senior Amateur Champion are some of the many ways he has represented Kansas as a superb Amateur Player.
General Admission Tickets: $125
Sponsorship Opportunities:
Dinner Sponsor $20,000
Bar Sponsor $5,000
Table Sponsor $2,500
KJGS Sponsor $1,500
Program Sponsor $100 or $500
Silent Auction Item
General KGF Donation (less than $100)
Questions?
Contact us:
Kansas Golf Foundation
785-340-3443
foundation@kansasgolffoundation.org
Checks can be mailed to:
Kansas Golf Foundation
PO Box 667
Olathe KS, 66051