Block party to highlight the need for more pedestrian friendly spaces, by transforming street parking into creative pop-up parks.
About this event
Downtown Residents Take Back Their Streets on KCMO's First Parking Day
About this event:
Come eat, play, relax, and meet your neighbors at the Downtown Neighborhood Association's block party where parking spots once used to store cars will be filled with live music, giant yard games, dance lessons, and original artwork.
KC's first PARK(ing) Day will be held 10 a.m. to 6 p.m. Saturday, September 18 on Walnut Street, stretching from 9th to 12th streets. During downtown's free block party, residents, artists, businesses, and organizations will transform parking spots into pop-up parks and highlight the need for more pedestrian-friendly downtown spaces.
At noon, Councilman Eric Bunch will present a proclamation declaring the third Saturday of September to be KCMO's official PARK(ing) Day.
PARK(ing) Day began in 2005 in San Francisco and grew into a global event celebrated annually by hundreds of cities to highlight the need for more urban open space.
FAQS
FREE
FOOD TRUCKS
PET FRIENDLY
Bring your leashed dog to the festival to enjoy a dog care station and small pool to pamper your pooch.
ROAD CLOSURE
Walnut Street will be closed to thru traffic between 9th and 12th streets on Saturday, September 18, 2021. But plenty of parking is available. (see maps below)
KC STREETCAR
The festival is conveniently located near two Streetcar stops: Library stop at 9th and Main streets, and the Metro Center stop at 12th and Main streets
PARKING
Free parking is available on
Surface lots at 600 Main St. (entrance off 6th Street) and 711 Main St. (entrance off Main Street) near the North Loop Streetcar stop
Side streets near the festival route
Paid parking is available at
Town Pavilion Garage, entrances on 12th and Walnut streets and 1211 Walnut St.
Towne Park 110 Garage, 1220 Walnut Street
811 Garage at the corner of Main and Walnut streets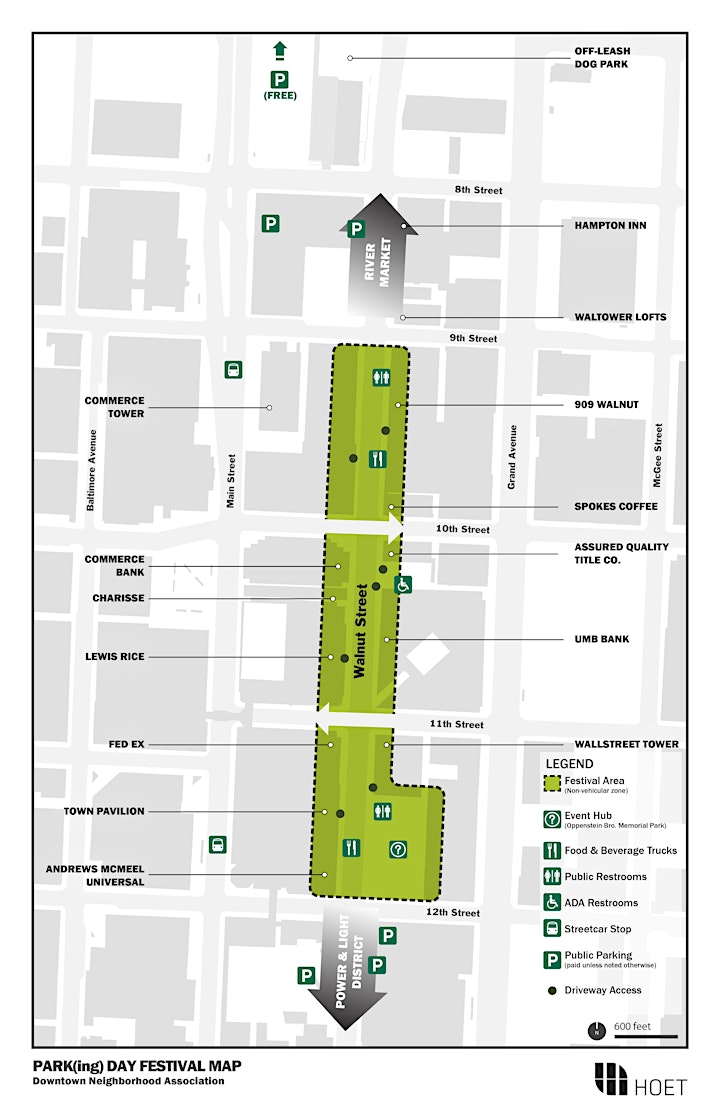 Check out the video below to see how other cities have celebrated this international PARK(ing) Day event.