Description
Heritage Hikes Series:
Kansas City's Historic Main Street Neighborhoods
Winner of The Pitch's Best of Kansas City: Best Way to Learn Something New About Kansas City.
Historic Kansas City is offering Heritage Hikes during Historic Preservation Month at 9:00 am at various locations throughout the city. Heritage Hikes highlight the architecture and history of Kansas City's neighborhoods.
Entire Series of 3 Hikes
$60 per person (To purchase a series ticket click any date to proceed.)
Individual Hikes
Members: $25 per person
Non-Members: $30 per person
Please note each hike is RAIN OR SHINE and lasts just over three hours. You will walk around 3 miles. Please wear comfortable shoes.


Our hikes and tours are made possible by the generosity of key volunteers and the availability of their schedules. In addition, certain buildings where interiors are showcased, are only open during office hours.
---
#1 Heritage Hike:
Union Hill Historic District - Sorry you missed it!



May 30, 2019 @ 9:00am - 1:00 pm
Tour convenes at Union Cemetery's front gates (WARWICK TRAFFICWAY AT 28th TERRACE)
Established in 1857, Union Hill is one of Kansas City's oldest continuous neighborhoods. Union Hill is a true urban neighborhood and Kansas City's largest residential and business district spanning more than 16 city blocks. Overlooking Crown Center and the downtown skyline, the Union Hill district is comprised of restored late 19th Century homes, renovated row houses, and more recently built condominiums, townhomes, and apartments. Adjacent on the southeast side sits the historic Union Cemetery; founded in 1857 and is the final resting place to many prominent Kansas Citians who helped build this city, as well as veterans from every war from the Revolution to Vietnam are buried here, including those who fought for both sides during the Civil War.

---
#2 Heritage Hike: - Sorry you missed it!
Coleman Highlands and Roanoke Historic Districts
June 6, 2019 @ 9:00am - 1:00 pm
Tour convenes at

3601 Roanoke Road, West Port-Roanoke Community Center.

The Coleman Highlands neighborhood was platted by Robert Coleman in August of 1907. The location was ideal for a new suburb-atop a bluff and located near streetcar connections to downtown, the west bottoms, and Westport. Most houses were built between 1908 and World War I and the second wave of construction occurred between World War I and World War II. The Roanoke neighborhood began when the Roanoke Investment Company bought 188 acres from the Kansas City Interstate Fair in 1887 and filed the plat for development. The lots and winding roads are essentially the same as first platted– with one major exception -- when filed; the area was outside the jurisdiction of either independent municipality of the City of Kansas or the Town of Westport. Roanoke was one of the very first planned suburbs!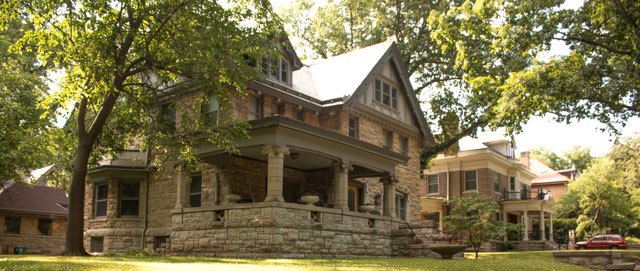 ---
#3 Heritage Hike:
South Moreland and Rockhill Historic Districts

June 13, 2019 @ 9:00am - 1:00 pm
Tour convenes at 500 East 44 Street.
Between the years of 1904 and 1914, William Rockhill Nelson caused a number of houses to be built around his Oak Hill estate (present day Nelson-Atkins Museum of Art). The subdivision was known as the Rockhill Neighborhood. William Rockhill Nelson made his vision of neighborhood into reality and inspired J.C. Nichols to develop the Country Club District in a similar if grander, manner. Historians credit the prominent Meyer family as spurring others to invest in the area south of the Hyde Park, now Southmoreland neighborhood. Meyer is best remembered for his role as president of the Board of Parks and Boulevard Commissioners when Kansas City's park system was built. Meyer built his mansion at 4415 Warwick in 1895, later becoming the home of the Kansas City Art Institute in 1928.

---
"Hikers" receive brochures that contain maps of the neighborhood with dialogue for each significant site noting the address, date built, architect(s) and the building's description. Hikers will tour the interiors of significant sites and learn the importance of preservation of Kansas City's historic built environment. Your guide is Lucinda Rice-Petrie, an HKC Past President. She holds a Master of Arts degree in American history, a BS in Education.