Kansas City Renaissance Festival
Kansas City Liberty Memorial
National World War I Museum
This weekend trip includes your transportation, lodging(double-occupancy), meals and admissions to these sites.
Departure is Saturday morning at 7:00 am sharp, so you need to be there by 6:30 to load up, at 2300 E Douglas Avenue, Wichita, KS.  We will stop along the way for breakfast (included).  This will put us in Bonner Springs shortly after the start time of the Kansas City Renaissance Festival.
We will return on Sunday evening some time around 8 to 10 pm. 
On Saturday we will have a fun time in Bonner Springs, Kansas, at the Kansas City Renaissance Festival (a day full of great photographic opportunities).
This festival is an annual event that runs from Labor Day to Columbus Day and each weekend has a different theme. If you've never been this is a great excuse to get out with a bunch of other photographers and enjoy something a little different.
All the actors that participate are more than happy to pose for photos. There are plenty of activities going on all over the park along with lots of food, drink and vendors. Unlike other Renaissance Festivals you may have attended, this one is staged in a permanent encampment that gives it a far more realistic and interesting feel.
Dress appropriately to be out in the heat (and possibly the cold). Although there are some places to take shelter from the sun you may want to be prepared with a hat and sun-block. Make sure your batteries are charged and you've got plenty of memory (or film) available. I've used a flash before and it helps with a lot of the shots, especially when you're in the shady areas.  DDON'T FORGET YOUR BATTERY CHARGERS!
We will be leaving from my studio at 2300 E Douglas Ave, Wichita, KS, and there is plenty of parking available.
For details about the events for this particular weekend at the Kansas City Renaissance Festival, go to: http://www.kcrenfest.com/themeweekends/deadmen.html
Our overnight lodging will be in or very near Bonner Springs so we can spend as long as desired at the Festival.  If anyone should care to call it a day earlier I will do my best to provide for earlier transportation to the hotel. 
We will have breakfast at the hotel and you'll need to be ready to leave by 9:30. 
Sunday morning at 9:30 we will head over to the Liberty Memorial and National World War I Museum.  If you've never been to this great site you're in for a real treat.  First of all there is no more complete museum in the nation dedicated to the first World War.  The exhibits are amazingly well done and arranged in a great space for the main floor, plus 2 original museum buildings above.  The tower (included in the admission) provides the most outstanding view you can get of Kansas City as well as the breathtaking grounds of the memorial and Union Station just across the street.  One of the best features about this leg of our trip is that photography is allowed in the museum!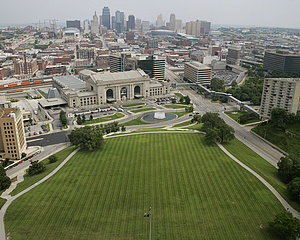 During our visit to the Liberty Memorial we have our lunch on the premises and if you would like you could also take a walk over to Union Station for even more photo ops.
If you would like to see more complete information about the Liberty Memorial and the National WWI Museum, visit the website at: National World War I Museum - Online Community
As a final treat we will probably have time after the museum to visit the Plaza to shoot some of the fountains and maybe even have a stop at the Nelson Atkins Museum to shoot the sculptures on the grounds.  Some of these things are subject to change depending on the weather, but we'll work around the weather as much as possible.
Keep your eyes on the listing for News and Updates.