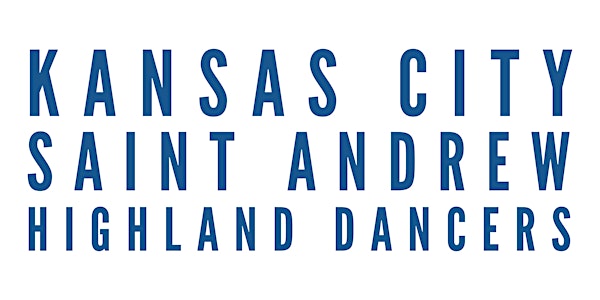 Kansas City Indoor Highland Dance Competition
Welcome back to Kansas City for our Indoor Competition!
By Kansas City Saint Andrew Highland Dancers
Date and time
Saturday, June 10 · 9am - 5pm CDT
Location
Foundry Church 8835 Lackman Road Lenexa, KS 66219
About this event
(ScotDance USA USSW-509) Contact us at: kchighlanddancers@gmail.com
Our website and the full entry form can be found HERE
***Purchase tickets for all participating dancers at one time. The checkout form will prompt you to enter individual dancer information for each ticket***
Adjudicator: Trisha Bacon
Pipers: Iain McKee and David McNally
Schedule:
9:00 AM - Morning check-in
9:30 AM - Morning competition begins
Primary dancers will dance PDB, PDB & HC and Fling first
Primary sword will be at the conclusion of all Flings
Primary awards will follow the Sword
All groups in the order listed (unless otherwise stated above): Beginner, Novice, Intermediate, Premier
1:00 PM - Afternoon check-in
1:30 PM - Afternoon Competition Begins
All groups will dance in the order listed: Beginner, Novice, Intermediate, Premier
***PLEASE GO TO THE NEXT PAGE TO SEE ALL THE FULL SCHEDULE OF DANCES BEING COMPETED IN THE MORNING AND AFTERNOON***
GENERAL RULES • • • • • • • • • • •
Competitions will be conducted in accordance with R.S.O.B.H.D. and Scotdance USA regulations.
All dance competitors and teachers and parents are expected to comply with the ScotDance USA Code of Ethics.
All dancers MUST have valid R.S.O.B.H.D. registration cards. No entry will be accepted without a current registration number. Dancers MUST present their Registration card the day of the competition.
Competitors must register online no later than Saturday, May 27, 2023 to be eligible for the early entry fee.
Late entries accepted until June 6, 2023 with $5.00 late fee for each morning/afternoon.
No field entries accepted.
Age groupings for Pre-Premier Classes will be determined according to the number of entries.
Any competitor not reporting when their number is called will be disqualified for that dance.
Dancers registering last will be first to dance and may be asked to fill in for reels.
Competitors must remain in costume until all medals and trophies have been awarded.
In accordance with ScotDance USA policies, dancers must not change costumes in public view.
The decisions of the Adjudicator are final. Petitions should be filed to the Dance Chairman no later than 48 hours after the event. The petition should be in writing and accompanied with a $25.00 fee that will be refunded if petition is warranted.
$5 of each entry fee goes to Scotdance USA Southwest Region.
Three-Month Rule – Judges may not adjudicate any competitor that they have instructed for a period of three months. If a competitor has entered a competition with a judge they have attended a class or workshop within the last three months, the dancer must step down from the competition.
I further authorize KCSAHDA to use the group photograph taken at the KCSAHDA Indoor Comp for future promotional and publicity purposes, without obligation or liability to me. (Note participation in the group photo is voluntary).
By proceeding with this online registration, I hereby for myself, my heirs, executors, and administrators, waive and release KCSAHDA, their agents, representatives, successors, and agencies for any and all damages which may be suffered by myself/my child while attending or participating in the Kansas City Indoor Competition. I acknowledge that by submitting this entry electronically, that I have read this agreement carefully and agree to abide by the rules and procedures for this competition as listed on this page.
PRRIZES AND TROPHIES • • • • • • • • • • •
Special Awards:
Heartland Sword: The Highland trophy for the oldest premier age group is the Heartland Sword. This award is presented by the Kansas City St. Andrew Highland dancers in memory of Dr. and Mrs. Wallace McKee.
Denise Irving McNally Most Promising Beginner Award: also includes a $100 scholarship.
Madeline McDowell Spirit of the Dance Award: Given to a Novice Dancer who most captures the joy and spirit of Highland Dance in their performance. Includes a $100 scholarship.
Andy Aitken Most Promising Intermediate Award: also includes a $100 scholarship.
Pre-Premier Awards:
Medals will be awarded to three places. Class trophies for Highland dances and another for National dances (provided the dancer has competed in both National dances for the Beginner and Novice classes) will be awarded. There will be no Class Trophy awarded in the Primary Class. Classes must have at least three dancers for a trophy to be awarded.
Premier Awards:
Premier dancers will receive cash awards for each dance as shown below. Class winner will receive a trophy based on all Highland dances and another based on all National dances. Classes must have at least three dancers for the trophy to be awarded. The Drysdale Award for the top Premier dancer of the day will be based on points for all highland and national dances. There must be at least six competitors who have competed in an age group in order for the aggregate points earned from those dances to qualify in calculating the overall winner for this award.
7 and under 12 Years: $30(1st), $20(2nd), $15(3rd), $10(4th), $10(5th), $10(6th)
12 and under 16 Years: $40(1st), $30(2nd), $20(3rd), $15(4th), $10(5th), $10(6th)
Over 16 Years: $50(1st), $40(2nd), $30(3rd), $20(4th), $10(5th), $10(6th)
Premier age group may be combined based on the number of entries. Dancers will be notified ahead of the competition.
Prizes awarded will be based on the number of dancers competing in each group:
1st place – at least one dancer
2nd place – at least two dancers
3rd place – at least three dancers
4th place – at least six dancers
5th place – at least seven dancers
6th place – at least eight dancers
Please see the full ENTRY FORM HERE for more information on the special awards and prizes.