Kansas City Cyber-Tech Mentoring & Career Symposium
Dr. Cheryl Cooper, Krina Snider, Lisa Oyler, and Tammy Buckner - Cyber-Tech Mentoring Symposium.
About this event
Please Join Us,
Dr. Cheryl Cooper, CISSP, CISSA
Lisa Oyler, Cisco CCNA & Security Expert
Krina Snider T-Mobile Security Awareness Mgr.
Tammy Buckner, Co-Founder We Code KC
Joe Schield, Nokia 5G Networks
Monica Rowe, CISO
Dr. Marge Sendze, Ph.D
Dr. Cass Butler, Webster University
Tyler Moore, FishTech
Jonathan Hale, T-Mobile
Michael Meis, H&R Block Security Leader
April Boyd-Noronha, Global D&I Advisor at XR Safety Initiative
This event is for individuals looking to pursue a career in cyber security or technology but not sure where to start, and entry level security individuals. Maybe you just want to learn how to protect your private information and stay safe online from criminals.
Attendees will be a part of a mentoring and networking evening with lively discussion about career challenges. The topic areas to be discussed: 1) Foundations of Cybersecurity, 2) Cyber - Tech Career Fields, 3) Security Certifications, 4) How to get started with a Career in Cyber security-Technology.
Hispanics, Latinos and African Americans only make up 9% of STEM careers.
Women make up only 21% of cyber security professionals.
While women constitute almost 50% of the labor market, there are only 28% of women in STEM fields as opposed to 72% of men.
In 2021 there will be 3.1 million cyber security jobs.
There has never been a better time to consider a cyber security and technology career.
Seating is Limited
You must be registered, NO WALK-INS.
Westport Plexpod Health & Safety Guidelines, https://www.plexpod.com/
Corporate sponsorship packages are available.
www.winsmentors.org
info@winsmentors.org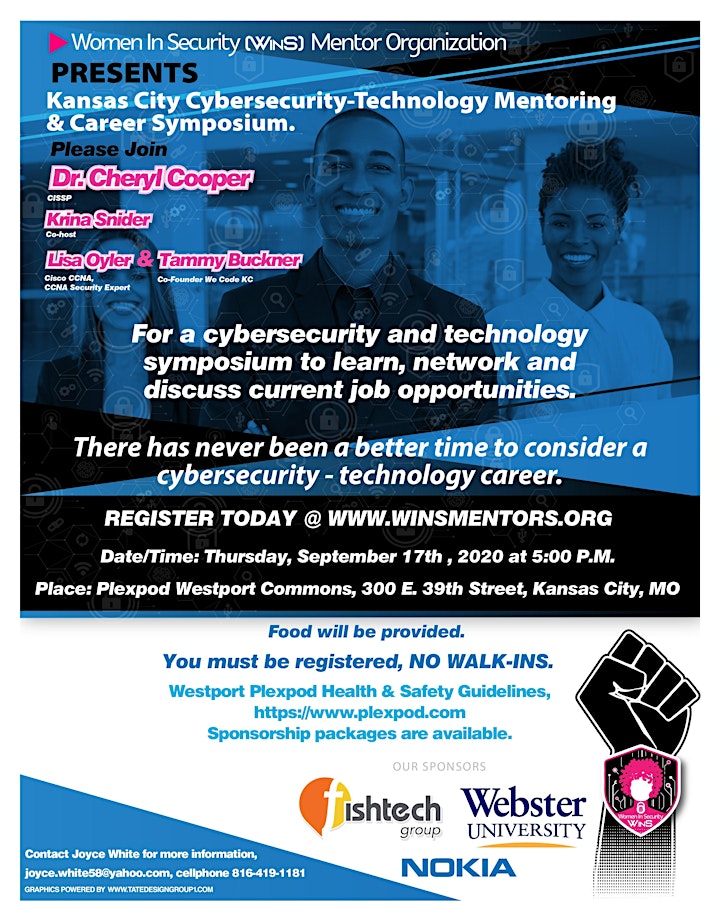 Organizer of Kansas City Cyber-Tech Mentoring & Career Symposium
The WinS Mentor organization helps mentor women and minorities, and inspires individuals to pursue careers in Information and Cyber Security through workshops. Our mission is to engage, excite and enlighten individuals to pursue careers in security through mentoring and to support their continued advancement in the industry. Our target audience are women and minorities looking to pursue careers in cybersecurity and technology.
If knowledge and skill was all that was needed to be successful then everyone would be successful. Our goal is to help you build a Cybersecurity career that is rewarding, not one that is only successful. WinS mentors puts fuel in the tank by providing resources that will develop you.
Services we offer:
Meetups
Career Development
Workshops
Keynote Addressses