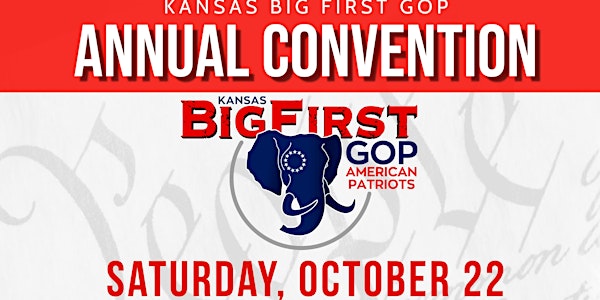 Kansas Big First GOP Annual Convention
Join us for an exciting day of trainings, presentations, candidate meetings, and dinner with special guests!
When and where
Location
K-State Alumni Center 1720 Anderson Avenue Manhattan, KS 66502
About this event
On October 22nd, 2022, The Big First GOP will hold our annual convention at the beautiful K-State Alumni Center in Manhattan, KS. (this event was re-scheduled from the Summer). The Convention will feature a full day of trainings, presentations, and dinner with special guests! We'll have a meet & greet reception for the 2022 KS Republican candidates, precinct and county chair trainings with Oklahoma National Committeewoman-Pam Pollard, presentations from Kansas elected officials, culminating with a dinner event in the ballroom with author, pastor, and political activist- Steven Grant with a presentation titled "Rules for Rebuilders".
Tickets include ALL activities plus dinner!
Activity Schedule:
*Reception- Information & Candidate Tables
*Big First Update Meeting and CRT Presentation
*Precinct/ County Chair/ Campaign Training
-Conducted by former KS State Senator- Eric Rucker, Oklahoma GOP National Committeewoman- Pam Pollard, and KS State Senator- J.R. Claeys
*Remarks from our Elected Officials and Republican Candidates
- In attendance: Tracey Mann, Derek Schmidt, Kris Kobach, Scott Schwab, Steven Johnson
*Keynote Presentation- "Rules for Rebuilders", Dinner & Dessert
​About Stan Grant and Steven Grant's "Rules for Rebuilders":
For decades, American exceptionalism has been devoured by globalists, socialists, progressives, and the godless. Faithful patriots have been negatively branded for loving liberty, the Republic, the Constitution, the rule of law, and the truth that America exists as one nation under one God.
Rules for Rebuilders pulls from a proven blueprint rooted in history to bring the pattern for national renewal into today's contemporary language. National renewal has happened before, and it can happen again. With Scripture references provided, Rules for Rebuilders outlines a thirteen-point plan to make America great again.
It is also intended to be an answer to "Rules for Radicals: A Pragmatic Primer for Realistic Radicals", a 1971 book written by community activist Saul Alinsky. This book, in which he dedicated to Satan, has been used as a blueprint for the left to subvert the culture and degrade morals and our faith in our institutions. Alinsky's tactics are on full display both in the social justice movement and in the way our media covers the news both on the right and left.
The authors are both credentialed Pastors and "Rules for Rebuilders" is an in your face challenge to step up to secure the blessings we once took for granted for the next generation and beyond.
Each chapter in the book "Rules for Rebuilders" corresponds to the same chapter of Nehemiah in the Holy Bible where Stan and Steve Grant draw parallels between Judea then and America now. Some chapters begin with vignettes of real people and the issues they face which further illustrate the issues in real time and every chapter concludes with a "rule" so that the problem is clearly identified and the way forward is as clear as it is blunt.
Satan gave America rules for radicals; rules to destroy our nation.God gave America Rules for Rebuilders; rules to restore our nation.
There are Hotel Room Blocks under Big First GOP at the following properties:
Click on the links below to book your rooms! (copy and paste the links into your web browser)
Best Western Inn, Manhattan KS Link: https://www.bestwestern.com/en_US/book/hotel-rooms.17122.html?groupId=K62XV6M6
Or call Best Western to book at: 785-537-8300
Instructions to book at Best Western online: Click on the link, then click on the top check-in/check-out bar where it says "edit". Select the check in date as 10/22/22, checking out 10/23/22. Then click the "rate" button, then "promotional" button. Type in "Big First GOP" on the promotional line and then click "apply" and then "update". The room types and special rates will then populate below for you to reserve a specific room. Rates and Room types: 1 queen bedroom- $87.99, 1 king bedroom- $90.99, 2 queen bedroom- $95.99
Fairfield Inn by Marriott, Manhattan KS Link: https://www.marriott.com/event-reservations/reservation-link.mi?id=1662732420749&key=GRP&app=resvlink
Or call Fairfield Inn to book at: 785-539-2400
Instructions to book at Fairfield Inn online. Click link, put in 10/22/22, checking out 10/23/22 and then click "check availability. Room types and special rates will populate for you to book. Both double queen rooms and king rooms are $119 each.