Kanbar Special Screening of RETURNING FIRE: INTERVENTIONS IN VIDEO GAME CUL...
Description
PLEASE NOTE:
THIS EVENT BEGINS AT 6 PM
AND WILL BE HELD AT
721 BROADWAY, ROOM 006

Maurice Kanbar Institute of Film, TV & New Media
in collaboration with
Tisch Department of Photography & Imaging
and
NYU Game Center
presents a
Kanbar Special Screening
of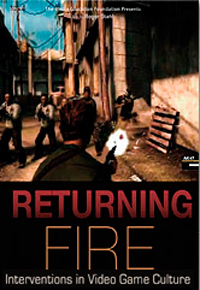 In three separate vignettes, we see how Anne-Marie Schleiner, Wafaa Bilal, and Joseph Delappe moved dissent from the streets to our screens, infiltrating war games in an attempt to break the hypnotic spell of "militainment." Their work forces all of us -- gamers and non-gamers alike -- to think critically about what it means when the clinical tools of real-world killing become forms of consumer play.
Organizer of Kanbar Special Screening of RETURNING FIRE: INTERVENTIONS IN VIDEO GAME CULTURE