Kanai Sensei 2019 Memorial Seminar (Aikido)

Friday, May 24, 2019 at 1:00 PM

-

Sunday, May 26, 2019 at 4:00 PM (EDT)
Event Details
Kanai Sensei Memorial Seminar - a weekend Aikido retreat where you can develop a new appreciation of Aikido training while sharing good times with friends. Don't just practice Aikido, for three days - live it!
Download our seminar brochure here. 
Framingham Aikikai will host its fourth Kanai Sensei Memorial Seminar on the Memorial Day weekend with instruction by senior instructors and fun activities all at affordable prices. Join us as we celebrate Kanai Sensei in a natural setting that recalls the early days of Aikido!
Robert Zimmermann - Shihan, 7th Dan - Toronto Aikikai
David Farrell - Shihan, 7th Dan - Commonwealth Aikikai
David Halprin - Shihan, 7th Dan - Framingham Aikikai
Barbara Britton - Shihan, 6th Dan - Framingham Aikikai
and more instructors to be announced...

Experience - a large group of senior instructors will be on the mat to celebrate the influence of Kanai Sense, review his singular techniques and concepts. Though Kanai Sensei is our focus, we will also have instructors who are students of his other close colleagues among O-Sensei's last group of uchideshi.

Celebration - the celebration doesn't end on the mat. The seminar will provide daily opportunities to relax, socialize and have fun.

Pricing - our aim is to make this seminar experience available to more people by keeping fees reasonable. Once again, our instructors are forgoing their normal fees to make this possible. Whether you are attending for one, two or all three days the seminar cost will be very reasonable, or even low (if you want to rough it by bringing your camping gear!)
NOTE:
If you would like to be co-located with your dojo in the same lodging area, please let us know when you register. 

You must bring your own linens (meaning a towel and either a sleeping bag or twin sheets and pillow). We will have a very limited number of linens available for rental.

Timing of the Dan tests and Iaido will be published shortly.
---
Class Schedule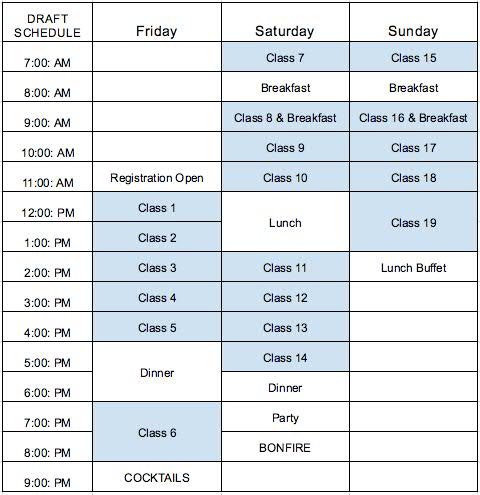 ---
FAQs
Q. Are there day rates available with and without food options?
Yes, we will be offering day-only rates including meals for people coming for one day. These will be available after the early bird registration period ends on March 24. Walk-in registrations (on-site) will only be eligible for day passes without meals. 
Q. Are families welcome? And what's the minimum age requirement for practising Aikido on the mat?
The seminar is open to families and children of all ages. There are many family activities available on site and in the area. There is no charge for children three years and under. However, if children want to join us on the mat, they need to be 13 years old.
Q. What should I bring to the event?
At the very least, please bring a towel, linens or sleeping bags, toiletries (soap, shampoo, toothbrush, and toothpaste), your Aikido weapons, and your gi. Sunblock and/or insect repellent will be helpful if you plan on spending time in the outdoors. Plan ahead! If it's warm, you may want to bring a fan. If it's rainy, you might want to bring an umbrella and boots.
You can always bring things to make your stay more enjoyable such as a cooler filled with drinks, a coffee maker, or even a ball for the basketball/volleyball court. Use your imagination!
Q. What are my options if I don't bring my own linens?
Please try to bring your own linens if possible! We will have a limited supply of linens available for rental. You will be able to rent:
Twin Fitted Bed Sheet

Twin Sheet

Pillow Case

Pillow

Blanket

Towel
A full set (all items) requires a $40 deposit on-site. When you return all the items (undamaged), we will refund $20 back.
If you only need a partial set (any 3 items), you can pay a $20 deposit on-site, with $10 refunded on return.
Note that the price is the same for 1 night or 2 night stays. Supplies are limited, and availability is on a first-come-first-served basis. If you are unable to bring your own linens (possibly due to travel limits), let us know ahead of time and we'll reserve a set for you (subject to the same deposit prices).
If we run out of supplies, you can visit the Walmart at the 100 Charleton Road shopping center to get what you need.
Q. How can I contact the organizer with any questions?
Please don't hesitate to reach out to us through email at KanaiSenseiSeminar@gmail.com.
Q. What kind of lodging is available?
Each lodge at Prindle Pond has two wings that each consist of a common bathroom and a group of rooms. Most rooms have two bunk beds (i.e. four beds).  A very limited number of rooms have a private full bathroom, and most rooms with a private bathroom are single occupancy. Though the venue is private property and quite safe, please make an effort to secure your own belongings while you are there.
Rooms types fall into five categories:
Double Room (2 bunk beds), No Bath: 2-4 people

Single (single bed), No Bath: 1 person

Single (single bed), Full Bath: 1 person

Double Room (2 bunk beds), Full Bath: 2-4 people

Double Room (1 bunk bed), No Bath: 1-2 people
We will try our best to accommodate lodging requests, but can't guarantee placement. Also, single rooms are in very limited supply, so if you request one, we will put you on the waitlist, but assignments from the waiting list will only be made as the situation become clearer closer to the seminar. Most single rooms will be sold out during early registration. 
Q. How do room assignments work?
We will make room assignments based on several factors. We generally assign two people to a room. If you register for a private bathroom, we will likely assign one person to a room. If you have any preferences for roommates or neighbors, please let us know when you register. If you registered for a private bathroom, please let us know if you want a single or multi-occupancy configuration.
We will make every effort to accommodate your requests when making room assignments. Please contact us with lodging requests at KanaiSenseiSeminar@gmail.com.
Q. How do I register for a private bathroom?
While there are rooms available with a private bath, they sold out very quickly during the "early bird" promotion and during open registration.  Please contact us directly, if you have specific lodging requests at KanaiSenseiSeminar@gmail.com.
Q. How does dining work?
The camp will provide 6 meals for full weekend attendees and 3 meals for one night attendees. These meals are already a part of the full weekend and one night packages.
Day passes purchased at the seminar do not include any meals, but if you pre-register your day pass, you can buy it with a meals add-on. (The venue needs a head count to make sure they prepare enough food for everyone.)
Participants who stay a single night will get dinner on the first day and breakfast and lunch on the second day. In other words, Friday/Saturday attendees will get Dinner on Friday and Breakfast/Lunch on Saturday, while Saturday/Sunday attendees will get Dinner on Saturday and Breakfast/Lunch on Sunday.
The dining hall will be open at all times, but the venue will serve food at specific times:
Friday Dinner: 5:30pm-6:30pm

Saturday Breakfast: 8:00am-9:00am

Saturday Lunch: 12:30 pm-1:30pm

Saturday Dinner: 6:30pm-7:30pm

Sunday Breakfast: 8:00am-9:00am

Sunday Lunch: 1:00pm-2:00pm
If you have any special dietary needs, please let us know at KanaiSenseiSeminar@gmail.com.
Q. What are the amenities at the venue?
Attendees will have access to the camp property, which includes a basketball court, sand volleyball court, and a soccer/softball field. A large pond bearing the venue name is available for boating or swimming. Nature trails and bike paths crisscross the wooded area. Wi-Fi is available in the main dining hall area. 
Housing will be in lodge-style buildings.  Each lodge is unique, and have accessible and pleasant common areas for sharing good times.
The rooms are simple; they contain bunks and possibly some storage space.
Remember that this is a retreat, so the amenities are simple.. That said, the camp is comfortable and provides everything you need to enjoy a weekend away from the rat race. We want to encourage people to unplug and relax as much as possible.
Q. Where can I find out some more information about the venue?
We are happy to once again have the seminar at the Prindle Pond Conference Center in Charlton, MA, which is conveniently located minutes from the Mass Turnpike and Interstate 84. This beautiful facility sits on 500 wooded acres. For students and non-students alike, it offers recreational activities such as bonfires and beautiful nature walks.
For those wishing to venture outside of Prindle Pond, you are only nine miles to historic Sturbridge Village and its surrounding tourist oriented area.
Trip Advisor - https://www.tripadvisor.com/Tourism-g41854-Sturbridge_Massachusetts-Vacations.html
Sturbridge - http://www.sturbridge.com/
Q. What's the refund policy?
Refunds will be available subject to EventBrite policy. Full refunds are available up to the end of pre-registration. Just request a refund through Eventbrite. After pre-registration ends, you will need to contact us about refunds, which may be subject to fees.
Q. Do I have to bring my printed ticket to the event?
No need. We will be able to check you in once you visit the registration desk in the main dining hall.
If you have further questions about the 2019 Kanai Sensei Memorial Seminar please contact us at Framingham Aikikai or please send us an email at KanaiSenseiSeminar@gmail.com.
When & Where

Prindle Pond Conference Center
19 Harrington Rd
Charlton, MA 01507


Friday, May 24, 2019 at 1:00 PM

-

Sunday, May 26, 2019 at 4:00 PM (EDT)
Add to my calendar
Organizer
Framingham Aikikai was opened in 2000 by Sensei David Halprin and Sensei Barbara Britton to serve the needs of our growing community. Over the years, the school has earned praise for its continuous dedication to spreading Aikido as taught to our instructors by the late Kanai Sensei.