KANA x KFS SHUFFLE

Saturday, November 17, 2018 from 7:45 PM to 10:45 PM (EST)
Event Details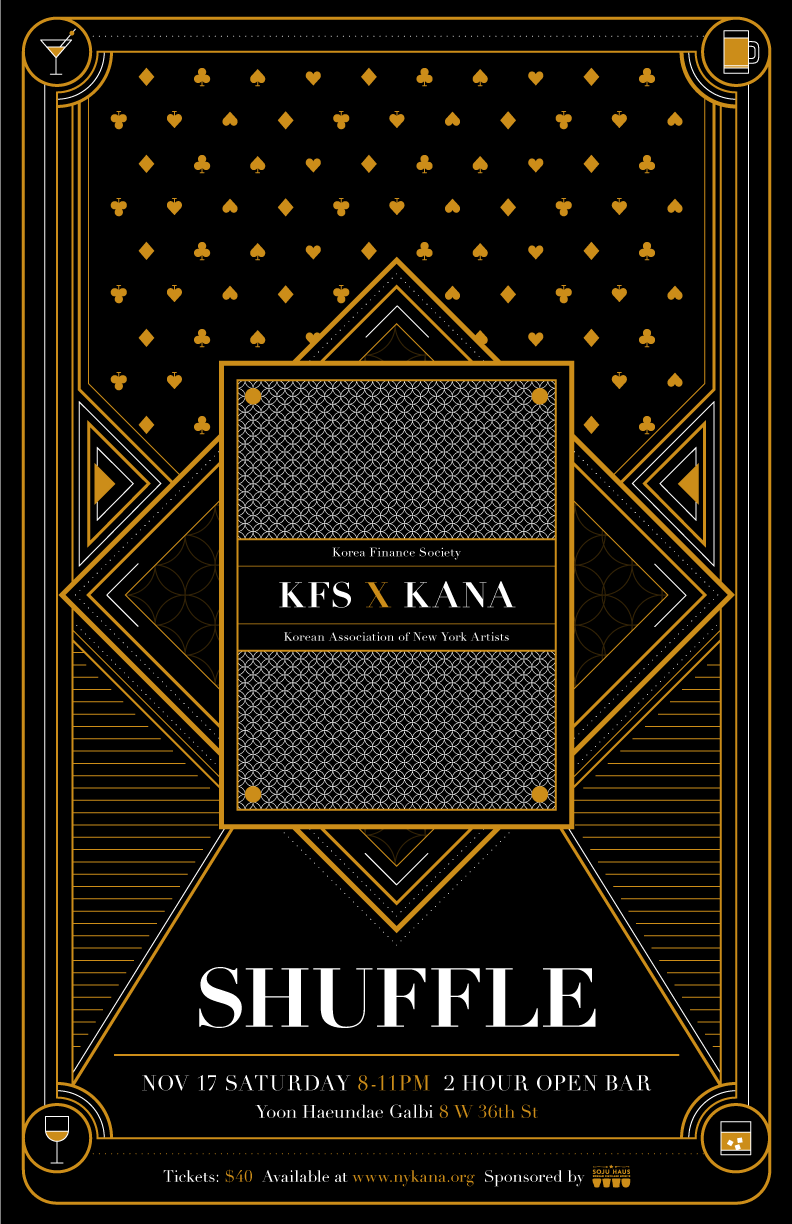 Thank you to everyone who purchased tickets!
When you arrive, please come up the stairs to the second floor lounge. 
**Dress code: Fancy and Fabulous**
After 5 PM on 11/17, tickets would be available at the door only. 
----------------
We want you to join us for a special collaboration where creative and financial minds come together to 'SHUFFLE' their visions!
Korean Association of New York Artists (KANA) and Korea Finance Society (KFS) are teaming up to connect the cutting edge ideas, cultures and visions for the future. Meet new people, play fun games, and learn from fellow creatives and financiers.
[Event Details]
♠️♥️KANA x KFS Shuffle Party♦️♣️ is open to ANYONE who is interested in networking with creative and finance industry and have fun together! ⠀⠀⠀⠀⠀⠀⠀⠀⠀⠀⠀⠀⠀⠀
⠀⠀⠀⠀⠀⠀⠀⠀⠀⠀⠀⠀⠀⠀
♥️SHUFFLE #01: 2 hours of FREE drinks at our open bar. Wine, sake, soju, whiskey... you name it. We have it all.⠀⠀⠀⠀⠀⠀⠀⠀⠀⠀⠀⠀⠀⠀
⠀⠀⠀⠀⠀⠀⠀⠀⠀⠀⠀⠀⠀⠀
♣️SHUFFLE #02: Meet new people and make friends. The prize you bring home that night will depend on them.⠀⠀⠀⠀⠀⠀⠀⠀⠀⠀⠀⠀⠀⠀
⠀⠀⠀⠀⠀⠀⠀⠀⠀⠀⠀⠀⠀⠀
♦️SHUFFLE #03: We prepared another level mingling games. Be prepared to have fun.
Join us for an exciting night of creative collaboration. Get your tickets today!!!
**Registration starts at 7:45pm**
*Special thanks to our sponsor Soju Hous*
** Cancellation and Refund Policy: For cancellations received five (5) or more days prior to an event, for which a fee has been paid, a 50% refund less an administrative processing fee shall be provided to the purchaser, per purchaser's request. Cancellations less than five (5) days prior to an event, for which a fee has been paid, would be considered as a donation to KFS & KANA's non-for-profit philanthropic future projects.
When & Where

YOON Haeundae Galbi
8 West 36th Street
New York, NY 10018


Saturday, November 17, 2018 from 7:45 PM to 10:45 PM (EST)
Add to my calendar
Organizer
KANA is a creative community of Korean Artists in New York City, seeking to build firm footings for Korean creators on the dynamic field of art in New York City. For more details, please check our website: http://www.nykana.org
KFS seeks to build a community to promote the advancement of Korean and Korean American financial professionals. For more details, please check our website:  http://www.kfsociety.com