Description
Kamayan For Da Keiki is a pop-up dinner series that builds momentum for charitable causes. Kamayan is a Filipino style of eating where a menu is laid out across a table of banana leaves and guests eat with their "kamay" (hand). For each dinner we partner with local chefs to design a unique dinner menu and partner with local non-profits who have high impact missions focused on the youth.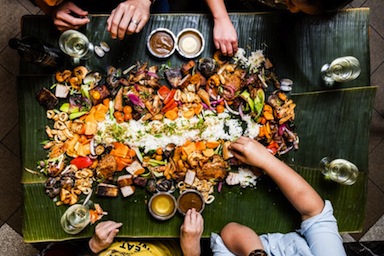 Our first event will be in partner with Chef Jesse Cruz (Chef/owner Lucky Belly, Livestock Tavern, Tchin Tchin Bar) who has designed a menu consisting of 13 different items. The dinner will be held in the garden patio of the Tchin Tchin Bar and have a capacity of 50 seats. We will be selling reservations for this fundraiser at $75/seat and 100% of the proceeds will go directly to our partner non-profit, Purple Mai'a. IF YOU WANT TO ATTEND THIS DINNER, THE ONLY WAY TO ENSURE YOUR SEAT IS TO GO TO THE TICKETS PAGE AND PURCHASE A "SEAT RESERVATION" TICKET. THESE ARE SOLD FIRST COME FIRST SERVE.

Menu for this dinner is:
Achiote rice
Grilled veggies (Zucchini, Mushrooms, Eggplant, Sweet Potato, Shishito Peppers, Fingerlings)
Adobo Braised Ribs
Char Siu Lamb Bacon
Longanisa
Shoyu Chicken
Crispy Prawns
Fried Squid
The dinner will end with a Dessert Run! Bring your cash :)
Purple Mai'a in their own words: Purple Maiʻa Foundation is a technology education nonprofit whose mission is to build pathways of knowledge together with high-opportunity youth in order to help communities thrive. We currently teach beginning coding and computer science at nine locations in schools and communities where many students are Native Hawaiian or Pacific Islander. As we increase access to tech education, we also ground students in the knowledge that their ancestors were indigenous innovators who used their skills to serve their communities and lands. Our focus on students that grow up in adversity reflects or belief that the resilience and perspective of Hawaiʻi's people can and will shape the world for the better.
If you want to support the cause there are a few things you can do:
1. Be one of the first 50 people to donate for a reservation for the Kamayan for da Keiki dinner. Reservations can only be made by purchasing a ticket through the green "tickets" button and selecting a "Seat Reservation: ticket. *NOTE: Donating to additional perks within the tickets page does not get you entry into the dinner.
2. If you cannot attend the dinner or want to donate more, select one of the additional perk items. These can be found by clicking on the green "TICKETS" button and scroll down to see the options. There are a few packages that will have high impact.
Tier 1: Purple Mai'a Swag Pack
Donation: $50
Qty. Available: 50
You get:
- 2 Purple Mai'a writing cards
- 2 Stickers
Donation: $150.
Qty. Available: 10
- 1 Kamayan for da keiki shirt
- 1 Ahui Logo
- $25 gift certificate to Lucky Belly
Donation: $350
Qty. Available: 10
- Purple Mai'a keiki learn how to develop their own video games. You will get to suggest the theme/art and the keiki will develop the game in your honor!
- 1 Kamayan for da Keiki tshirt
- 1 Purple Mai'a Tshirt
Donation: $500
Qty. Available: 30
- This will help sponsor a keiki directly to get taught in a Purple Mai'a summer bootcamp. A keiki will be assigned to you and periodically write a letter on what they have learned throughout the summer camp.
3. Organize your own Kamayan for da Keiki! Kamayan for da Keiki is not a business. We have a goal to build as much momentum as possible for organizations and we would hate to be the bottleneck towards impact. Feel free to connect with us at our Facebook page and shoot us a message: https://www.facebook.com/kamayanfordakeiki/
Mahalo nui loa!
Kamayan for da Keiki Organizers (Joey, Yasmin, Tiffany, Maile)