Kalpataru Yogam: Science of Manifesting Your Reality In-Person or ONLINE
Description
How is your reality created?
How to create what you WANT in life?
Join us in this Life Changing 1 day course to manifest your desires & create your reality! Learn the secrets of how the Cosmos really works, based on ancient Vedic principles! Attend either in-person or ONLINE from your home! . REGISTER to get the online link.
INCLUDES:

- KALPATARU DEEKSHA - initiation to manifest any one desire as reality
- 3rd EYE AWAKENING: - initiation to awaken superhuman possbilities in you
- POWER OF CONSCIOUSNESS OVER MATTER: Exercises to move matter with your 3rd eye
- AKASHIC READING LIVE: Answers from the Akashic records, the cosmic library of all events past, present and future in the universe
- EXCLUSIVE GUIDED TOUR OF TEMPLE & DEITIES
Sunday Aug 25th 9 am - 5 pm 9720 Central Ave Montclair CA 91763 909-625-1400 info@nithyanandavedictemple.org
Attend either in-person or ONLINE from your home! REGISTER to get the online link.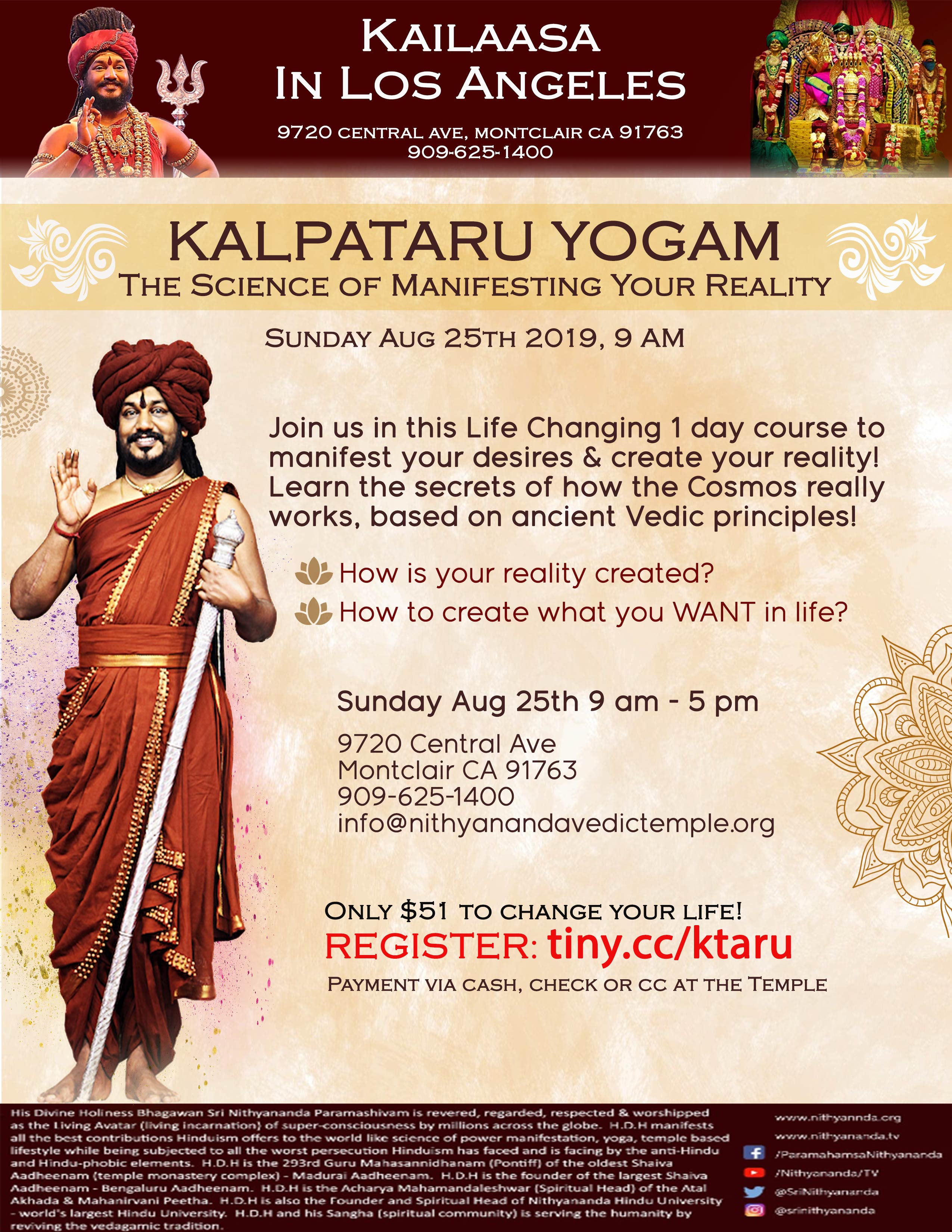 Participants of the Kalpataru Yoga (the Program) understand that all blessings, instructions, initiations, teachings and suggestions made as part of any Program described above are purely in a spiritual capacity and are not intended to be any sort of guarantee or definitive statement about the past, present, or the future or any sort of medical advice, physical or mental. Participants understand that in connection with any Program described above, Nithyanandeshwar Devasthanam Trust, Nithyananda University, the teachers, organizers, volunteers, promoters and any representative or agent involved with any or all of the Programs described above do not make any claims, promises, or guarantees about the individual or group outcome of any or all of the Programs or their related services. All events are subject to change. In the event of a change, we will make every effort to contact registered participants. We must reserve the right to make any changes whatsoever in the event owing to any unforeseen or unavoidable cause; or to cancel the event for any reason beyond our control without notice and without being liable to pay any participant compensation for damages or losses.
Nithyananda University does not take responsibility for the accuracy of information provided nor the scheduling or outcome of any particular event described above. Further, Nithyananda University does not make any promises or guarantees about any particular product, or service. For details on any particular news, offering or event, please click on the designated link or contact the designated contact provided. Unsubscribe You received this email because you signed up on our website or made a purchase from us. Unsubscribe
9720, Central Ave Montclair, California 91763 United States (909) 625-1400