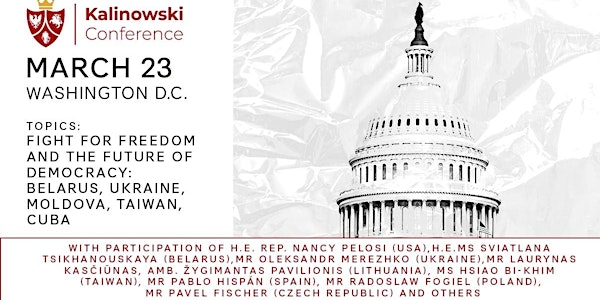 Kalinowski Conference
Join us to annual round-table of the well-known world leaders and experts on the future of Belarus and the whole free world.
By The Embassy of Lithuania in Washington, D.C.
Date and time
Thursday, March 23 · 9am - 12pm EDT
Location
The U.S. Capitol Visitor Center, room HVC201 A&B First Street Northeast US House of Representatives meeting rooms (left side) Ask for the directions/guidance to the room the Red Coat guides stationed at the entrance Washington, DC 20515
About this event
The Kalinowski conference is an annual round table of the well-known world leaders and experts on the future of Belarus as a part of the European family, established in Vilnius 24 August, 2020.
Despite the high profile competition, the Kalinowski conference seeks to fill a niche overlooked by those other conferences; its unique contribution is its focus on freedom fighting and democracy issues, with a more hands-on approach to thinking about and discussing key security and defense challenges, which oppressed nations experience.
Due to its extensive analysis of topics, the Kalinauskas conference has long gone beyond the theme of Belarus. The problems of a free and independent Cuba, the issue of security of Taiwan and, of course the importance of territorial sovereignty of Ukraine are some of the topics that are discussed by the best experts and politicians.
This year event organized in Washington DC will focus on transatlantic unity and its importance while supporting Belarussian opposition, fighting Russian aggression in Ukraine and other forms of tyranny, coercion and authoritarianism, which states like Taiwan, Cuba, etc. are opposing to.
Opening Remarks:
Rep. Nancy Pelosi
Former Speaker of the United States House of Representatives
Ms. Sviatlana Tsikhanouskaya
Leader of democratic Belarus
9:30 - 10:30 am Panel 1: "A Decisive year for Europe whole and free (2023 as a window of historical opportunity for EU and NATO enlargement)"
10:30 - 11:30 am Panel 2: "Global arena of the fight for freedom"
Concluding remarks:
Sen. Robert Menendez
Chair of Foreign Affairs Committee of the Senate