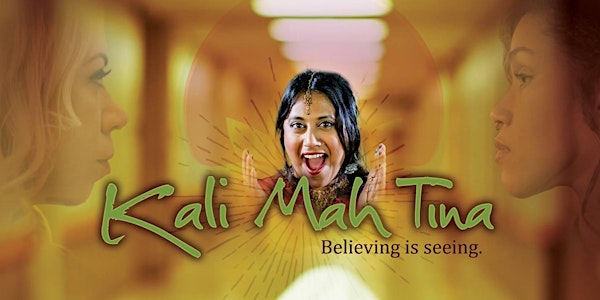 "Kali Mah Tina" Feature Film
When and where
Location
Fort Lauderdale ArtServe 1350 E Sunrise Blvd, Fort Lauderdale Fort Lauderdale, FL 33304
Description
Film Summary
A tragic death provokes a mortuary makeup artist to finally take action towards her dream of being an actress and a musician's journey after the death of her lover to step back into the limelight with her music. Both seek the guidance of an eccentric Internet Life Coach Guru, Kali Mah Tina. Her bombastic advice leads to peculiar situations that challenge their sense of freedom when the ALL has been revealed..
Who are the 1310 Bandits?
The 1310 Bandits are a visionary female-led team of filmmakers, creating stories that advocate consciousness and social responsibility. They are also two-time, back-to-back, 1st place winners of the 48 Hour Film Project (Miami Chapter) for both 2015 and 2016. These women represent and celebrate all areas of diversity in areas of ethnic, socioeconomic, educational, LGBTQ communities and their allies. Our commitment is to create dynamic cinematic stories that highlight the human experience. We choose and create stories that are authentically NOW. Our passion is to shine light on taboo subjects, creating a platform for dialogue in the world. Through film, workshops and outreach, we ignite understanding, compassion, and social change within society. We don't film for film's sake. We create films to make a positive impact in the world that causes a ripple effect of positivity that is felt by the viewer.
What is the 48 Day Feature Film Project
The 48 Day Feature Film Project typically brings multiple teams, from around the world, together to produce a full-length feature film in 48 days. BUT, for the first time EVER….The 1310 Bandits are, by fortunate happenstance; completing the project themselves. As a team; a family; a tribe of 27, female Filmmakers- including male colleagues and supporters. On September 16th these filmmakers started writing an original script using a particular set of challenges including a genre, prop, and line of dialogue that they must incorporate into the film..
Connect, SUPPORT, REFER and FOLLOW them online at:
1310 Bandits Facebook: https://www.facebook.com/1310Bandits/
1310 Bandits Photos: https://www.dropbox.com/sh/6xawn0r76013iyy/AACes7ftuPrfE0Cnj4691-kDa?dl=0


1310 Bandit Films:
2016 1st place "Best Film", 48 Hour Film Festival, Miami Chapter.
"Deep Within" - Genre ACTION/ADVENTURE - Regina goes on adventure within herself while in a dreamlike state and soon comes to understand her true nature. Vimeo Trailer: https://vimeo.com/173632211
This film received 5 awards: BEST FILM // BEST CINEMATOGRAPHY // BEST EDITING // BEST MUSICAL SCORE // BEST SPECIAL EFFECTS // BEST EDITINGhttp://www.48hourfilm.com/miami-fl/films/6389/souvenir-by-1310-bandits
2015 1st place "Best Film", 48 Hour Film Festival, Miami Chapter
"Souvenir" – Genre: HORROR -*Rated R for Mature audiences only. A quick trip down easy money lane spirals Lauren down a twisted, bloody online game that shines light on the dangers of the internet.
http://www.48hourfilm.com/…/f…/6389/souvenir-by-1310-bandits
This film received 7 awards: BEST FILM // BEST DIRECTING // BEST CINEMATOGRAPHY // BEST EDITING // BEST SOUND DESIGN // BEST MUSICAL SCORE // FILMGATE INTERACTIVE AUDIENCE AWARD FOR GROUP C // 48 HOUR AUDIENCE AWARD FOR GROUP C