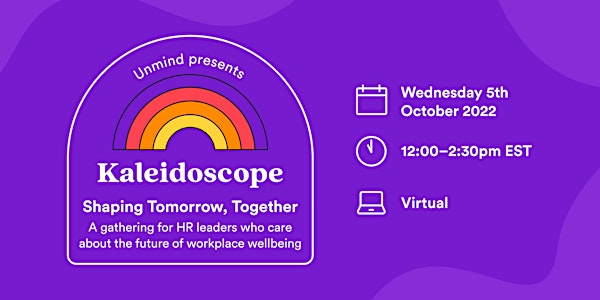 Kaleidoscope 2022 | Shaping Tomorrow, Together
Shaping Tomorrow, Together
About this event
No one knows what's coming next. But we do know we can get through it if we do it together. This year Kaleidoscope focuses on how to manage team wellbeing through a crisis and the tips and tools you need to help drive change for everyone.
Agenda (EST time zone):
12:00 - 12:15 - Introduction from CEO, Dr. Nick Taylor
12:15 - 12:35 - Product Showcase from VP of Product, Gavin Wade
12:35 - 12:45 - Wellbeing Break & Exercise
12:45 - 1:30 - Creating psychologically safe cultures with Major League Baseball, Gibson Dunn & Kearney
1:30 - 2:15 - Driving Cultural change with Culture Amp
2:15 - 2:30 - Closing thoughts
You can expect:
Advice on how to build cultures in which people and organizations can flourish.
A panel discussion with speakers from Kearney, Major League Baseball, and Gibson Dunn.
A first look at Unmind's product evolution.