Bee school: a strong foundation for bee-ginners, stellar keynote speakers, and myriad topics for all levels of beekeepers.
About this event
Educating and supporting beekeepers is our focus. The Kalamazoo bee club's annual Bee school is online, February 12. It features a swarm of speakers, including international experts Dr. Meghan Milbrath and Dr. Tom Seeley. Programing covers a variety of topics for newbees through intermediate beekeepers. Register at Eventbrite.com ; there is a suggested donation of $25 for the entire day. The club supports beekeepers through free monthly meetings, free hands-on Apiary Days (when conditions allow), a free monthly newsletter, and a helpful ever-changing social media presence. Learn more at www.Kalamazoobeeclub.com
2022's bee school features expertise and insights for bee-ginners through intermediate beekeepers.Morning sessions provide foundational beginner knowledge: what beekeeping requires, needed equipment, and how to get started.
Charlotte Hubbard gets the day started off with What Beekeeping Requires; Dr. Meghan Milbrath at noon tells beekeepers How to protect their Pot of gold, optimizing comb care and comb protection techniques. Dr. Tom Seeley delivers a keynote speech midday on the Bee Colony as a Honey Factory, and later Mike Connor spins a good yarn sharing expertise supporting pollinators in our area.
Interspersed are novel "shorts" -- experts answering various questions in 15-minute sessions, like "How do I obtain honeybees as a beginner?", "What do I need equipment wise ?" and "I know how to feed goats, how do I feed bees?"
Bee School is name your own price, but we'd appreciate donations of $25, $45 we love you, to any size.
Kalamazoo Bee Club maintains two apiaries with free monthly hands-on sessions during the season, and free monthly meetings (all when Covid-19 precautions allow). We hope to see you at our online bee school, and at future events.
Hope to see you there and thank you for your thoughtful donation!
https://kalamazoobeeclub.com/
Tags
Online Events Online Classes Online Hobbies Classes #beekeeping #honey #beehive #beekeeper #honeybees #miel #urbanbeekeeping #queenbees #backyard__beekeeping #womeninbeekeeping
Date and time
Sat, February 12, 2022
8:30AM – 5:00 PM EST
Ann Berger is a retired microbiologist/immunologist, who caught the bee bug. She also gardens, quilts, reads, works jigsaw puzzles and visits her grandkids. She has been tending hives for three years, and has a heck of a lot still to learn from the bees (and humans). Her bees always seemed kind of mean and irritable but it wasn't until she went on a cut-out with Charlotte Hubbard and discovered truly mellow bees that she realized hers really were cranky. She's thinking about the best route to nicer bees and wondering why she didn't bring home those mellow bees. Ann will be talking about basic hive inspections and lessons learned.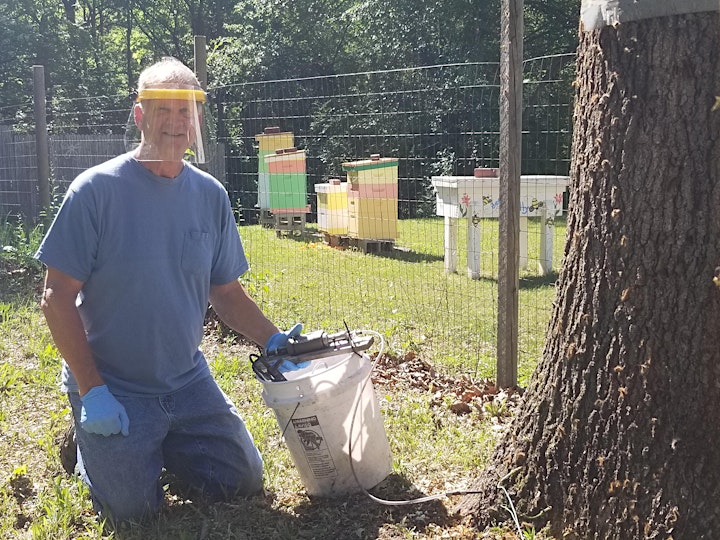 Mike Connor
Mike Connor, a certified ISA arborist since 1998, Michigan Nursery grower, and 50-year beekeeper, uniquely understands the relationships between plants, trees and pollinators. A graduate of Cornerstone University (Religion, Biology), with post-graduate studies at Calvin College and Michigan State University, Mike became a branch manager of Dadant and Sons in 1977. There he received a real education in beekeeping from some of the best beekeepers in the world. He left Dadant in 1985 to start his own business, Honeytree Nursery, and operated 200 hives of bees. Including a 7-year commitment as a Municipal Arborist and Park Superintendent, Mike has spent his entire career growing and caring for plants and trees. He is co-founder of the Grand Rapids Area Bee Club.
Mike was a well-received speaker at the 2015 Heartland Apicultural Society where he launched his presentations on trees and their relationship with bees and other pollinators. Since then he has been honored to speak at dozens of arboricultural, garden, and beekeeping groups in several states, as well as multiple Michigan Beekeepers' Association state meetings, and local clubs. Mike published Pollen and Nectar Producing Trees of the Great Lakes and Northeast of Benefit to Honey Bees and Other Pollinators in 2017 with Wicwas Press LLC.Mike and brother Dr. Larry Connor were keynote speakers at our 2021 Bee school.
Visit Honeytreenursery.com, where Honeytree Nursery's goal is to promote and provide pollinator trees, and sister company Honeytree Arborist Services, promotes healthy trees using Integrated Pest Management techniques and pollinator protection.
Mike Connor pictured safely treating an Oak tree on June 14th, 2021 in Kalamazoo Michigan with nine thirving bee colonies in close proximity.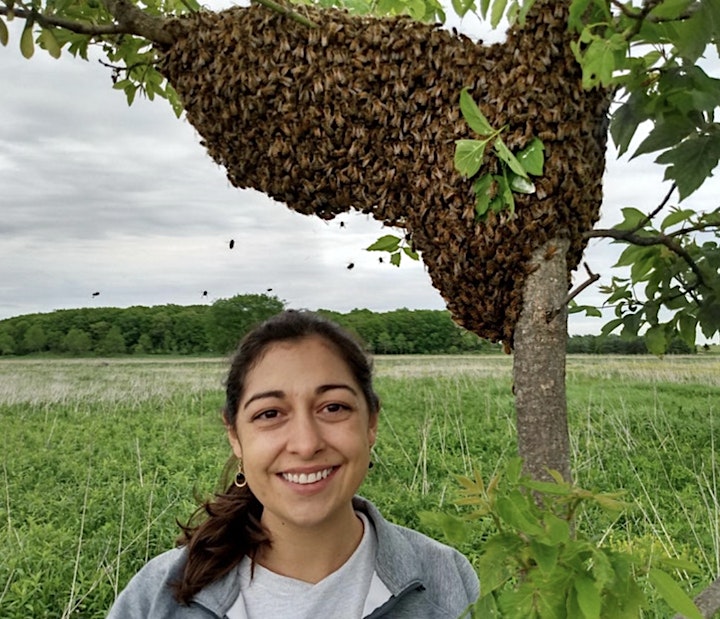 Ana Heck
Ana Heck joined MSU's Department of Entomology in 2019 and became an Apiculture Extension Educator in 2020, following several years with the University of Minnesota's Bee Lab's Bee Squad. She was introduced to beekeeping while working in Nicaragua for two years with a non-profit organization that engaged local communities in rural development. Heck holds a Master's in Public Policy and a graduate minor in entomology from the University of Minnesota.
Charlotte Hubbard
Charlotte Hubbard has been a beekeeper since 2008. Charlotte is President of the Kalamazoo Bee Club, Editor of the Michigan Beekeepers' Association newsletter in 2021and lead instructor for Kalamazoo Valley Community College's beekeeping programs, one of three colleges for which she's taught beekeeping. She speaks frequently at local, state and regional levels.
Charlotte is author of, " Dronings from a Queen Bee: The First Five Years", and the children's book, "If I Could Sit On A Bee's Knee". All profits from speaking, book sales and honey support local food banks. Charlotte, Michigan's 2018 Beekeeper of the Year, mentors extensively, providing insights at www.hubbardhive.com and on Facebook, as 'Charlotte Hubbard, Beekeeper and …'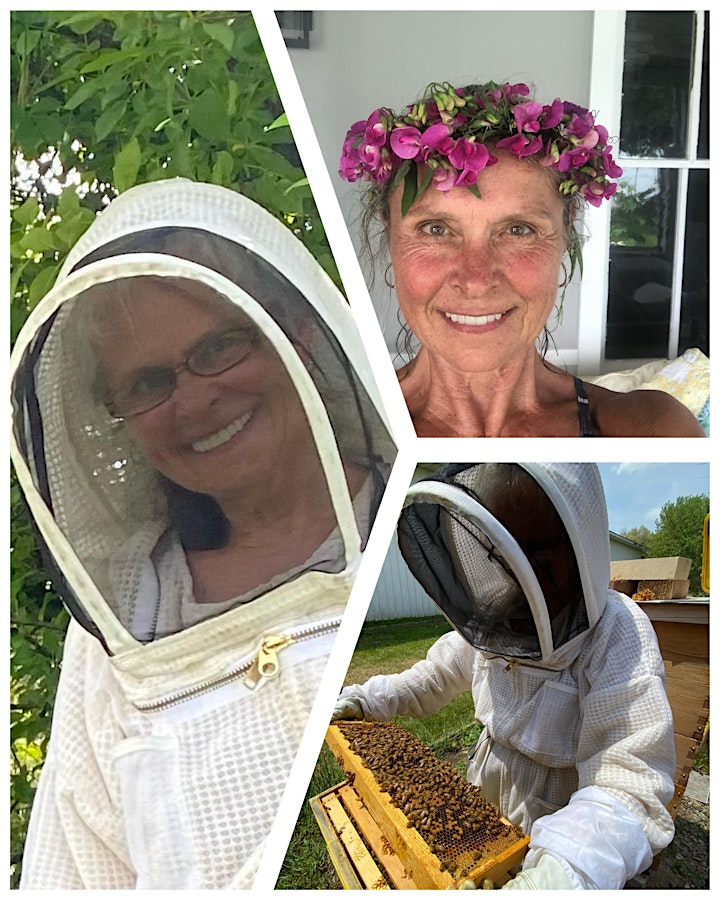 Sandra Klavins Maslen
Richland, Michigan beekeeper Sandra Klavins Maslen presents beekeeping in five frame equipment and the nuances of keeping honeybees in Nucleus hive size equipment. As busy as a honeybee herself, Sandra is an avid seeker of knowledge and experiences and finds as much joy in learning as she does in sharing her breadth of knowledge. Her stockpile of shareable skills includes over 30 years of training educators of the Professional Ski Instructor of America, top scores in Adult Amateur Equine Dressage FEI level competition, managing a Children's Equestrian Opportunities Program for at-risk youth, and raising a spirited and artistic daughter. Her talents are intercultural as well. Born to immigrant parents who journeyed across Europe and the Atlantic ocean during WW2, she grew up with strong ties to her roots in Latvia. She has taught folk dancing to summer high school students studying cultural immersion at Garezers Latvian Camp and campaigned Lansing and Detroit-based folk dance groups at international Latvian Song and Dance Festivals. As an ultimate ode to her culture, she now carries on her great grandfather's love of beekeeping.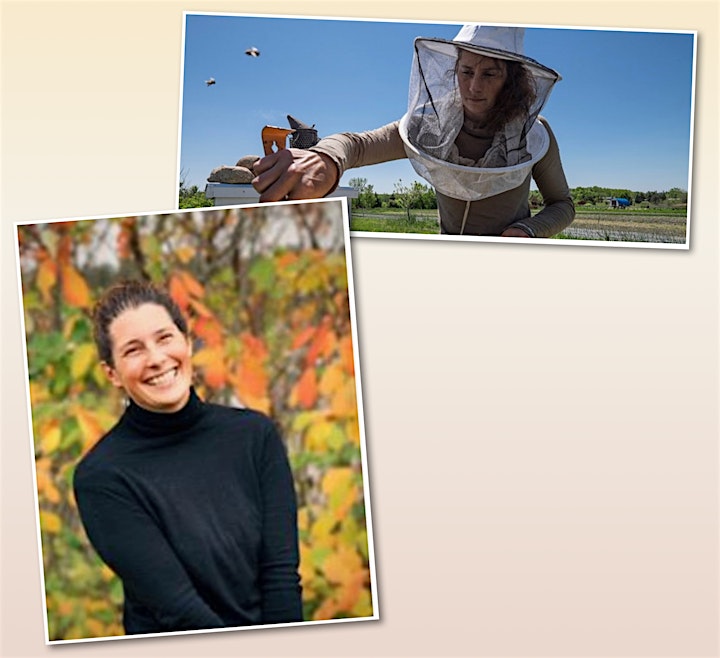 Meghan Milbrath
Michigan State University bee researcher Meghan Milbrath has spent the last year working at the bee lab at Swedish Agricultural University (SLU).
Meghan is an assistant professor in the Department of Entomology at MSU, with a joint appointment for 2021 at Swedish University of Agricultural Sciences in Uppsala. She studies honey bee diseases, focusing on transmission risk and treatment. Dr. Milbrath began working with bees over 25 years ago as a hobby, and for the past decade has run The Sand Hill Apiary, a small livestock and queen rearing operation in Munith, Michigan. She studied biology at St. Olaf College, received degrees in public health from Tulane University and the University of Michigan, and worked as a postdoctoral researcher at MSU, studying nosema disease.
Meghan is going to premiere a talk on the optimizing and protection of drawn honey Comb (title in flux.)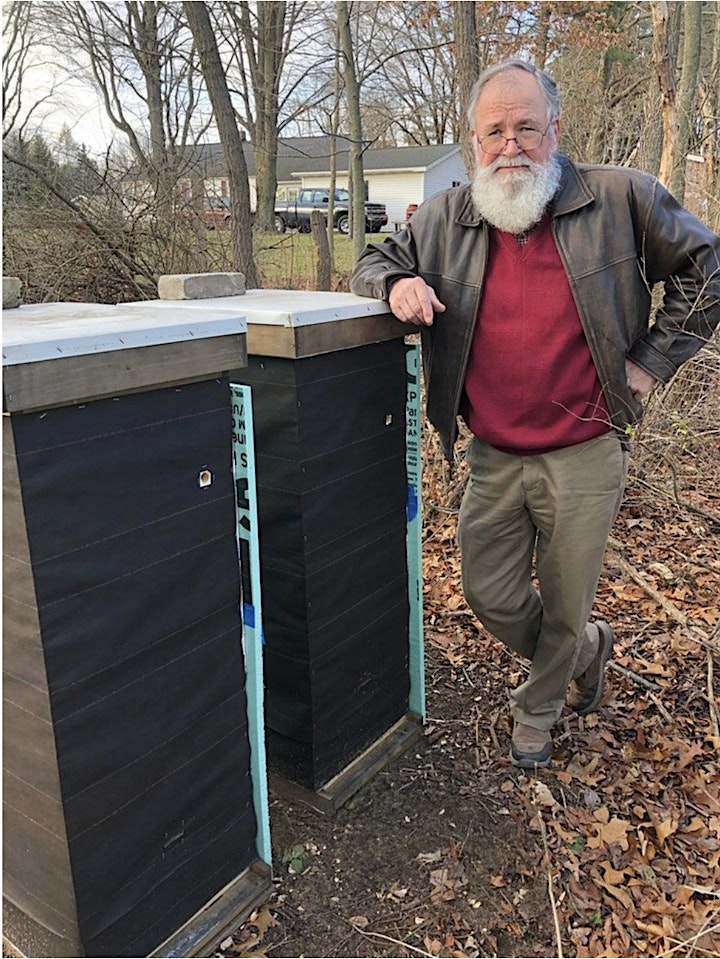 Keith Nichols
Keith Nichols has 1.5 million little darlings we like to call worker bees or about 40 hives. Keith presented at Bee School in 2020, 2021 and did a wonderful job educating his beginner students on bee equipment and uses. He'll review essential equipment and how it all works together as a system in the hive.
Keith makes his own equipment and it appears by the two hives he's standing by, has gotten daughter and son-in-law bitten by the bee bug in Holland, Michigan too.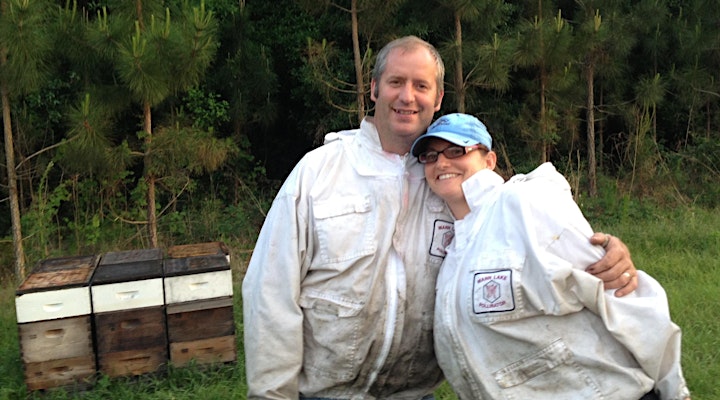 Kari Nobel
Kari Nobel of Jonny Bee Goods
If someone had told a teenaged Jonathan Nobel that he would someday make his living surrounded by thousands of females and spending winters in the Sunshine State, he would have advised them to seek a professional. Yet, today it is reality. Despite growing up in downtown Grand Rapids, MI, he knew a thing or two about agriculture – he spent every waking moment on his uncle's farm in Dorr, MI, and discovered a deep love for farming and all that it entailed. So when a family friend asked him to tag along while tending his bee hives, it wasn't much of a departure from what Jon was already doing.
After a while, (and this is the part that still makes me wonder why HE hasn't sought a professional) when he was stung for the umpteenth time, instead of screaming and running for the trees, he thought, "Hey, if I'm going to get stung every day, I might as well be keeping my own bees."
Soon after, he bought a beautiful farm in Otsego, MI, which has come to be known as Nobel Honey Farm. And that is how "Jonny" got into the "bizzz-ness" of beekeeping.
Then in 2006, he married me…
I didn't like the taste of honey…at first. (But in my defense, if you put a piece of chocolate and a potato chip in front of me, I'm gonna pick the potato chip every time. No judging!)
Although I didn't eat it often, I soon discovered the many benefits it possessed for my skin! So as a creative outlet, I started experimenting with honey and beeswax in soaps, balms and candles. One day, I brought some to the local farmer's market along with our honey, and the response was fantastic! Having spent more than 15 years in the retail industry, I recognized a great sales opportunity when I saw it. Hence, Jonny Bee Goods was born.
Fast forward to today - we're still going strong! We sell our honey and wax products at home, at market and online. Occasionally, when I get some free time (wait, what's that?) I work on developing new products; but I'm pretty picky and since the only people on my development team are me, myself and I, it's a pretty drawn out process!
Be that as it may, we love the bees, we love what we do, and we're grateful that we get to work together every day! I hope you'll find that our products reflect that love in both quality and consistency!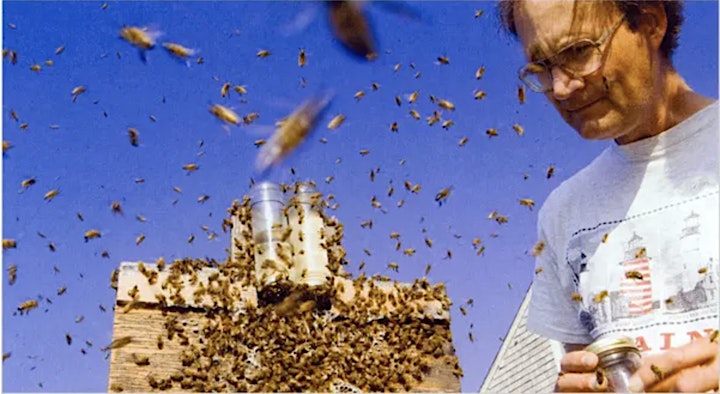 Thomas Seeley
Horace White Professor in Biology Professor Emeritus
Thomas D. Seeley is the Horace White Professor in Biology within the Department of Neurobiology and Behavior at Cornell University, where he teaches courses in animal behavior and does research on the biology of honey bees.
He grew up in Ithaca, New York. He began keeping and studying bees while a high school student, when he brought home a swarm of bees in a wooden box. He went away to college at Dartmouth in 1970, but he returned to Ithaca each summer to work at the Dyce Laboratory for Honey Bee Studies at Cornell, where he learned the craft of beekeeping and began investigating the inner workings of the honey bee colony. Thoroughly intrigued by the smooth functioning of bee colonies, he went on to graduate school at Harvard University where he was supervised by two "ant men" (Drs. Bert Hölldobler and Edward O. Wilson), began his research on bees in earnest, and earned his Ph.D. in 1978. He then taught at Yale for six years, before working his way home to Ithaca/Cornell in 1986, where he has been ever since.
In recognition of his scientific work, he has received the Senior Scientist Prize of the Alexander Von Humboldt Foundation in Germany, been awarded a Guggenheim Fellowship, and been elected a Fellow of the American Academy of Arts and Sciences as well as the German National Academy of Sciences (Leopoldina).
His research focuses on the behavior, social life, and ecology/natural history of honey bees and has been summarized in five books: Honeybee Ecology (1985, Princeton), The Wisdom of the Hive (1995, Harvard), Honeybee Democracy (2010, Princeton), Following the Wild Bees (2016, Princeton) and The Lives of Bees (2019, Princeton).
Tom's short CV is an impressive length, even for an Eagle scout.
Picture credit :
The author, on Appledore Island, watching a swarm launch into flight from the vertical board that he uses as a swarm mount. The two feeder bottles on the mount provide sugar syrup to keep the swarm well fed.Credit...From the book "Honeybee Democracy" by Thomas D. Seeley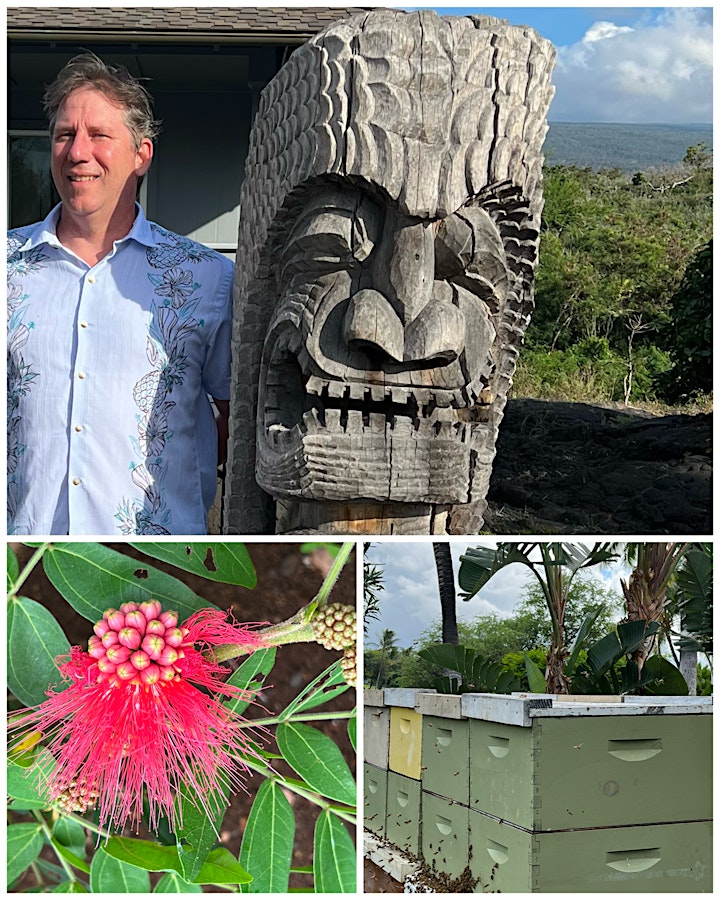 ,
Todd Smith
Todd Smith is Vice President of the Kalamazoo Bee Club and is on the Board of the Michigan Beekeeping Association as a representative from the Kalamazoo Bee Club. Todd manages the Kalamazoo Bee Clubs' two teaching apiaries. Kalamazoo Bee Club provides monthly free training at the apiaries utilizing partnerships with Western Michigan University Business and Technology Research Park and at the Kalamazoo Nature Center. Todd tries to implement sustainable beekeeping and best current practices in his apiaries, delighting in being a bee coach and teacher in the four surrounding counties. Photo above capturing bees, botany and swimming hair all favorite things of his to do.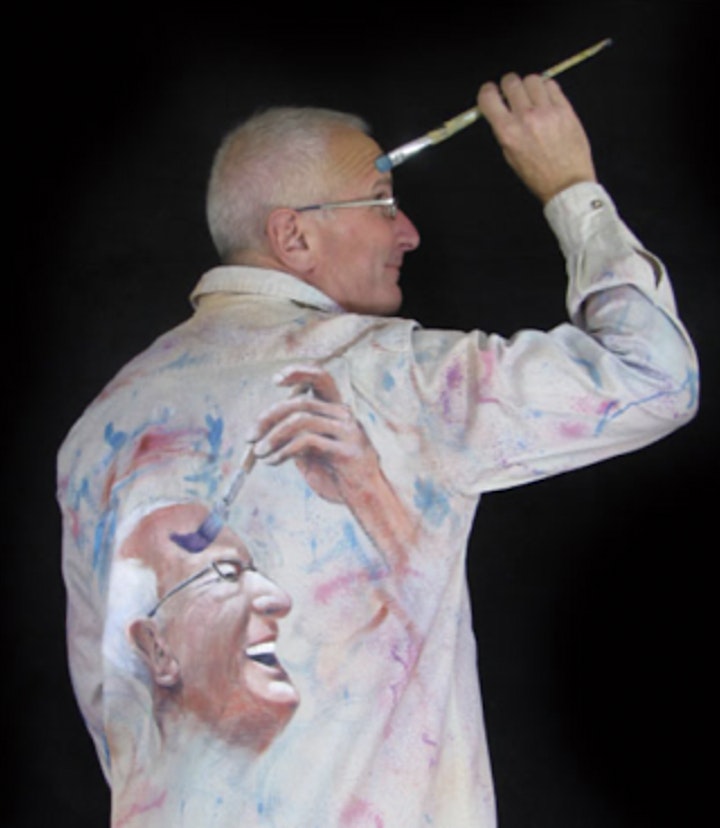 Brian Walter
Brian Walters is an artist, letter writer, storyteller, urban farmer, beekeeper, Airstream owner, runner, and mountain biker. He does all this with a liberal dose of humor. After all, humor is key to a successful life and having fun along the way with good bee equipment.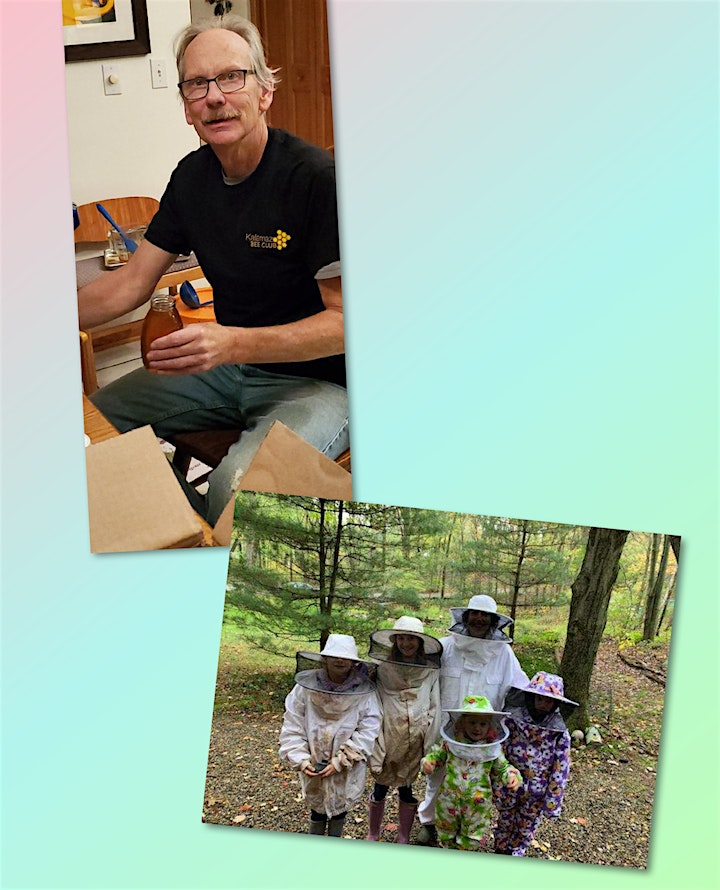 Patrick VanSlambrouck:
Pat has been a beekeeper since about 2013 when a friend abandoned their hives that they were keeping on his property. The bees survived the winter and the rest is history. In his quest for more education and desire to see the bees survive more winters, Pat became involved in the KBC. Eventually, the club found out that he was an accountant which made him becoming the treasurer a no-brainier.
Honeybees shutting down the brood in Fall 2021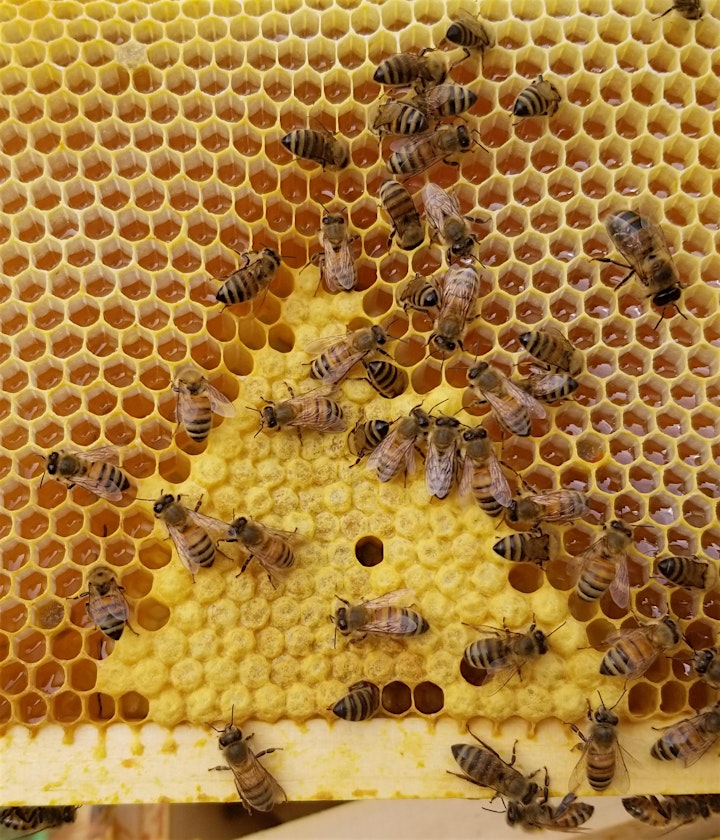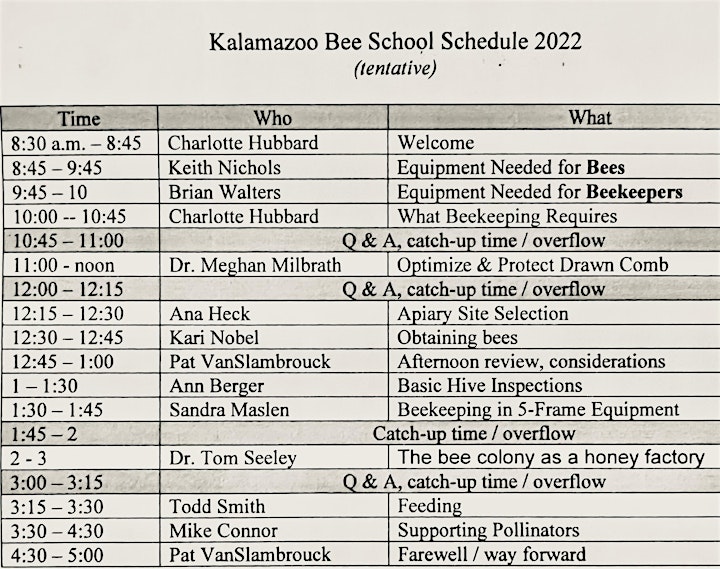 Organizer of Kalamazoo Bee School 2022
The Kalamazoo Bee Club was established in 2008 for the purposes of educating people who want to keep bees, supporting beekeepers, and providing bee-related services to the community (local honey for sale, presentations for service organizations, schools, etc.) The Kalamazoo Bee Club is an open club—anyone can be a member and no membership fee or dues are collected. We provide education through monthly programs (generally in the form of a presentation), field days during the non-winter months at the club apiaries, and our annual Bee School.
The Kalamazoo Bee Club is a 501(c)3.